Wacom makes professional-grade graphics tablets for artists. They have inexpensive tablets without a screen (Wacom Intuos), but a full pen display costs over $1,000. That may be why you want to find an alternative, less expensive option to work with.
I found 9 best Wacom alternatives for beginners and professional artists. Let's see what they are!
Quick Pick Table
Here are some drawing monitors you can compare with the Wacom Cintiq pen display tablet.
WacomCintiq Pro 16
HUION Kamvas Pro 16

XP-PEN Artist 16 (2nd Generation)
GAOMONPD1610
Screen type
IPS with Anti-Glare Etched, Full-Laminated Glass (Matte finish)
IPSAnti-Glare, Full-Laminated Glass
IPSFull-Laminated
16 InchFull-Laminated Anti-Glare
Resolution
3840 x 2160 pixels(4k)
1920 x 1080p(FullHD)
1920 x 1080p(FullHD)
2560*1600 (2.5K QHD)
Viewing angle
178°
178°
178°
178°
Displayable colours
16,7 m
16,7 m
16,7 m
1.07B
Contrast ratio
1000:1
1000:1
1000:1
1000:1
Brightness
300 cd/㎡
220 cd/㎡
220 cd/㎡
>220cd/m²
RPS Report Rate
200
200
200
Color Gamut
98% sRGB
120% sRGB
127% sRGB, 94% Adobe RGB
120% sRGB
Keys
8 keys and 2 side switches
6 Express Keys & 1 Touch Bar
8 x Shortcut Keys + 3 x Function Keys
8 Touch Keys
Pen pressure sensitivity
8192
8192
8192
8192
Pen Tilt Angle
60°
60°
60°
60°
Compatibility
Windows, macOS
Windows, macOS,ChromeOS
Windows,Mac OS,Chrome OS,Android
Windows, macOS, Android
Ports Included
USB-C
HDMI
3-in-1 cable with HDMI connection
USB-C
2 x USB-C
HDMI
USB-C
HDMI
Weight
1.9 kg
1.35Kg
?
1.5kg
Thickness
22 mm
11.5mm
12.89 mm
11,5 mm
Price
$1,299.95
$379.99
$379.99
$539.00
HUION Kamvas graphic tablets
HUION offers great drawing tablets with almost the same parameters as Wacom, but $200 to $1,000 cheaper! They have a large selection of tablets from 13 to 24 inches, including the PRO line with 4K resolution, Android support and battery free pen. Hundreds of reviews say that HUION is the best competitor to Wacom.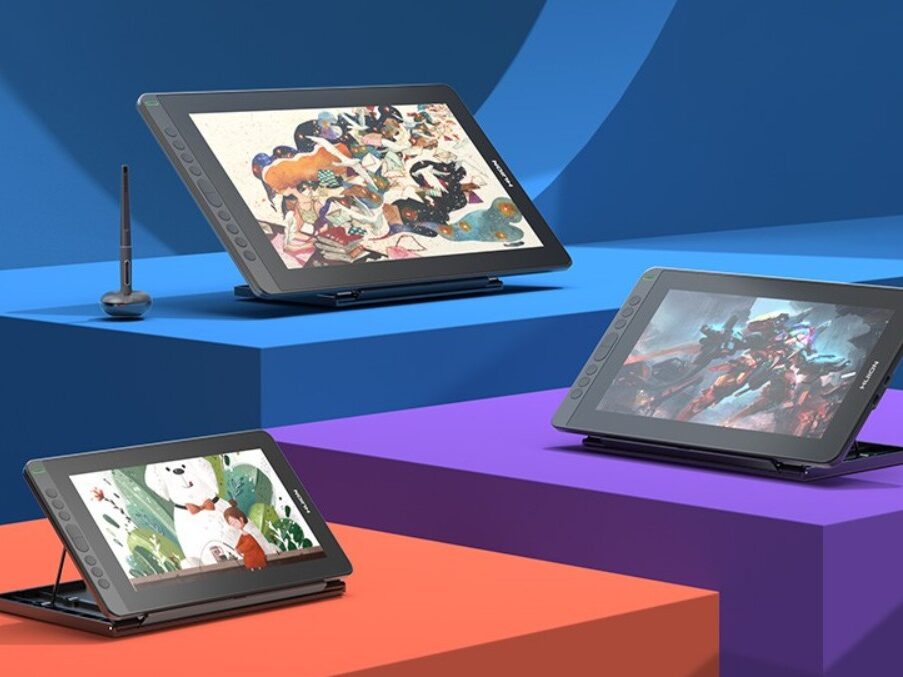 Comparing HUION VS Wacom
Both of these companies use IPS displays with Anti-Glare technology. They support Windows and macOS as well as all popular drawing programs.
Both HUION and Wacom have basically the same pens and accessories. Some Wacom models (22 and 24 inches) have higher resolution, but HUION has a better report rate and color gamut.
In addition, in 2022, HUION presented new models of its 2.5K and 4K tablets. They have several improvements:
a QLED display, which provides better brightness, contrast and color reproduction (for example, these tablets have a 145% sRGB wide color gamut and 1200:1 contrast ratio);
>300PPS report rate, which provides accurate, lag-free drawing (Wacom tablets provide 200PPS);
Android devices support ( you can connect the tablet to your smartphone);
a larger display and resolution;
less weight and thickness.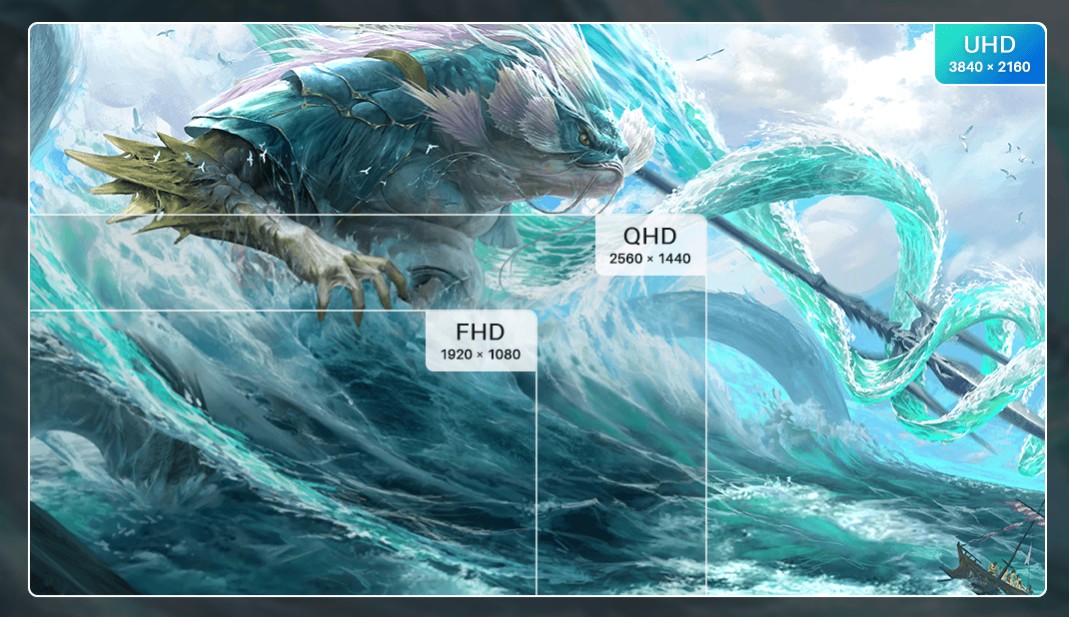 Wacom drawing tablets don't have such parameters. So now the HUION 4K can be called the best among the competitors. If you are professionally engaged in digital art, and you really want a new level device, then I recommend you give preference to HUION Kamvas Pro 2.5K and 4K.
But you can consider other options among the "older" HUION tablets and find many decent Wacom Cintiq alternatives.
Kamvas 13 – the Wacom One alternative
HUION KAMVAS 13 Drawing Tablet with Screen, 13.3"...
Full Lamination Screen: Kamvas 13 is a more affordable drawing monitor with a full...
Android Devices Supported: Kamvas 13 pen display could work with Mac, Windows, and Linux,...
Easy Cable Connection: No need to connect with an AC power adapter anymore! The computer...
Advanced Pen Technology: Battery-free Stylus PW517 is optimized with Capacitive Pressure...
Optimize your Workflow: 8 shortcut keys are designed on the left to be customized as...
Both tablets (Kamvas 13 and Wacom One) have 13.3-inch screens with 1920 x 1080 resolution, but the HUION has several advantages:
A laminated display. Since there is no gap between the glass and the display, it seems that lines appear right under the pen tip. However, a small gap will be noticeable if the display is not laminated.
Express keys. They definitely help with the operation. You can customize the buttons for zooming, changing brush size, changing tools, etc.
USB-C port. Wacom One so far has a more outdated port.
The price is $100 less.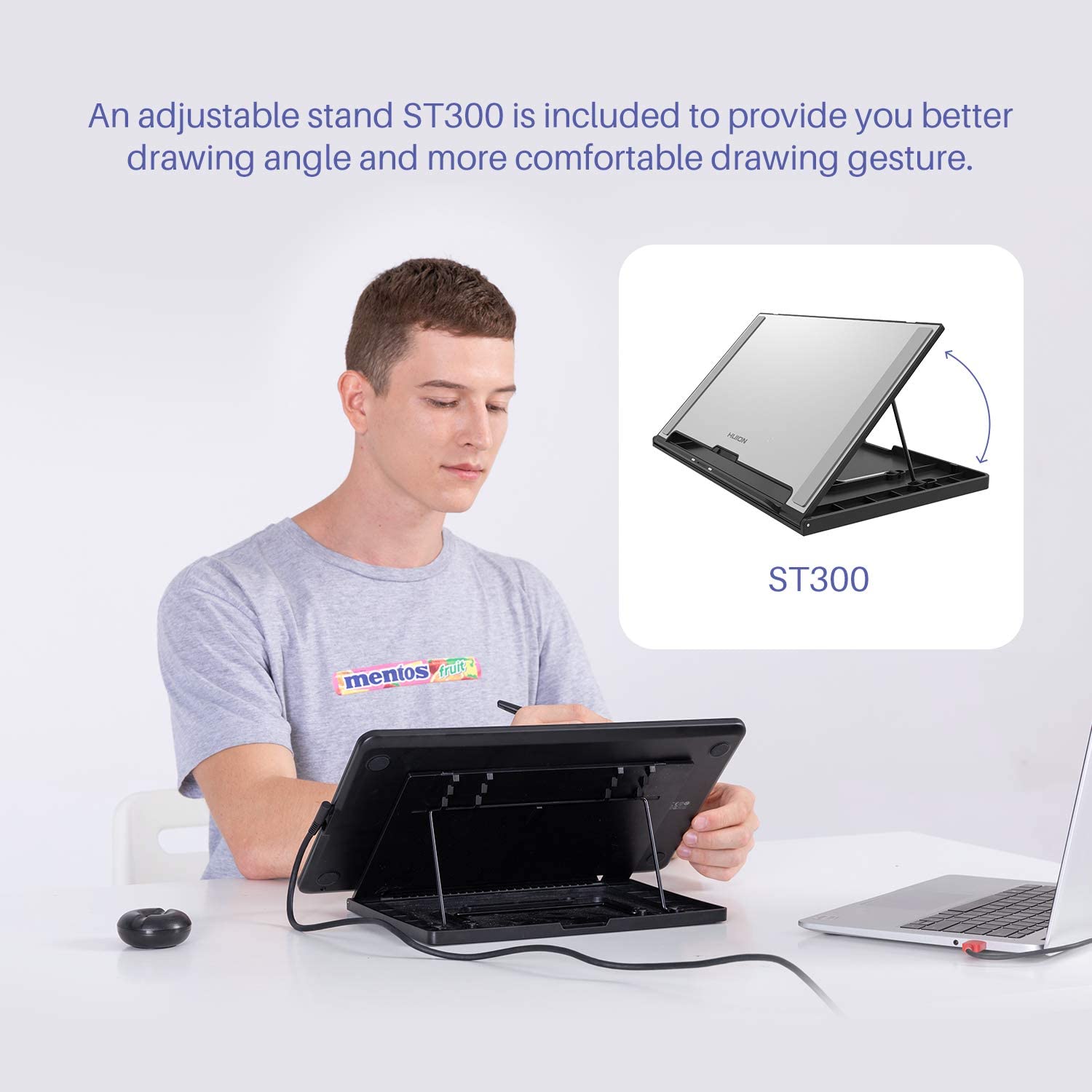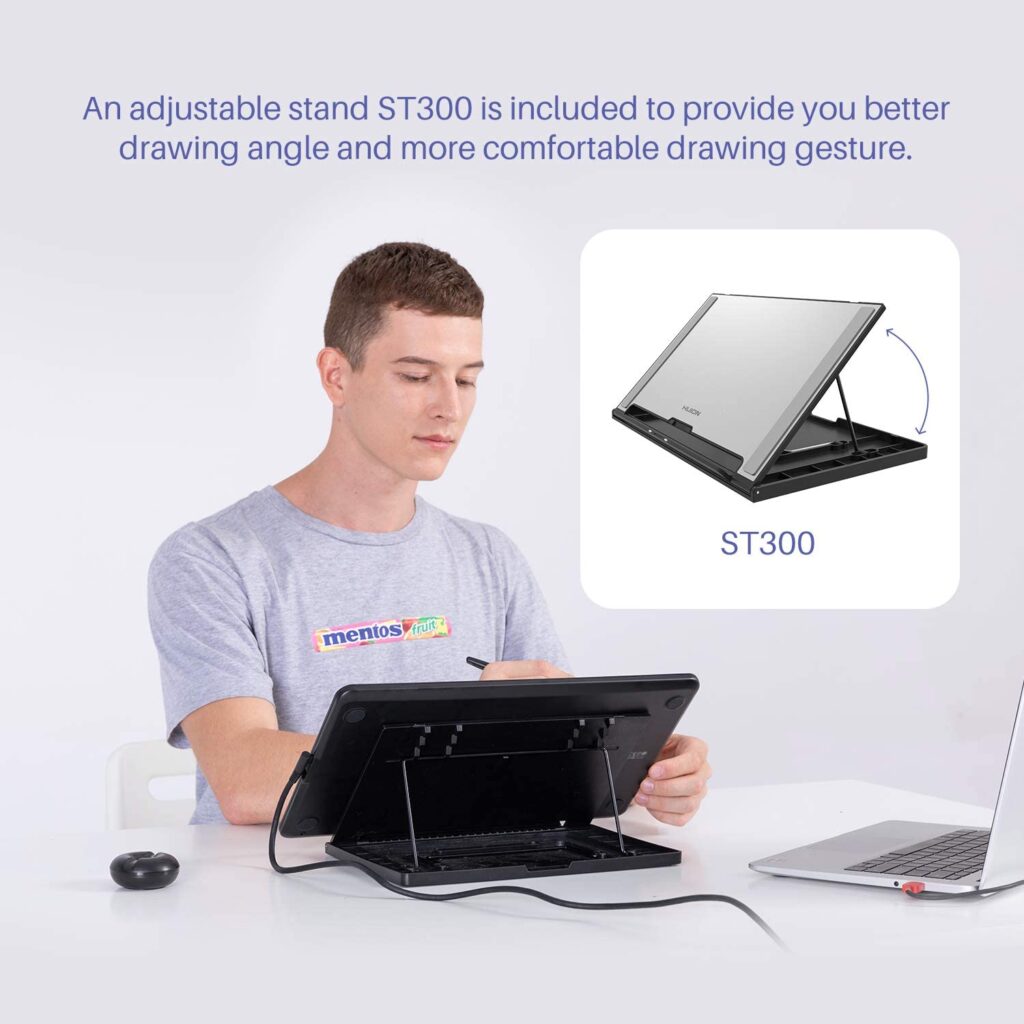 According to the manufacturers, 13-inch Kamvas is suitable for novice artists, but in fact, such a tablet is quite suitable for professionals. Many people find this screen sufficient for work. So this is a great option if you are on a tight budget or just starting in digital art!
HUION Kamvas Pro 16 – the best Wacom cintiq alternative
HUION KAMVAS Pro 16 Graphics Drawing Tablet with Screen...
Full Laminated HD Screen: Kamvas Pro 16 drawing monitor adopts the newest full lamination...
Battery-free Stylus with ±60°Tilt function: Battery-free pen PW507 with 8192 pressure...
6 Express Keys & 1 Touch Bar: To satisfy your needs on creative space, KAMVAS Pro 16...
Online Education & Remote Work: The Kamvas Pro 16 pen tablet ideal for online teaching and...
Compatibility: Kamvas 13 drawing monitor is compatible with Windows 7 or later, Mac OS...
This 15.6-inch screen drawing tablet could be a great value for money and a worthy alternative to the Wacom Cintiq 16 and even the Pro 16. For a lower price, the HUION offers the same quality and even a few advantages, including a laminated screen, express keys and a USB-C port.
The HUION Kamvas doesn't have a built-in stand, but that's a minor drawback. You can buy the adjustable stand separately, although it won't be able to be attached to the tablet back.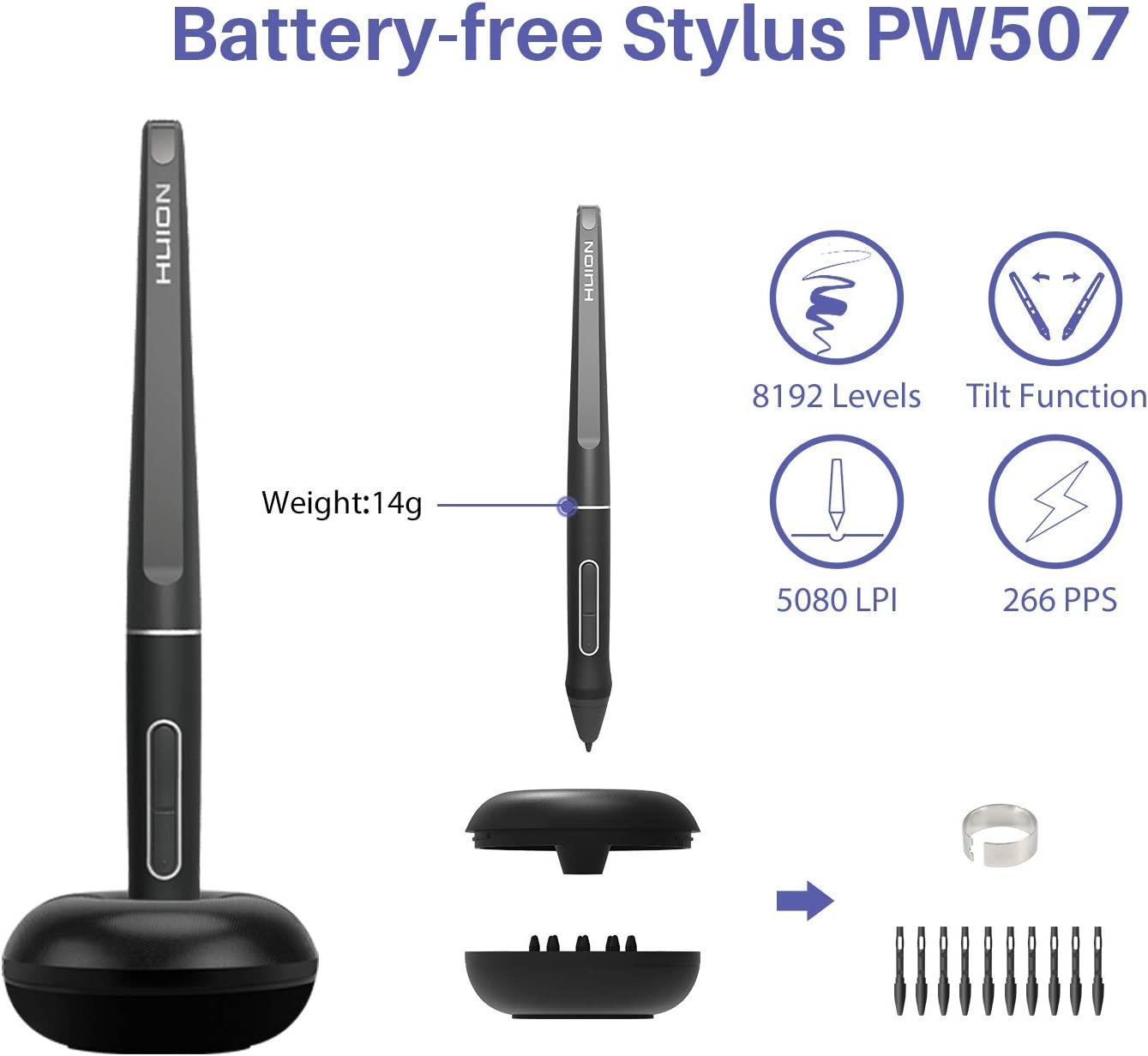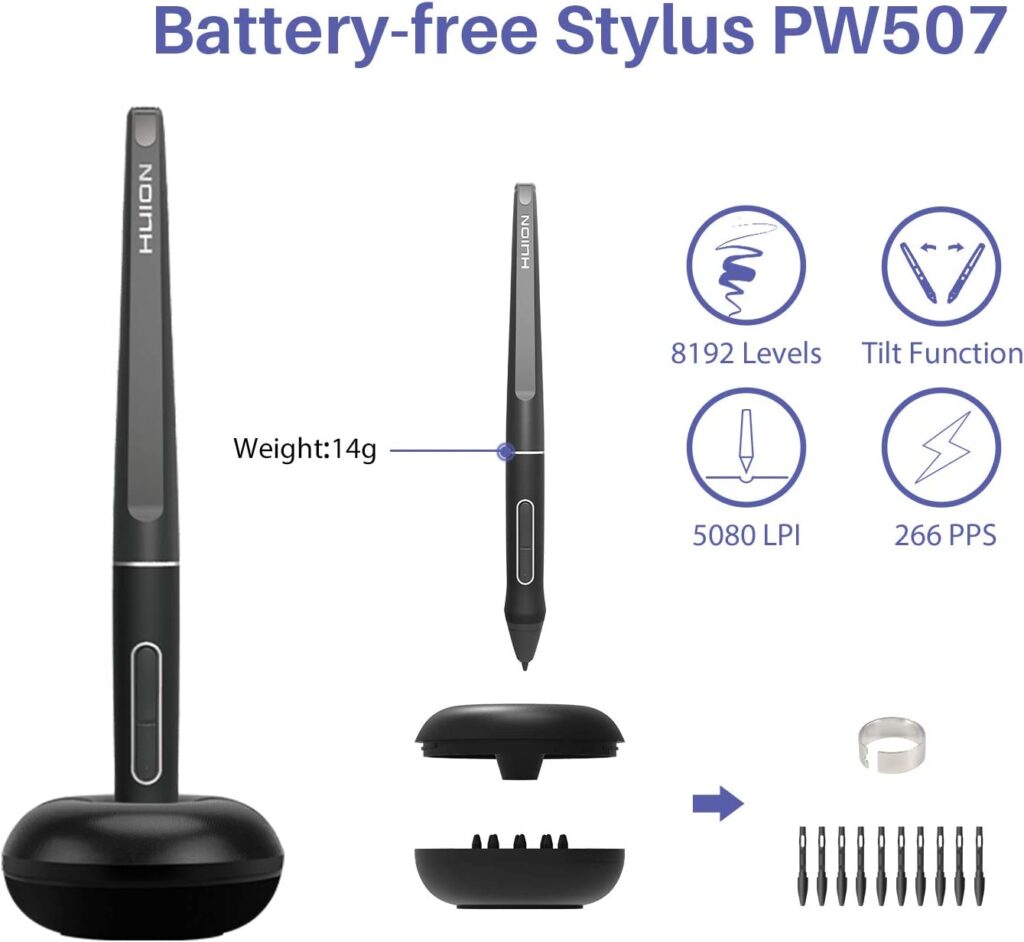 If you compare this model to the Wacom Cintiq Pro, you'll notice that the Wacom wins slightly here because it has a higher screen resolution (3840 x 2160 pixels), which provides more clarity. But is it worth the extra $1,200? I don't think it is.
The 16-inch size is probably the best size for all levels artists. However, if you prefer a larger size, HUNION has a few more options.
HUION Kamvas Pro 24 (4K) 2022 – alternative to the Cintiq Pro 24
HUION Kamvas Pro 24 4K UHD Graphics Drawing Tablet with...
Pro-level Picture Quality: Enjoy the 4K UHD (3840x2160) resolution in a large 23.8 inch...
Precise Color Expression: Featured with industry-leading Quantum Dot technology, Kamvas...
Upgraded Accessories: Kamvas Pro 24 4K pen display is equipped with a 20° metal...
Multiple Interfaces: Kamvas Pro 24 4K graphics monitor supports both HDMI & DP signals,...
Stable Compatibility: Kamvas Pro 24 4K drawing screen supports Windows 7 or later, Mac OS...
The Wacom Cintiq 24″ tablet has an exorbitant price – almost $2000! Instead, the new Kamvas Pro 24 4K costs $600 cheaper and even surpasses Wacom in display quality!
Both models have a stunning, full-laminated display with 3840×2160 resolution (4K UHD). They don't have buttons on display, but you can use the keypad instead.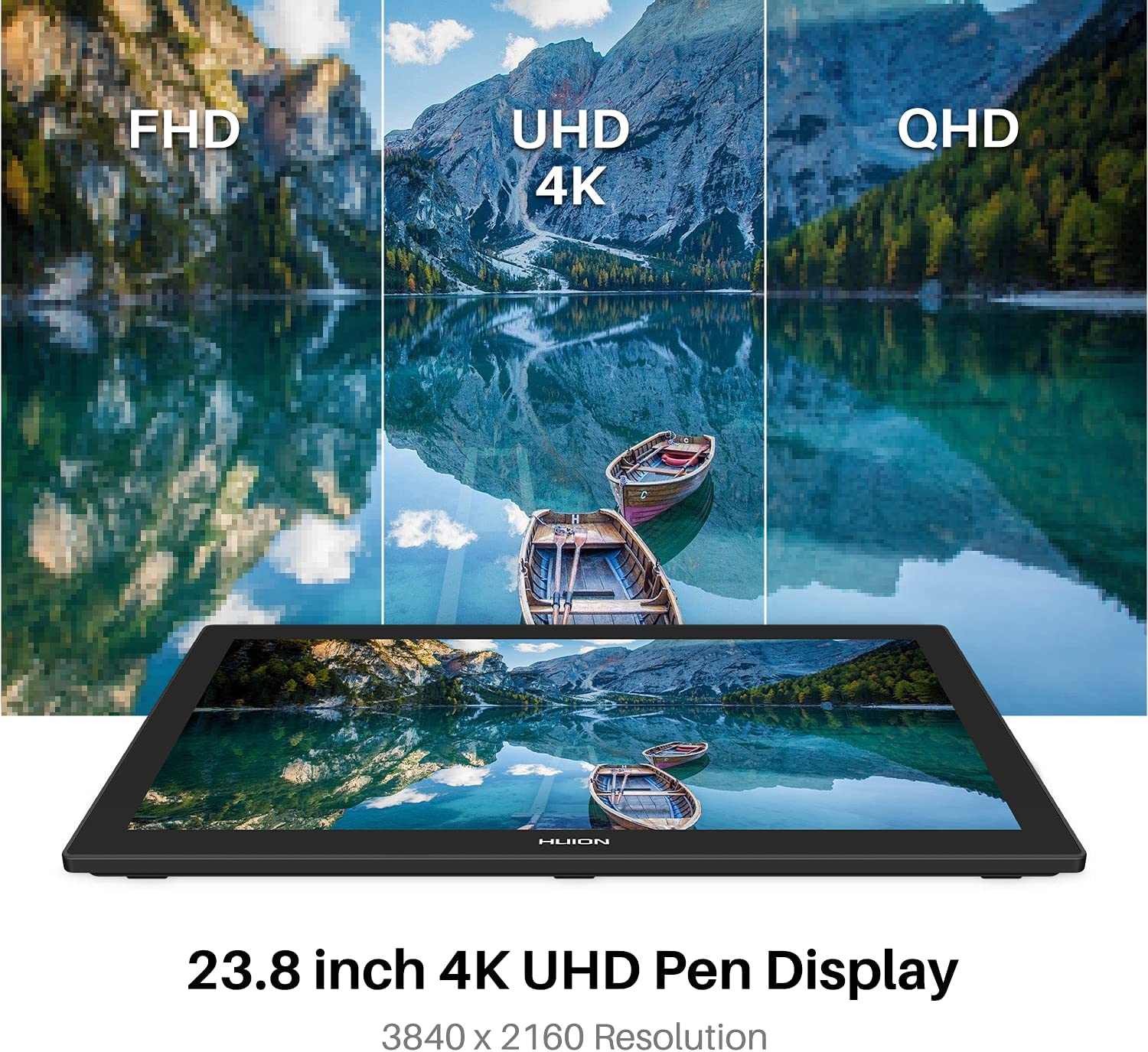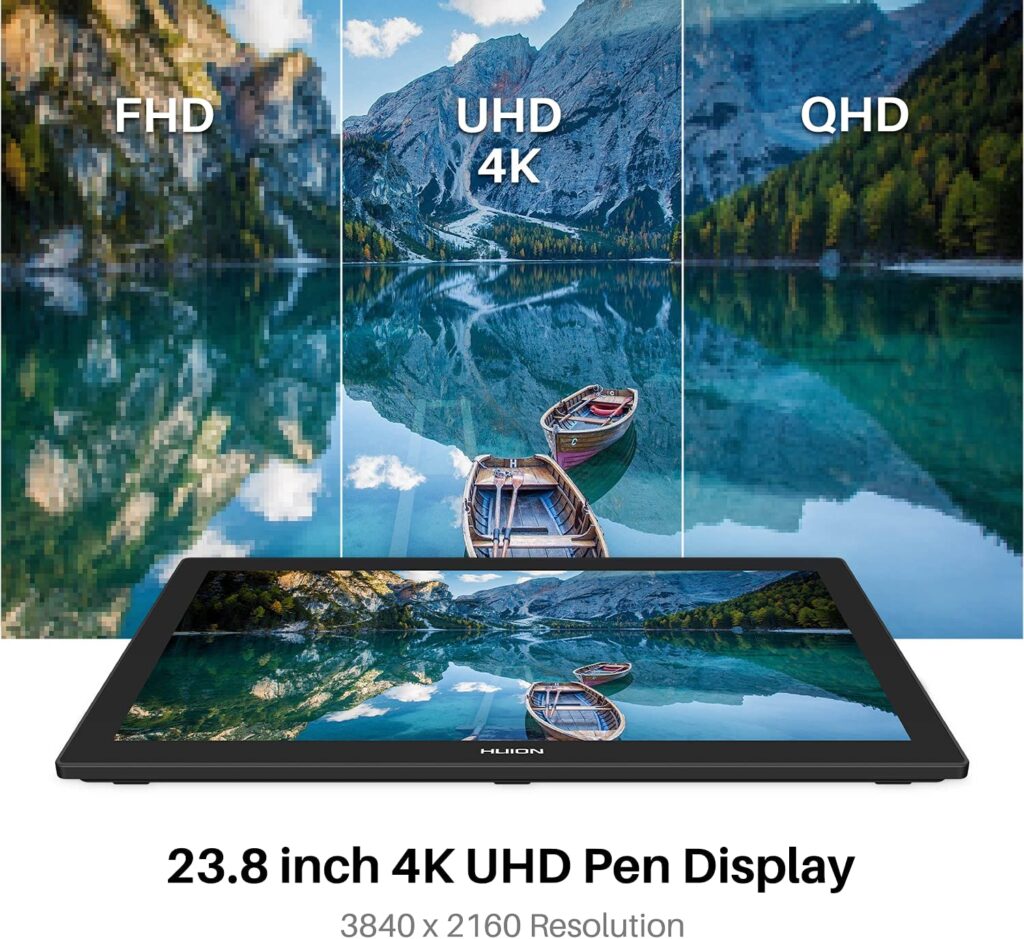 Also, HUION is noticeably thinner and lighter than Wacom, which is an important plus. But among the reviews, I found complaints about the bad USB-connection that can make the tablet suddenly disconnect from the computer.
HUION pen tablets
HUION also offers pen tablets in different sizes, with different types of coatings, with and without keys. They can be a Wacom intuos alternative. Their price and features are similar, so I won't focus too much on them.
HUION HS611 Graphics Drawing Tablet Android Supported Pen...
Innovative 8 Multimedia Keys - HS611 is the first pen tablet equipped with multimedia...
10 Programmable Press Keys and Touch Strip - 10 programmable press keys can be customized...
Ultra-thin & Large Working Area - The HS611 drawing tablet is only 7.3mm thick and weigh...
Battery-free Stylus - PW500 battery-free digital pen with 266PPS report rate and 8192...
Android & PC Supported - Compatible with Android 6.0 or above, Windows 7 or above, mac OS...
HUION VS Wacom pen
Besides the tablet parameters, the quality of the pen is important. As for the HUION, their battery free pen has the same pressure levels and tilt sensitivity as the Wacom pen.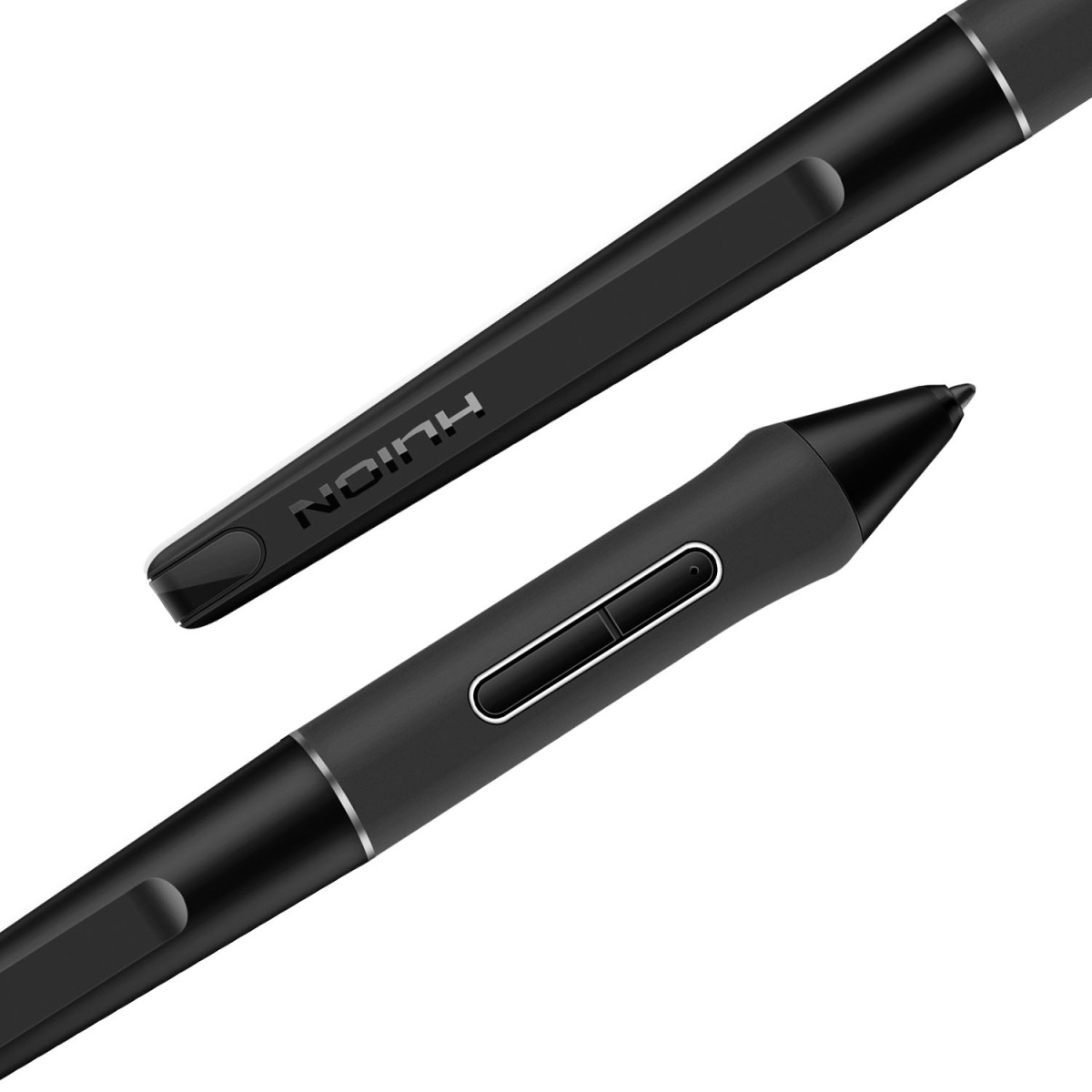 They even look alike. So, the HUION pen will provide a similar drawing experience as the Wacom pen. There are no winners among them. But, as you remember, their price is different, and the HUION is more advantageous in this respect.
XP-PEN Artist Pro Tablets
The biggest difference between the XP-PEN and Wacom tablets is their price. The XP-PEN is cheaper by $300-700. These products are generally very similar in parameters, although it is still noticeable that the XP-PEN is a budget option.
The screen surface of the Wacom tablet seems more matte, so it feels more like drawing on paper. On the other hand, the XP-PEN is smoother, and not everyone likes that.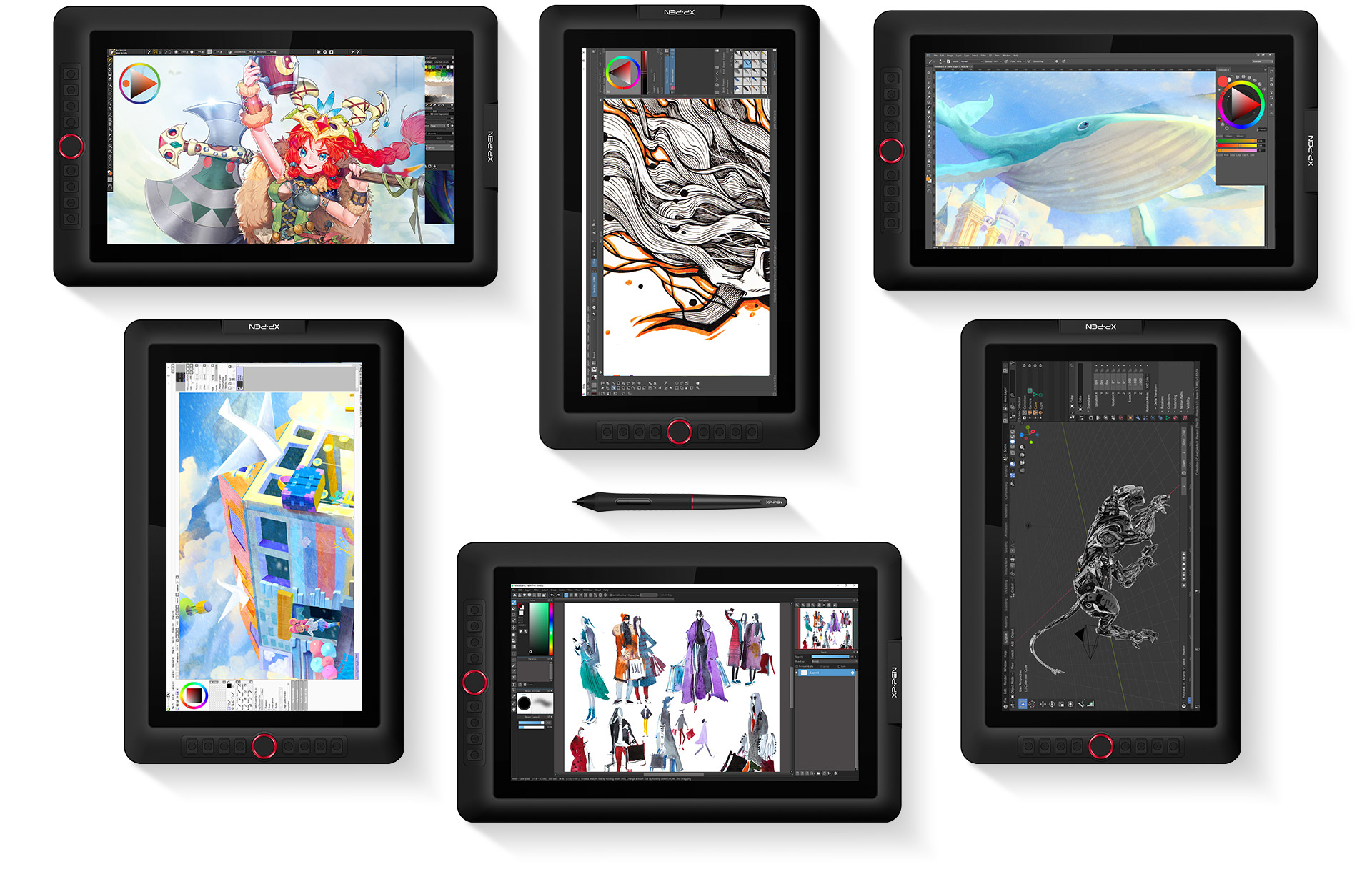 But the difference isn't so big that you can toss them aside. If you are a novice digital artist, the XP-PEN tablets are a great option for the price. They have a lot of positive reviews.
The XP-PEN features
The XP-PEN is also battery-free and has 8192 levels of pen pressure sensitivity and a tilt support of 60 degrees. The PPS Report rate is 220. Even externally, it is similar to the Wacom pen, and they do almost the same job.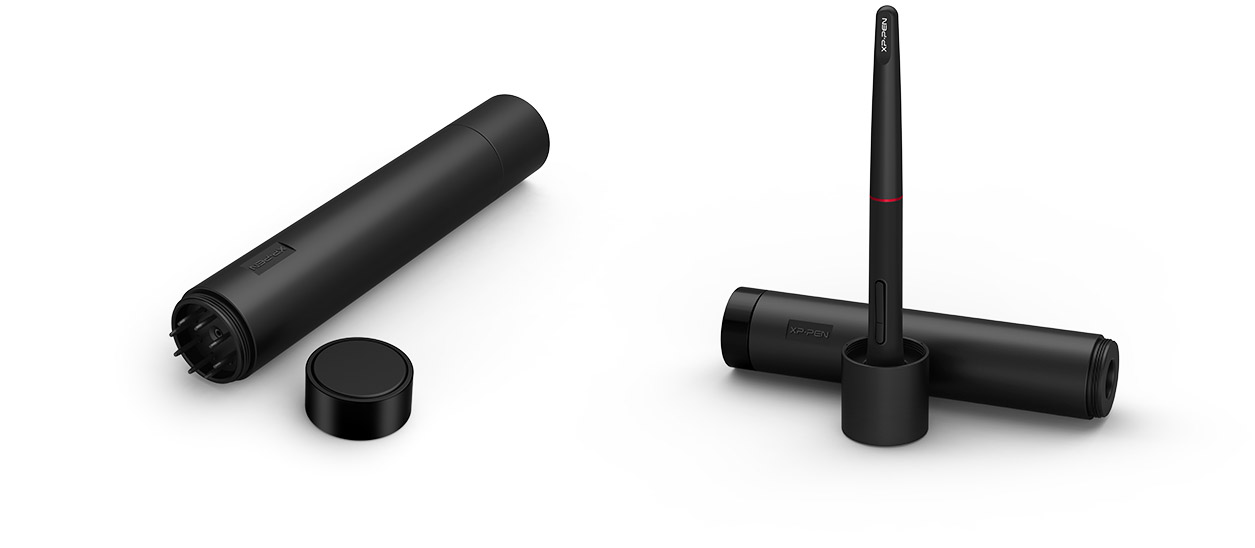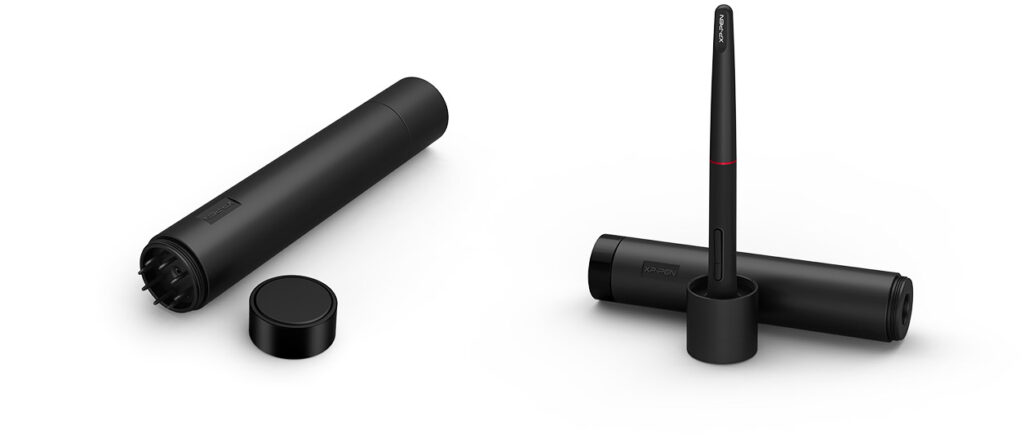 The XP-PEN has a few drawbacks:
it's a bit noisy compared to the Wacom pen. When the nib touches the screen, it makes a clicking noise.
it doesn't have an eraser.
In addition, Wacom offers several types of pens, and you can use several of them with different tools. It's not for nothing that their products are more expensive (although I'm not sure that such a big price difference is justified).
XP-PEN Artist 16 2nd Generation – the Wacom Cintiq alternative
Sale
XPPen Artist 16 2nd Drawing Pen Display with Battery-Free X3...
【Full-featured USB-C cable】 XPPen drawing tablet can be easily connected with the...
【Outstanding Visuals】 the immersive 15.4 inch large screen with 1920x1080p full HD...
【10 customized express keys】XPPen Artist 16 2nd monitor features 10 fully customizable...
【Full-laminated Technology】 XPPen Artist16 2nd art tablet is adopting full-laminated...
【X3 Stylus Pen】 Artist 16 2nd Pen display is equipped with the latest X3 chip,...
They are almost identical models with a 15.6″ IPS screen with 1920 x 1080p resolution. In some ways, the XP-PEN Artist 15.6 is even superior to the Wacom tablet, although it has some disadvantages. Here's a look at the pros and cons of thise drawing tablet:
There are also other XP-PEN Artist Series (2nd gen) tablets available in 10″ and 12″ sizes that Wacom doesn't have, but maybe that's what you're looking for.
XP-PEN Artist 24 Pro – the 24-inch Wacom alternative
XPPen Artist24 Pro Drawing Tablet with Screen Drawing...
Drawing Tablet-❤Enough Room for Creation❤Featuring stunning 2.5K resolution (2560 x...
Drawing Tablet with Screen-❤Ideal Connections❤ Artist 24 Pro supports a USB-C to USB-C...
Graphics Tablets-❤High Color Gamut❤ XPPen Artist Display 24 Pro support 90% Adobe RGB...
Drawing Monitor-❤Improve your Workflow❤ The XPPen Artist 24 Pro features two...
Drawing Display-❤Versatility and Compatibility❤ The XPPen Artist 24 Pro supports...
If you want a bigger screen like the Wacom Cintiq Pro 24, the XP-PEN has the Artist 24 Pro with a 23.8-inch display with 2K QHD resolution.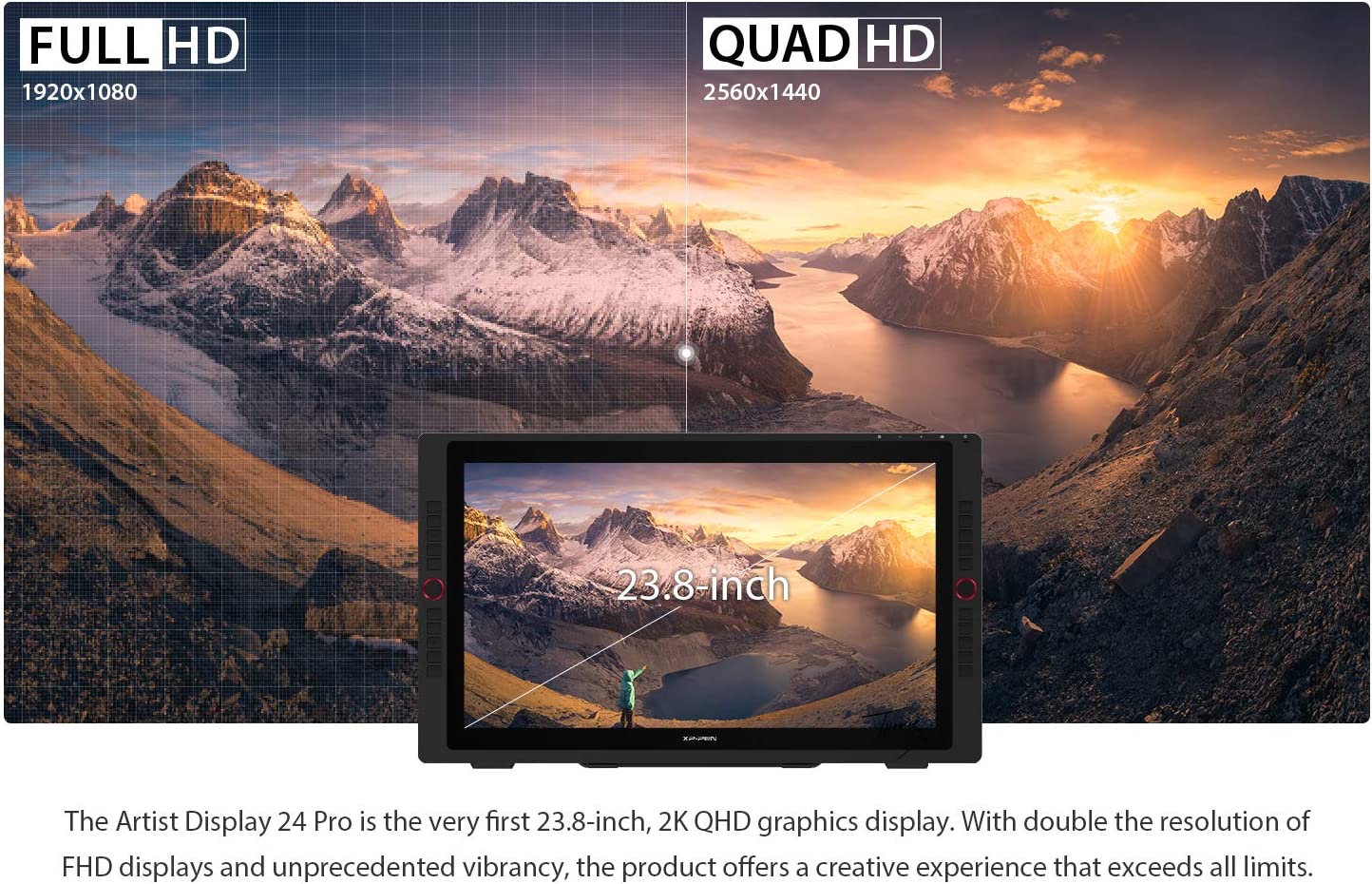 That's a bit worse than Wacom's 4K UHD resolution, but the XP-PEN is still fine for drawing, even for professionals. It also has some benefits, such as:
USB-C port;
Android support;
20 Customizable Shortcut Keys, which the 24-inch Wacom tablet doesn't have.
Also, the XP-PEN Artist 24 Pro is more than $1,000 cheaper. Sounds like a significant plus to me, doesn't it?
GAOMON tablets
This company offers a small selection of graphic monitors with more or less the same features as Wacom, but the price difference is up to $700. They have several "small" tablets with 11, 12, and 13-inch screens, as well as several 16-inch tablets and only one 22-inch tablet.
It's a decent replacement for the Wacom, and judging by reviews, its quality is just as good. So, let's take a closer look at several popular GAOMON models and compare them with Wacom displays.
GAOMON PD1610
GAOMON PD1610 2.5K QHD Full-Laminated Anti-Glare Pen Display...
[New Upgraded Pen AP51]: ①Pen pressure:8192 Levels ②No need to charge;③±60°Tilt...
[2.5K QHD+ Screen]: 2560*1600 QHD+ screen resolution adopted on GAOMON PD1610 drawing...
[Anti-Glare Glass Adopted]: To protect your eye from light reflection and provide more...
[The First & Only 16:10 Golden Ratio GAOMON Drawing Display ]: enabling you to obtain a...
[120% sRGB High Color Gamut and 1.07B (8bit+Hi-FRC) colors]: 1.07B color means that over a...
The GAOMON PD1610 drawing tablet supports a higher resolution (2.5K QHD 2560:1600) than the Pro versions of HUION or XP-PEN. It has a high-quality, full-Laminated Anti-Glare Pen Display with thin frames and a larger active drawing area.
With the higher resolution, you won't have problems with pixelation when zooming in. The image will always stay sharp.
It's more like the quality of the Wacom Cintiq Pro 16 and even has the same matte finish on display, but its price is $500, not $1,000. The GAOMON PD1610 can offer the same quality and high precision For less money.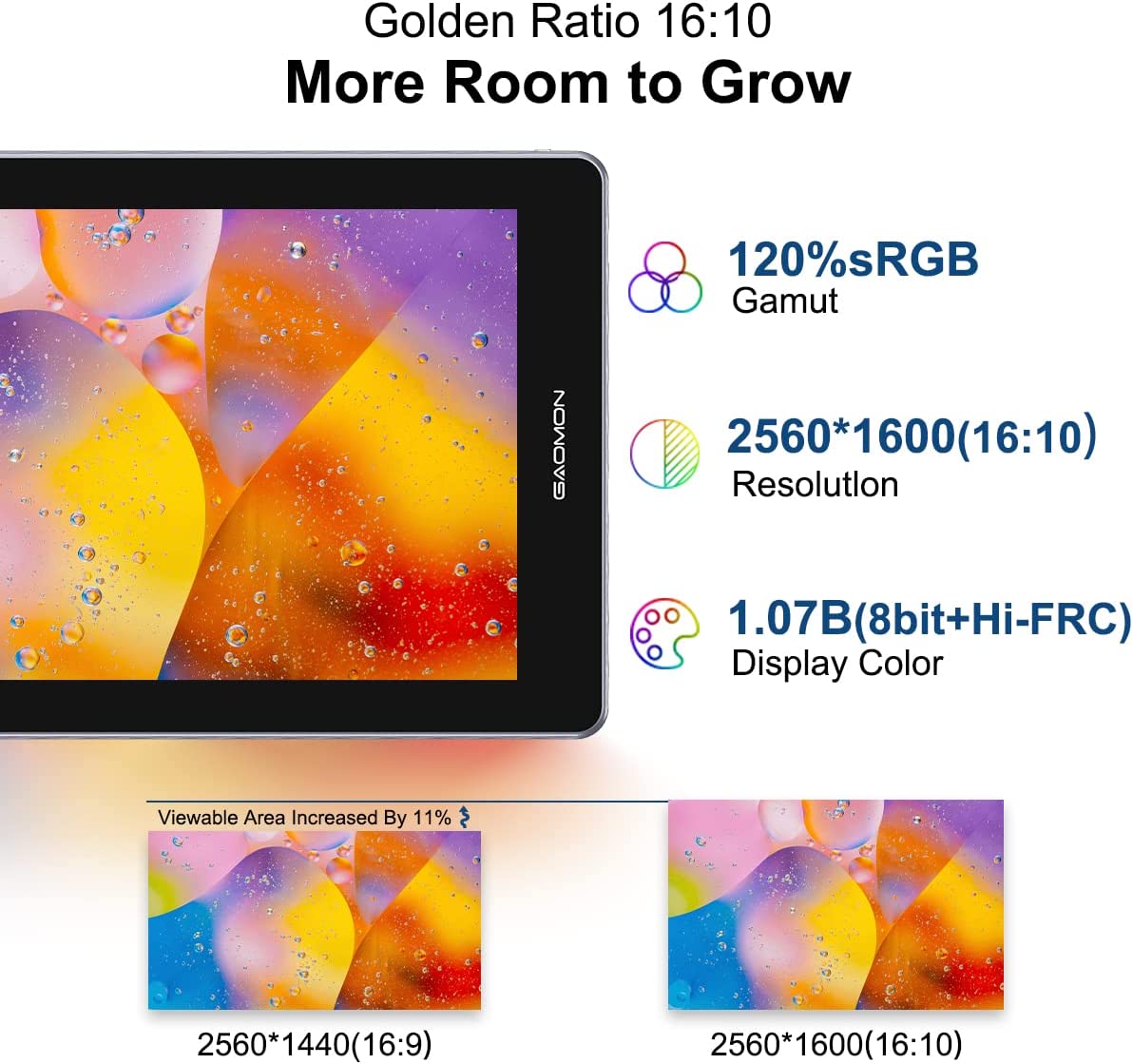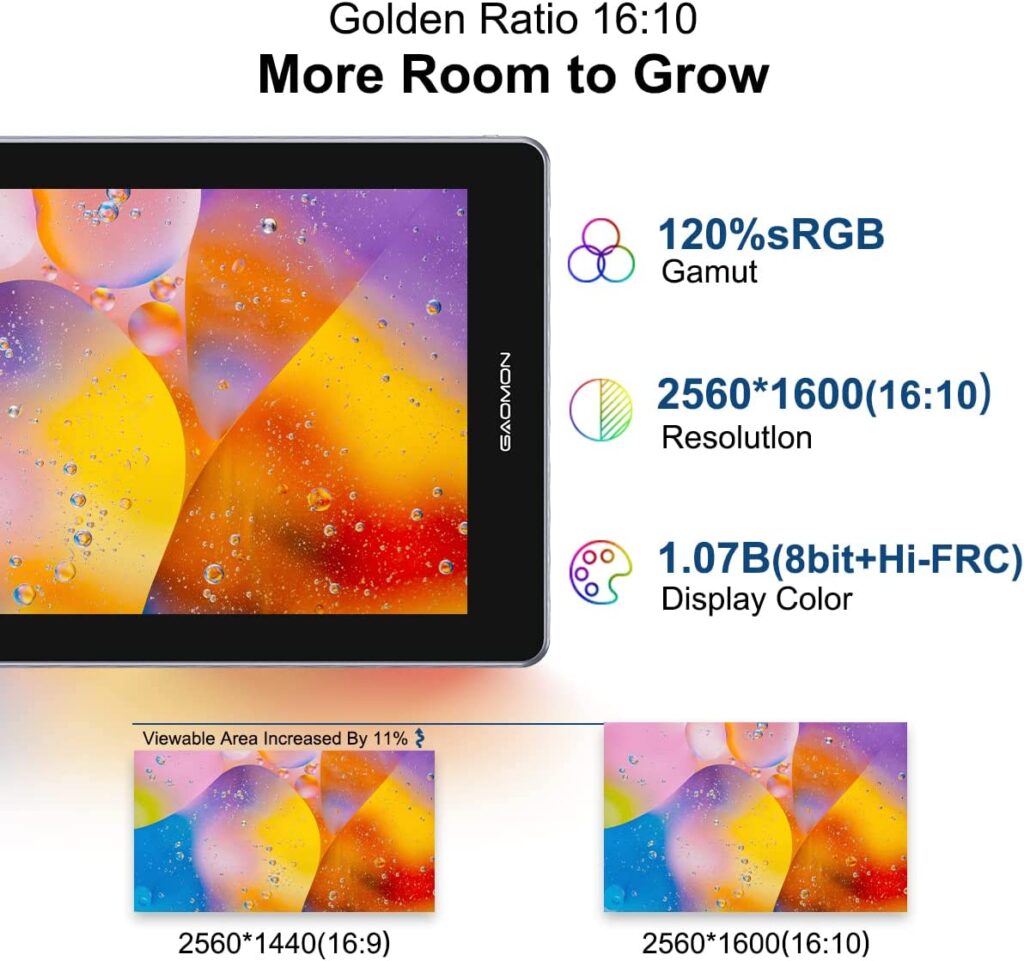 What are its features and differences?
The GAOMON PD1610 has 8 keys, but they are not physical. But this can be a disadvantage as you can press them accidentally.
But the whole front of the tablet is covered by glass. Without plastic elements, the device looks more stylish.
Unlike the Wacom tablet, GAOMON doesn't have a built-in stand; however, it comes with a free-standing adjustable stand. It might not be as good as the Wacom's, but that's a minor drawback.
The GAOMON also has a headphone plug, so you can plug in your headphones and listen to music while you work.
In addition to Windows and macOS, the GAOMON tablet supports Android-based devices.
Also, it supports the improved AP51 pen with a shorter and more stable tip. Less oscillation – more accuracy. This pen also requires no charging and I was also impressed that it also has rotation sensing.
GAOMON PD2200 – the Wacom Cintiq 22 alternative
Drawing Tablet with Screen GAOMON PD2200 Full-Laminated...
【FOR ONLINE TEACHING & MEETING】You can use GAOMON PD2200 pen display tablet for online...
【FULL GLASS STYLISH DESIGN】 It's full glass design with 8 touch keys. No PVC frame...
【8192 LEVELS PRESSURE & BATTERY-FREE PEN】【TILT SUPPORT FUNCTION】--GAOMON PD2200...
【1000: 1 CONTRAST RATIO】--Enables more clear and vivid images effects. 【OTHER...
【OS SUPPORT& PROGRAM COMPATIBILITY】--Work with laptops or desktops which run Windows...
This 21.5-inch display has 1920*1080 resolution, which is a bit inferior to the previous model but comparable to the Wacom Cintiq 22 (not a professional one). But GAOMON PD2200 has a nice price, less than $500. I mean, it's cheap for such a big display.
All in all, the GAOMON PD2200 is nothing special. It's not better, but it's not worse than the competition. This drawing tablet has a laminated display with standard settings, as well as standard equipment.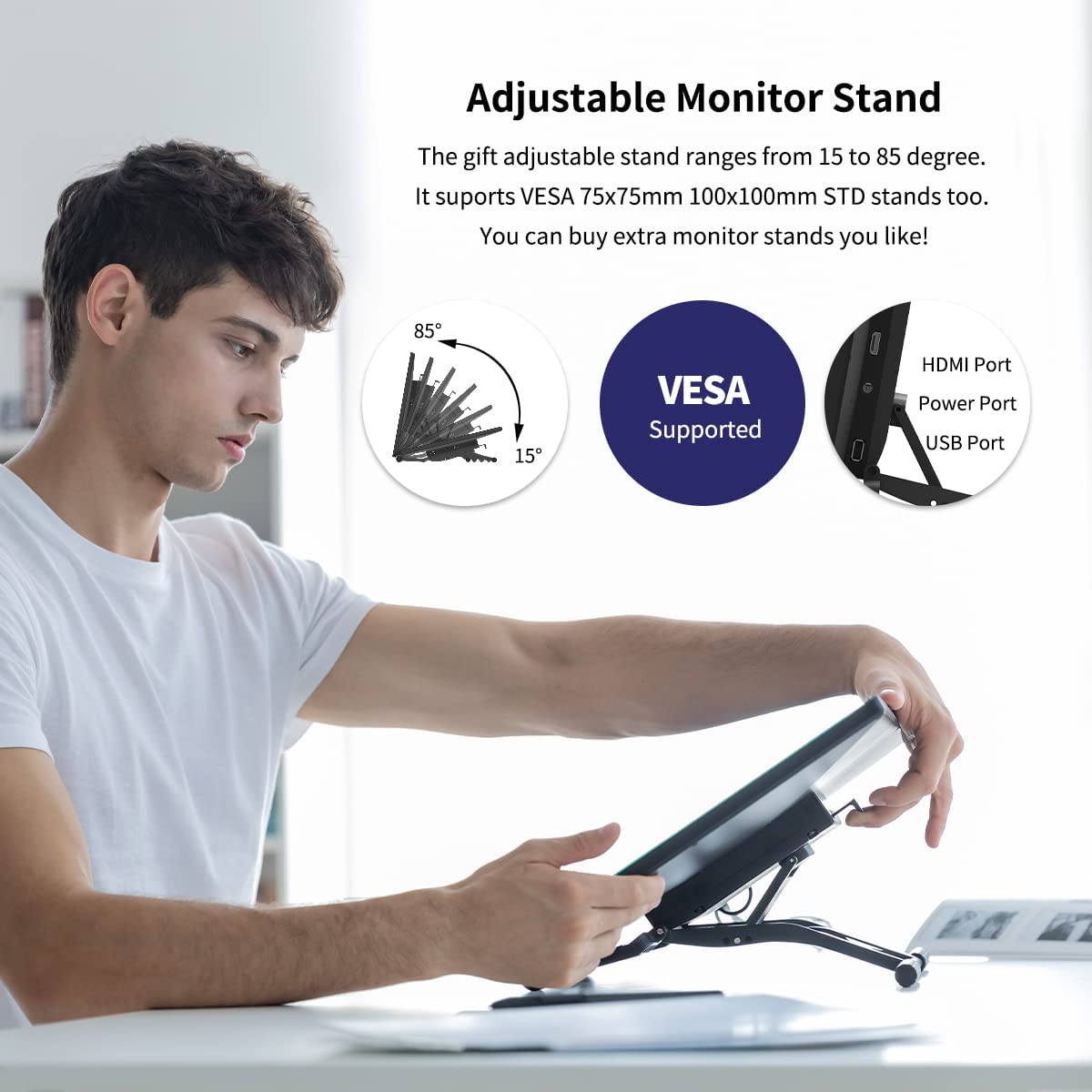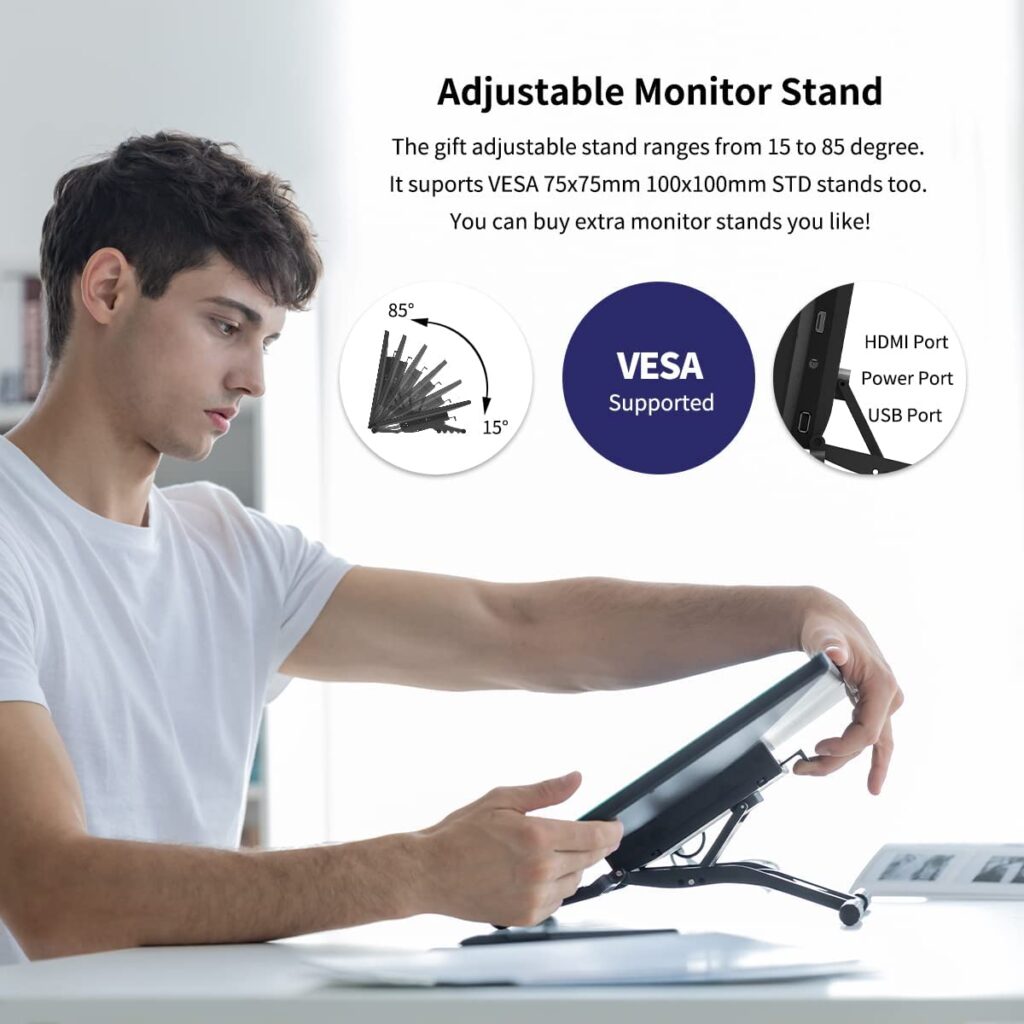 The GAOMON PD2200 has a good quality built-in stand that you can adjust as you like. It's probably one of the best tablet stands I've seen.
Unlike the Wacom Cintiq, the GAOMON has a USB-C port as well as 8 customizable touch keys. It doesn't support the Android OS.
It's a budget graphics tablet for those who want a big monitor but don't have the money for more professional models. Of course, it's not an impressive device, it's pretty average, but it's not bad.
By the way, it doesn't work well as a second monitor for watching videos or playing games. It just doesn't handle that task well.
iPad – the Wacom MobileStudio Pro alternative
The previous models on this list only work when connected to a computer, but the Wacom MobileStudio Pro is a portable tablet that can be used without a computer. And unfortunately, HUION, XP-PEN and GAOMON have no analogues to this device.
But here is the problem: the price of Wacom MobileStudio Pro goes over $3000! So it is not surprising that people are looking for an alternative. You might be wondering, but it could be the iPad Pro.
Sale
Apple iPad Pro 12.9-inch (6th Generation): with M2 chip,...
WHY IPAD PRO — iPad Pro is the ultimate iPad experience, with the astonishing...
IPADOS + APPS — iPadOS makes iPad more productive, intuitive, and versatile. With...
FAST WI-FI CONNECTIVITY — Wi-Fi 6E gives you fast wireless connections. Work from almost...
PERFORMANCE AND STORAGE — The 8-core CPU in the M2 chip delivers powerful performance,...
APPLE PENCIL AND MAGIC KEYBOARD — Apple Pencil (2nd generation) transforms iPad Pro into...
iPad pros
The iPad Pro 2022 has a very powerful M2 chip that will perform even better than the Wacom MobileStudio. The Apple Pencil works incredibly accurately with this chip without parallax or excessive shaking.
Perhaps the Wacom pen is better; after all, they create their products specifically for creativity, but working with the Apple Pencil will also be very comfortable.
iPad Pro also has the more advanced Liquid Retina XDR screen with an amazing brightness of 1600 nits and a contrast ratio of 1000000:1! This detail and color reproduction will not provide any graphic display.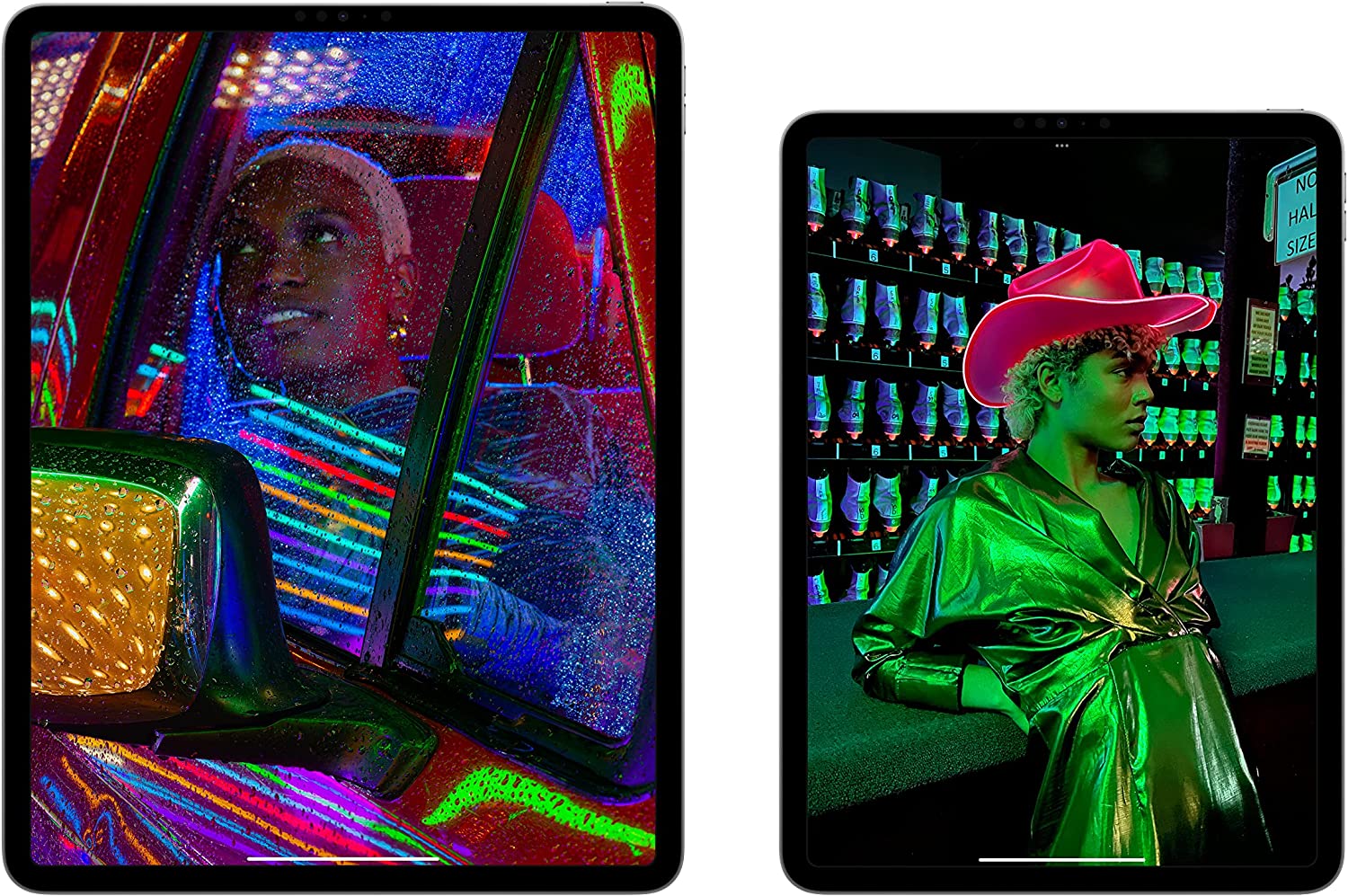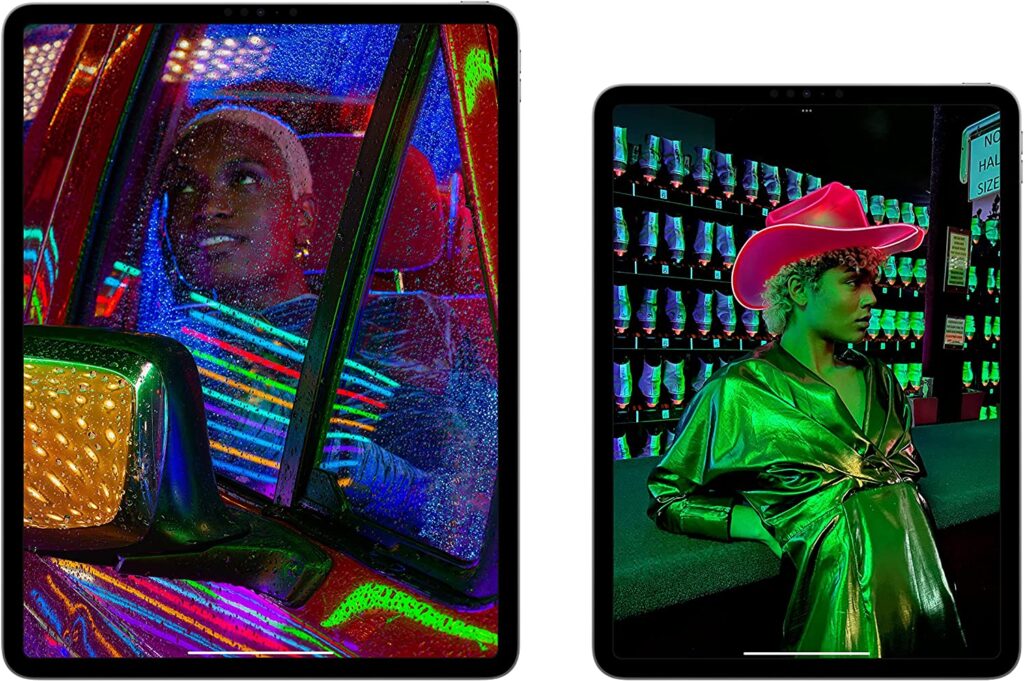 Although the iPad doesn't have a 16-inch screen, 12.9 inches is enough, and some artists are even happy with an 11-inch screen. You can buy an iPad Pro 12.9 512GB for $1,400. But in most cases, 256GB is enough, which costs $1,200.
In addition, the iPad has many advantages over the Wacom:
better and louder speakers;
excellent dual camera;
Face ID.
You'll be able to use it as a regular tablet for various tasks, not just for work. It's also worth noting that the iPad is 2.5 times lighter and thinner than the MobileStudio. This makes it more convenient and transportable.
iPad disadvantages
The lack of control buttons on the iPad can be a disadvantage if you are used to using them on your tablet monitor. You should also consider that Apple tablets have a smoother drawing surface than Wacom tablets. Therefore, it is less comfortable to draw on them (although this is a relative disadvantage as you can use a matte screen protector).
The only significant disadvantage of the iPad is the inability to install full-versions applications for graphic design or photo processing. The iOS apps are a bit inferior, as they lack some features. For professional work, it can make a big difference.
But the iPad is very good as a portable device, which you can work, e.g., on a trip. And for regular work at home, you can use a regular display for $ 500, which connects to your computer. Even purchasing two devices will cost less than the Wacom MobileStudio Pro.
Here's a quick summary of the pros and cons of the iPad:
I hope this information will help you make your choice. And if that's not enough, read my Best Portable Drawing Tablets review. You will find more ideas there.
Conclusions
The best Wacom alternatives are HUION, XP-PEN and GAOMON tablets. They offer products with the same features as Wacom, but at a lower price.
Instead of the Wacom MobileStudio, you can use the new iPad Pro. It's a good handheld device for creating digital art.
FAQ
Which is better: Huion or XP-pen, or Wacom?
After thorough research, I have concluded that the HUION offers the best tablets for money. Of course, Wacom tablets have the slightly better quality, but their price is very high. Also, Wacom doesn't support Android OS.
Are Wacom products worth buying?
I got the impression that Wacom tablets are overpriced. I didn't find them to have any super differences that would be worth the extra $500 or $1000. Of course, they are made with better quality. That goes for the build quality, materials, screen, stand, and cables. 
If you want the best product with a long lifespan and have the extra money, buy the Wacom. Otherwise, HUION or XP-PEN will do.
Is Wacom good for beginners?
Regular Wacom pen tablets are good for beginners. But if you are looking for a pen display tablet, Wacom is a bit pricey. To start your career, you should try a cheaper tablet.
What drawing tablet do most artists use?
The most popular tablet brands are Wacom, XP-PEN, HUION and GAMAON. Also, some artists use a regular tablet like Samsung or iPad.