As Apple offers tablets with different storage options and for extra gigabytes you have to pay extra, many people wonder: is 64GB enough for iPad? Since the iPad does not support a memory card, you need to make the right choice initially.
Here's the answer right away: considering that all apps and even the browser require a lot of memory to work, 64GB is pretty small. As a result, it will be difficult for you to use all the features of your iPad, and some functions will not be available. For comfortable use, buy a tablet with additional storage (at least 128GB or 256GB).
But in some cases, 64GB will be enough for an iPad, although you will have to save space. Read more about that next.
When 64GB is enough for iPad
A 64GB iPad is right for you under these conditions:
you don't need a lot of third-party apps that take up space;
you are not a big fan of games;
you don't shoot or store a lot of photos or videos.
Minimal storage space is enough for surfing the Internet, watching online videos, reading books, or social networking. You will be able to install some applications and games, but there will not be much free space for storing multimedia. Perhaps an Apple iPad with 64GB storage capacity would be worthwhile for educational purposes. But I still recommend thinking twice.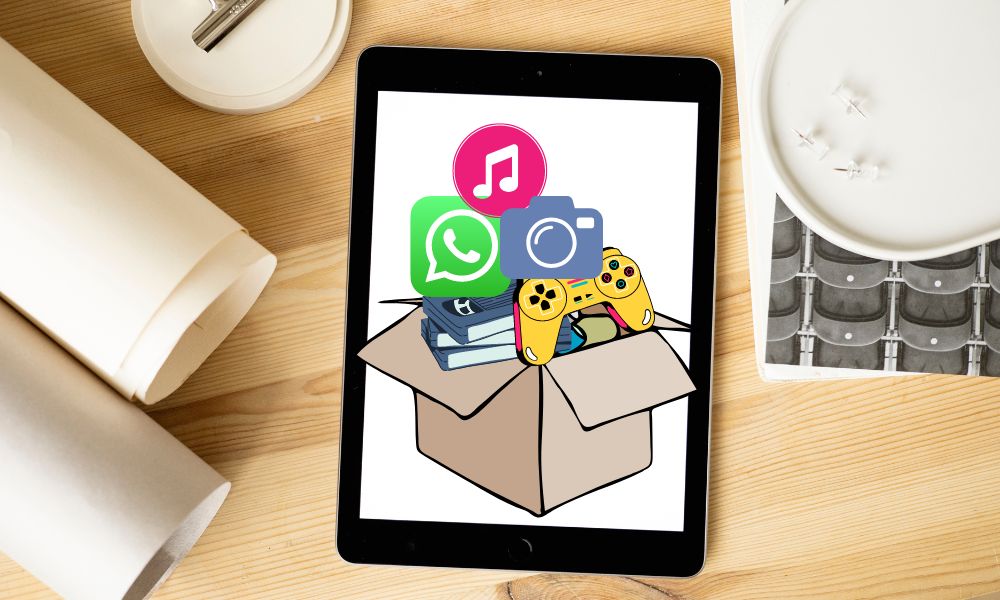 How to choose the right iPad storage size
I understand that sometimes you want to save money buying expensive devices. But when choosing the iPad storage size, don't forget about these nuances:
The iPad's operating system takes up some memory. For example, iPadOS 15 takes 12-17 GB. That leaves you with about 50GB of free storage space. Will that be enough for you?
The apps are constantly accumulating data. After a month of use, that data and the cache from the browser may take up at least 2GB or more space.
You will most likely want to download music or maybe movies to your iPad so you can watch them on the go when you don't have access to WiFi. After all, that's one of the primary uses of a tablet. But multimedia takes up a lot of space. One movie can take up to 2GB.
Our needs are constantly growing. All the files, apps, and OS updates will take up even more space in the future. Will 64GB storage capacity be enough for you?

For these reasons, getting a device with extra storage space is better. Then you will not regret your decision later on. My experience shows that 128GB is enough if you do not have special needs (we will talk about them later). But only the iPad Pro has that much memory right now. The Apple iPad Mini and Air offer only 256GB.
Question to ponder: Think about how much storage you had on your ex-device. Was it enough for you, or did you always have to delete something to install a new game or download a movie?
When you need more storage space
There are situations where 64GB is definitely not enough for your iPad. Here are some of them:
If you plan to process photos and videos on your iPad. For example, 1 hour of 4k video takes about 24GB, and one high-resolution photo can take 15 MB or more! So 64GB won't be enough for you. Even 128GB might not be enough for this task. Those who do video editing or photo processing would be better off with 512GB or 1TB storage. 
If you like to play games. 256GB it's the right storage capacity for gamers because popular games sometimes take more than 1GB and also need a lot of storage space.
For resource-intensive programs. Programs such as Photoshop, Adobe Illustrator, and Procreate take up a lot of space. In addition, they need to install additional presets, plugins, etc. And you also need an extra space to store your graphics and finished works.
To download movies. Some people prefer to download movies or TV shows to their tablets to watch them on the road, on the plane, or wherever they want without having to connect to WiFi. If you belong to this category of people, iPad models with 64GB are definitely not enough for you. It would be best to have at least 128GB storage capacity or 256GB. 
It would help if you also thought about how many people will use the tablet. If more than one family member uses the iPad, you must consider their needs.
Bonus: how you can save memory if you have a 64GB iPad
If you do decide to buy an iPad with 64GB of storage, here are some tips to help you save space on your device:
use cloud services. To save space on your iPad, transfer all work files, photos, and videos from your local storage to the cloud;
clean out junk files and cache regularly;
turn off auto-saving media in messengers and social networks;
shoot videos at a lower resolution;
turn off auto-refresh apps.
You can buy external storage to store your files. This option is more suitable for those using the tablet for work, including professional video processing and editing.
To work with files on an external drive, you won't need to download them to your tablet. But it's still expensive and not very convenient, and you also risk losing all your data if the device breaks.
The tips in this video may be useful for iPad owners as well:
FAQ
What can 64GB hold?
It's hard to do the math because different apps and games can take up a few megabytes to several gigabytes. In addition, the free storage in the tablet will not be 64GB but 50GB because the OS takes up part of the space. So if we take the average size for applications and games of 300 MB to calculate, we can install about 166 applications. But they also need space for cache and data. So the actual figure is about two times less.
Who needs a 1TB iPad?
That amount of memory is hard to fill. So I don't recommend buying a 1TB or 2TB Apple iPad models unless you are a professional content creator. Regular users don't need that kind of storage capacities.
Will 256GB be enough storage for me?
is iPad storage capacity can meet the needs of almost any user. You can easily install as many games and apps as you want and download movies and TV shows to your iPad. But even that capacity may not be enough for creating video content or playing new games that take up a lot of space.
Is cloud storage good to use? 
With cloud storage, you'll have access to your files from any device, and you can also share your files with colleagues. Furthermore, cloud storage is more secure because there is no risk of losing all your data due to a device crash. But you can store a limited amount of files for free. In addition, you will need Internet access.
64GB vs 256GB storage: which iPad storage size should you get?
If you have to choose between 64GB and 256GB iPad, it is better to prefer the second option. You will need to pay about $150 extra for the extra 192GB. That's a little over $1 per gigabyte. It seems to me they are worth it. If you don't have enough space on your tablet, you will have to buy an external drive or pay for cloud storage.
Conclusions: is 64GB enough for iPad?
I concluded that 64GB is enough for the Apple iPad only if you want to use the tablet primarily to surf the Internet and not use many applications or games. Then that amount of memory should be enough.
But in general, 64GB is not enough for modern tablets. The system, applications, games, and their data take up much space, not to mention photos and videos. So it's better to pay extra and buy an iPad with at least a 128GB or 256GB SSD. Then you can safely use your device and not think about running out of memory at the most inopportune moment.
I think 64GB memory will soon be a thing of the past; even the iPad Pro models don't have that amount of memory anymore.