If you have seen the label "renewed" or "refurbished" next to some product (for example, a smartphone or tablet), it can be confusing because the meaning of these words is not clear.
So I compared renewed VS refurbished devices to understand their differences and decide whether to buy such products.
Renewed and Refurbished meaning
In fact, the terms "renewed" and "refurbished" can mean the same thing. They indicate that the device has been in use for a while but then returned and refurbished to a new or nearly new condition. Before the item is resold, the seller inspects it for functionality, cleans it, and reinstalls the OS, and some sellers even replace the shell or other faulty parts.
Then such fully functional products are sold at a discounted price. Sometimes you can find a 20-40% sale. The device may be in like new condition and will be covered by the standard warranty, as for a new one. So I think it is a good purchase.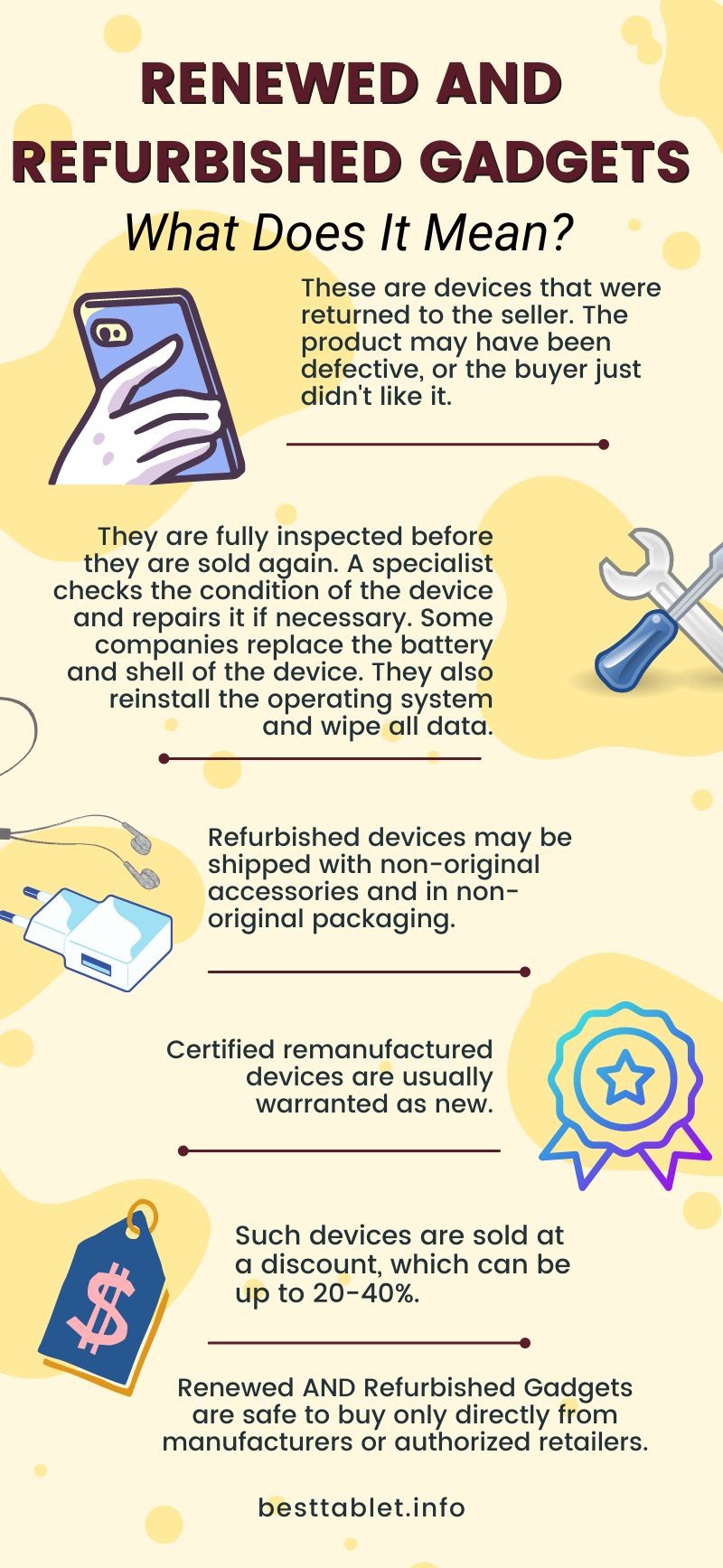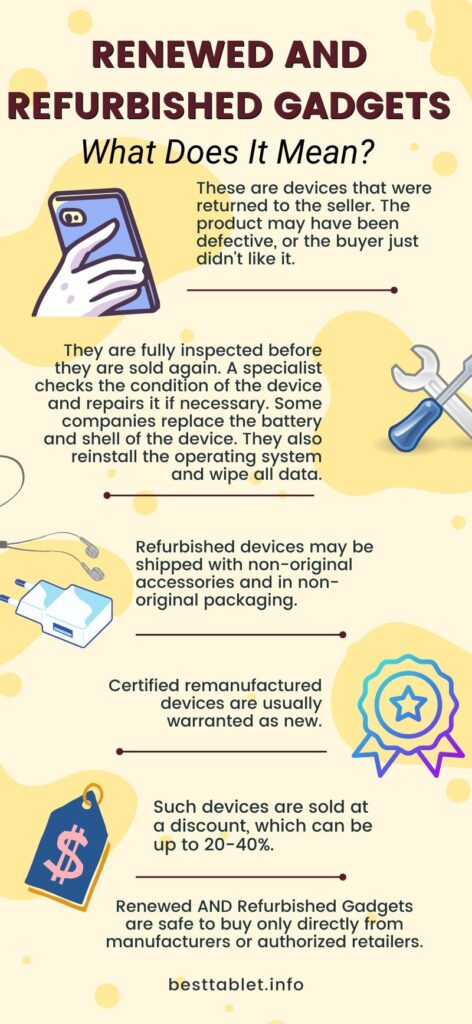 The "renewed" and "refurbished" categories don't necessarily include defective gadgets. Perhaps the previous buyer returned the product just because he didn't like it, or he changed his mind. Such goods are also called open-boxes. In fact, the previous owner didn't use the device, but the manufacturers can no longer sell it as a brand new product.
Why does everyone use different names?
Each manufacturer or marketplace chooses which term to use – renewed or refurbished. They also have their policies about such products. Some sell only items in perfect condition and replace the battery and shell, while others don't bother but give a big discount.
Usually, on the product page, the seller should describe what condition the tablet or smartphone is in, what equipment it comes with, whether it was repaired, etc. Here's an example from Amazon: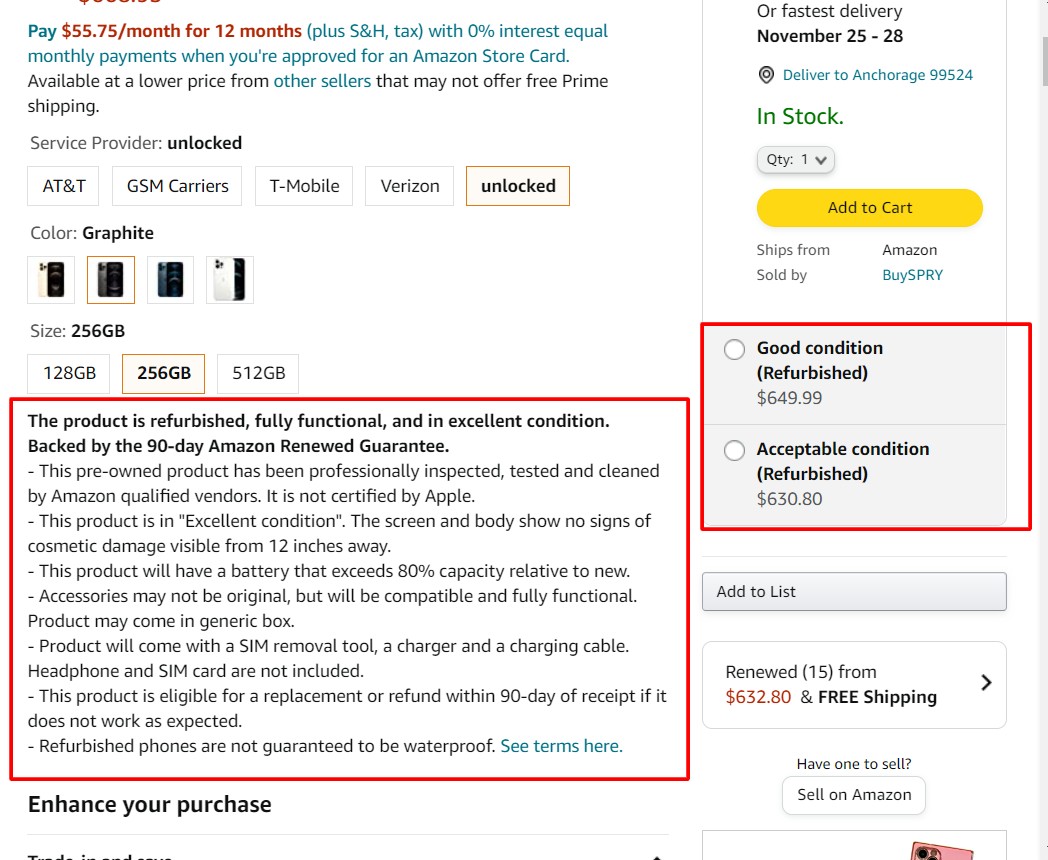 Amazon renewed VS refurbished Apple devices
Let's compare what companies like Amazon and Apple mean by "renewed" or "refurbished" device. Of course, you can also find products from other companies, such as Samsung, Walmart, and Best Buy. Each may have its own rules, so customers should check them before buying.
What is Amazon Renewed?
So, Amazon offers pre-owned products with the term "renewed." You can buy everything from watches to blenders. But more popular are renewed tablets and smartphones.
Such electronics should be thoroughly tested by specialists and are fully operational. Amazon additionally provides its 90-day warranty on them.
The company has established the following rules for refurbished products:
if the product has a battery, its life should not be lower than 80% of the original one;
all accessories must be included, but they can be non-original;
the box may not be original;
it must be supported by the manufacturer;
the cosmetic condition does not have to be perfect.
Amazon has 4 categories of renewed products: premium, excellent, good, and acceptable. Their differences are described below.

Of course, the price of pre-owned items in each category will also be different. The better the condition, the higher the price.
What is an Apple refurbished product?
Apple has other requirements for repaired devices:
the battery and the external casing are necessarily replaced (and if any other defective parts are found, they are replaced too);
all the accessories will be included;
the device will be in new, original packaging with a new manual;
they have a standard 1-year warranty, or you can buy additional Apple Care service.
They also offer free shipping and returns.
Apple may sell old devices that someone exchanged through the Apple Trade-in program. They may have been in use for a while but still remain fully functional. For example, people often turn in their "old models" iPhones after a new model comes out.
Bottom line: I think Apple offers the best option in this segment because they replace the battery and case. You can't distinguish such a device from a new one. That's the main difference. So if you want to buy an inexpensive iPhone or iPad, it is worth trying.
Are refurbished items better than used?
You have no guarantees when you buy a second-hand device from a private individual. You don't know if all the parts are working properly.
Buying certified factory renewed or refurbished gadgets is much safer for several reasons:
they undergo a comprehensive professional inspection and repair, which rules out any malfunctions;
you will have a warranty, and you can return the product if you don't like it.
Renewed product can sometimes be better than new ones because not all equipment that comes off the assembly line is perfect. Sometimes there are defects. But imagine that a specialist has done a product quality check and adjusted it. Then you can be sure that everything works perfectly.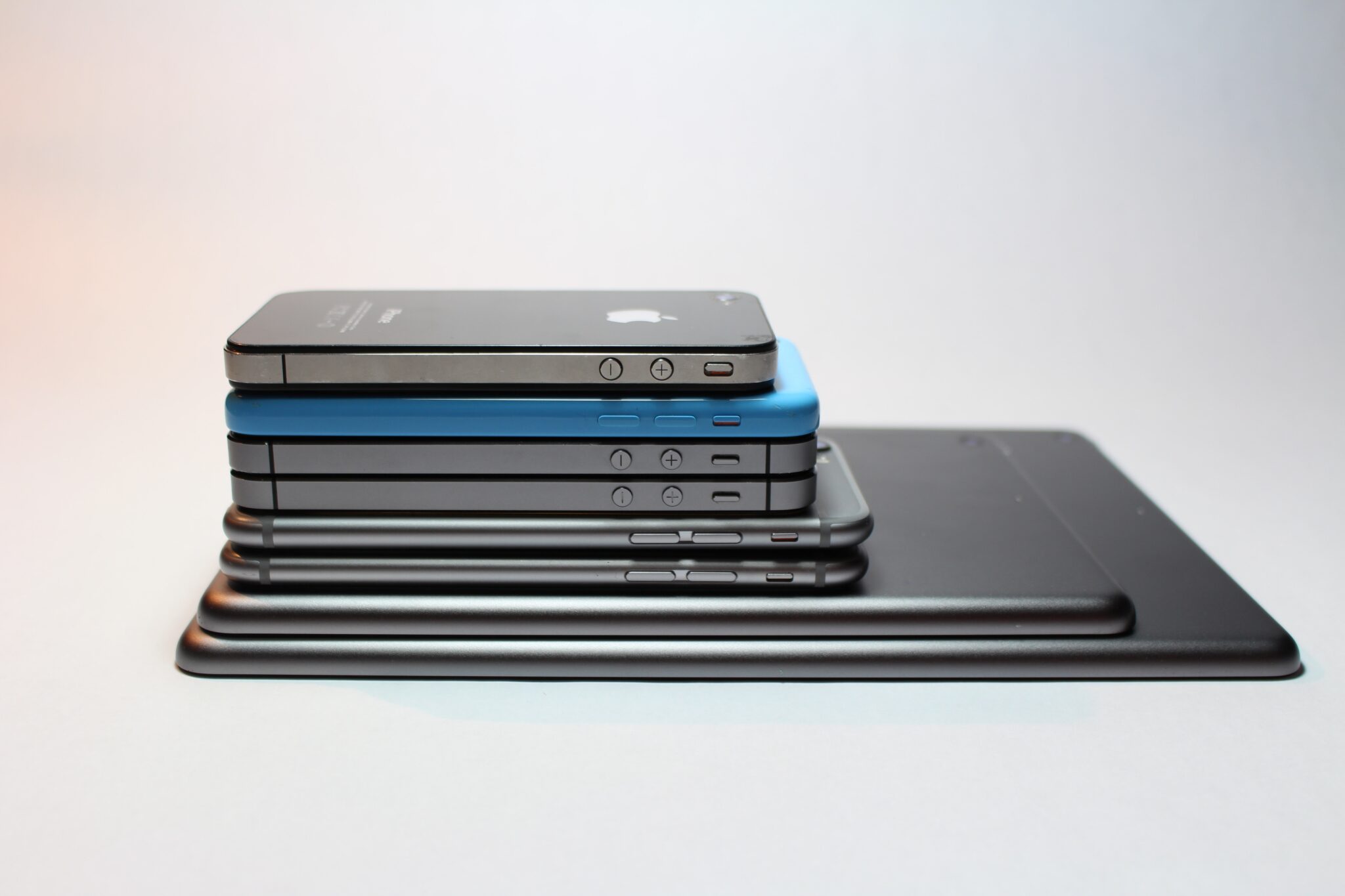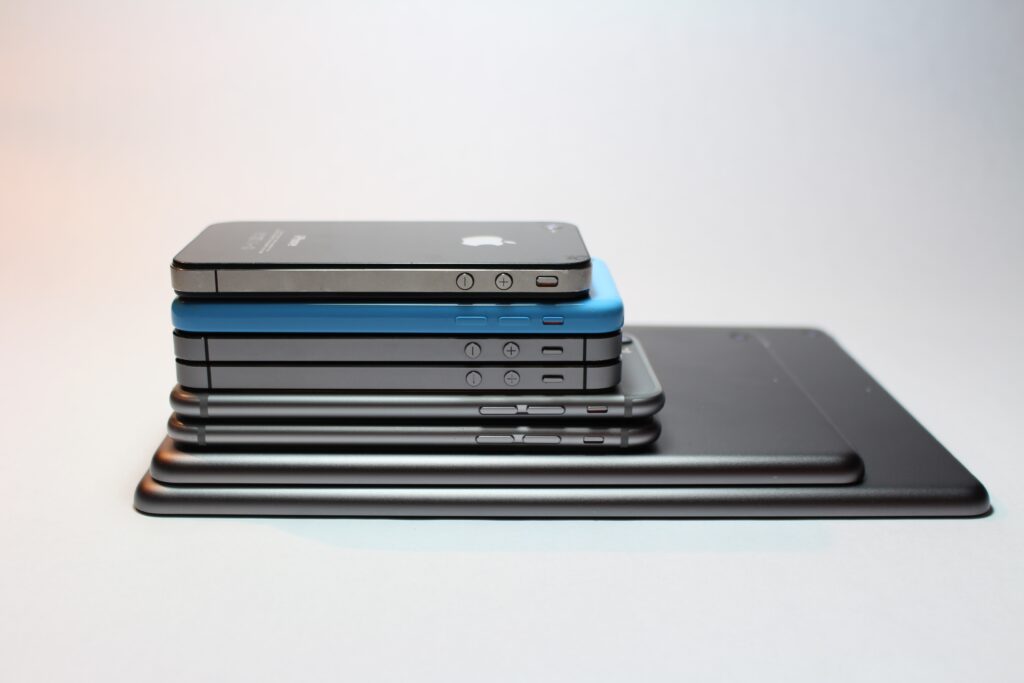 So, if you want to save money, certified refurbished products are a better purchase than second-hand ones. But to be sure that the gadgets are good, you must buy them directly from the original manufacturer or official retailers.
Which is better: renewed or refurbished?
As I said, you can't find the difference between renewed and refurbished devices because they can refer to the same product type. So it is impossible to say which is better. But here are a couple of tips to help you choose a good device:
give preference to items in perfect condition;
don't buy a too old model because it is more likely to have problems;
the seller must give a warranty on this product (ideally, the warranty should be the same as for a new one);
make sure that all accessories are included.
In my opinion, it is better to pick products in excellent condition on Amazon or from Apple. I don't think Apple would offer their warranty if they weren't confident in the serviceability of their gadgets. And what do you think?
Disadvantages of refurbished and renewed devices
You may face several disadvantages when you buy a pre-owned phone, laptop, or tablet. For example, the product may have something other than the original packaging or accessories in the package. If you are buying a tablet that is not in perfect condition, there may be scuffs and scratches on the case. In addition, if the manufacturer has not carried out a battery replacement, its capacity will be lower. The last disadvantage is the most serious.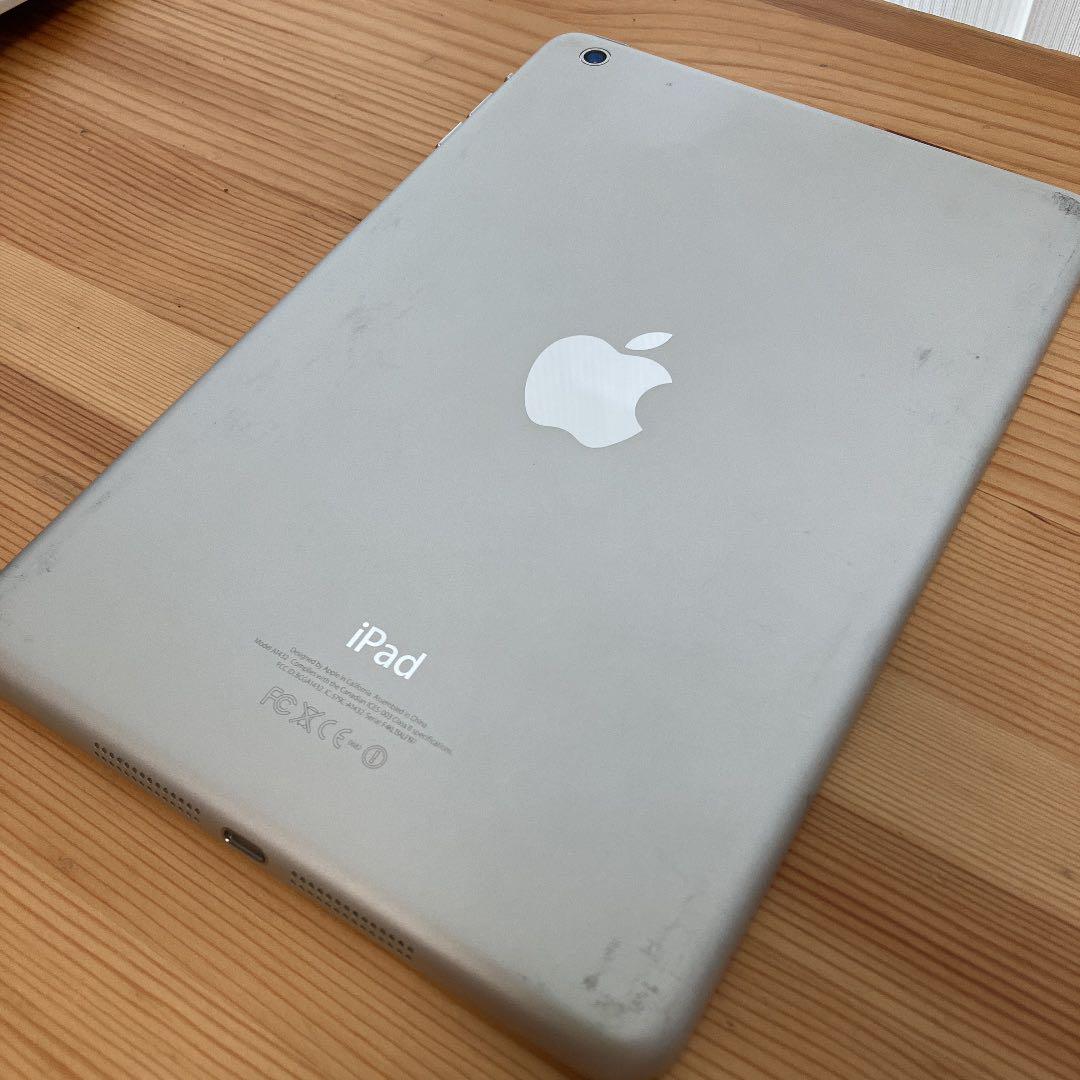 Of course, it is better and nicer to buy new devices. But you can save money on refurbished goods. Sometimes the disadvantages are not so significant, compared to the discount rate.
How much can you save?
After a little research on the market, I have learned how much you can save on purchasing pre-owned electronic devices.
For example, you can buy a Refurbished iPhone 11 Pro 512GB for $829, which is $370 less than the cost of a new model.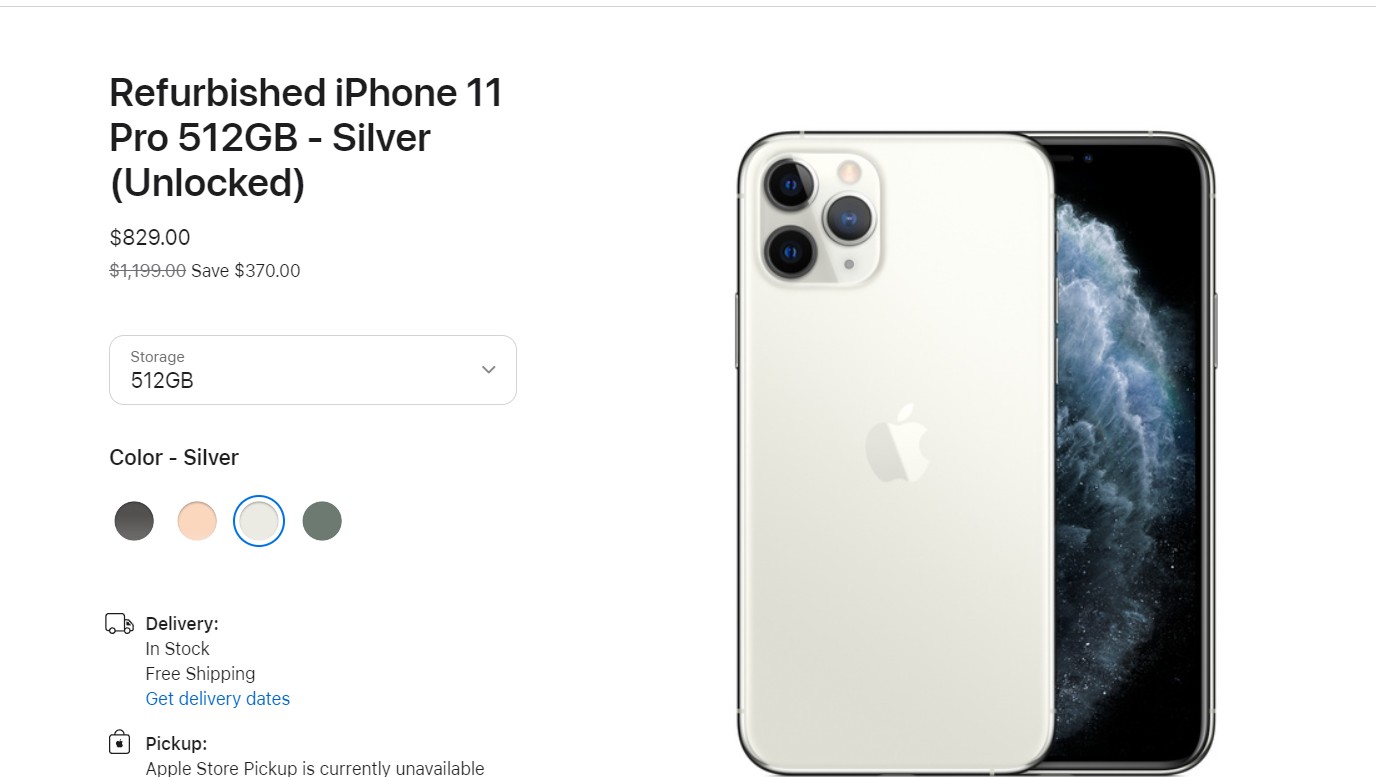 And on purchasing this Refurbished 11-inch iPad Pro, you can save $230.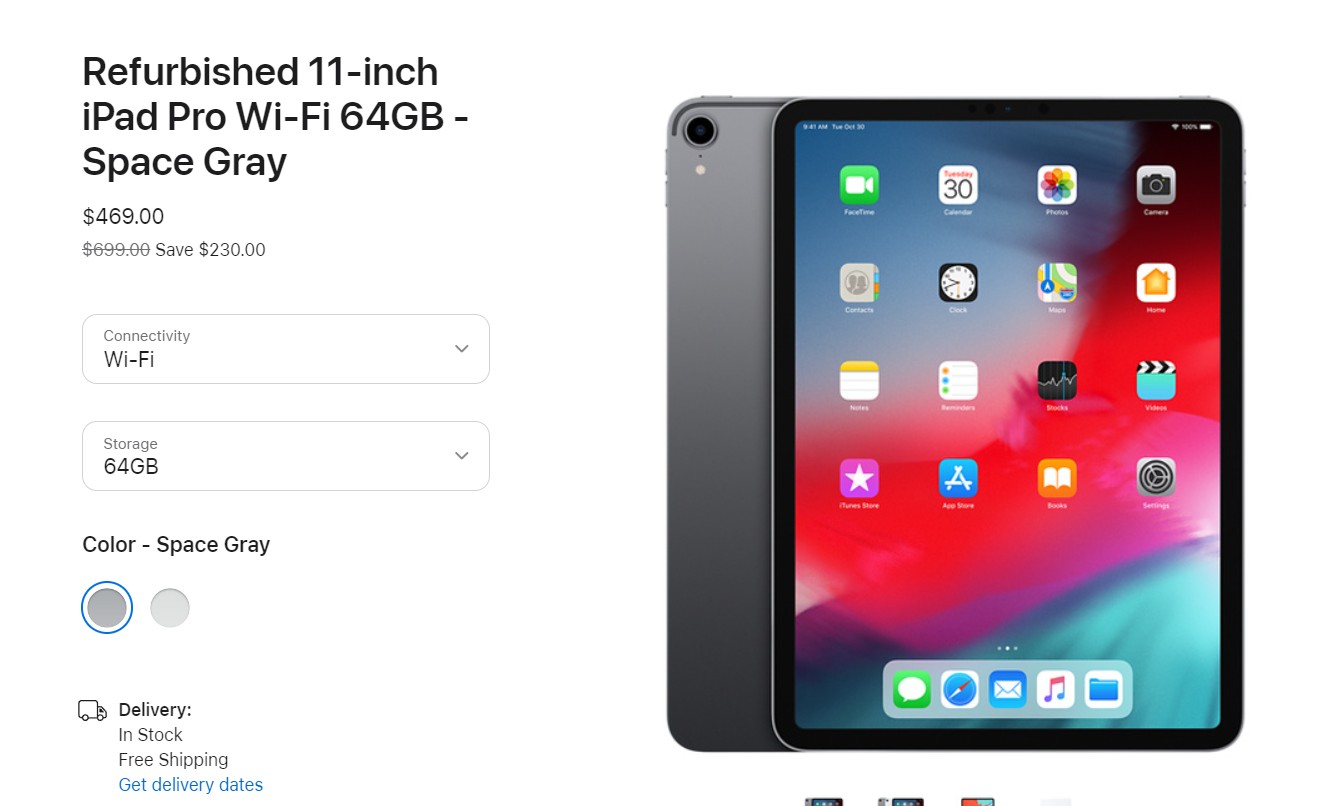 Also, you can buy a Samsung Galaxy Tab S7+ in excellent condition almost 2 times cheaper than a new one.
In addition to saving money, you'll also help reduce waste and save the environment.
Conclusions
You cannot compare renewed vs refurbished gadgets because these are two terms to describe the same features. In short, they mean used gadgets inspected and restored to near-new condition.
Since they are fully functional and sometimes even look like new, I consider this a good option to save money. You can save a few hundred dollars and still contribute to the environment.
However, it's only safe if you buy certified pre-owned items from manufacturers or trusted dealers.
FAQ
Do renewed phones have new batteries?
Not necessarily. Some manufacturers change the battery, and some do not. You should find out the information before you buy.
Is a renewed phones safe?
They are only safe if you buy them directly from the manufacturers or official distributors. First, they do a thorough check, and second, they give you a guarantee.
Are renewed or refurbished devices good?
Don't think that if your smartphone or tablet has been refurbished, then it is bad. If an official manufacturer sells such a device, you should not be afraid to buy it. After all, they are thoroughly checked before being sold, and a warranty also covers them.