To choose the best iPad for drawing, I learned what parameters of the tablet are important for an artist's work. Reviews from professionals in the field say that there are 3 main parameters:
Performance (drawing apps are quite demanding, and you don't want them to hang while working. The response speed of the Apple Pencil also depends on the processor);
The size and brightness of the display (usually the bigger, the better);
The accuracy and responsiveness of the stylus.
Based on these criteria, I've chosen the best iPad for drawing from the currently models. It is the latest iPad Pro without a doubt. But the more budget-friendly iPad Air 5th generation would also be a good option, especially for beginner artists. Below you will learn why you should give preference to these models.
Quick Pick Table
Best at all – iPad Pro
Best value – iPad Air 5th generation
Cheapest one – iPad 10th generation
Screen size and resolution
12.9-inch, 2732-by-2048 or 11 inch
10.9-inch, 2360‑by‑1640
10.9-inch2360‑by‑1640
SDR brightness
600 nits max (typical)XDR brightness: 1000 nits max full screen, 1600 nits peak (HDR content only)
500 nits max
500 nits max
Fully laminated display
+
+
–
Chip
M28-core CPU10-core GPU16-core Neural Engine
M18-core CPU8-core GPU16-core Neural Engine
A14 Bionic chip6-core CPU4-core GPU16-core Neural Engine
Apple Pencil support
(2nd generation)
(2nd generation)
(1st generation)
Max Capacity
2 TB
256GB
256GB
Price
From $1099 (for 12.9 inch) and
$799 (for 11 inch)
From $599
From $449
Why the iPad Pro is the best option for digital drawing
You should choose the latest Apple iPad Pro if you want the best of the best tablets for creating digital art. It is designed for professional work. Next, I'll talk about its main advantages for artists.
Apple iPad Pro 12.9-inch (6th Generation): with M2 chip,...
WHY IPAD PRO — iPad Pro is the ultimate iPad experience, with the astonishing...
IPADOS + APPS — iPadOS makes iPad more productive, intuitive, and versatile. With...
FAST WI-FI CONNECTIVITY — Wi-Fi 6E gives you fast wireless connections. Work from almost...
PERFORMANCE AND STORAGE — The 8-core CPU in the M2 chip delivers powerful performance,...
APPLE PENCIL AND MAGIC KEYBOARD — Apple Pencil (2nd generation) transforms iPad Pro into...
Performance
Currently, the latest iPad Pro has the most powerful chip among Apple tablets, with an 8-core CPU, 10-core GPU, and 16-core Neural Engine. It will definitely give you the smoothest and fastest performance, even if you're using multiple apps simultaneously.
Here's a comparison of performance ratings for different Apple chips: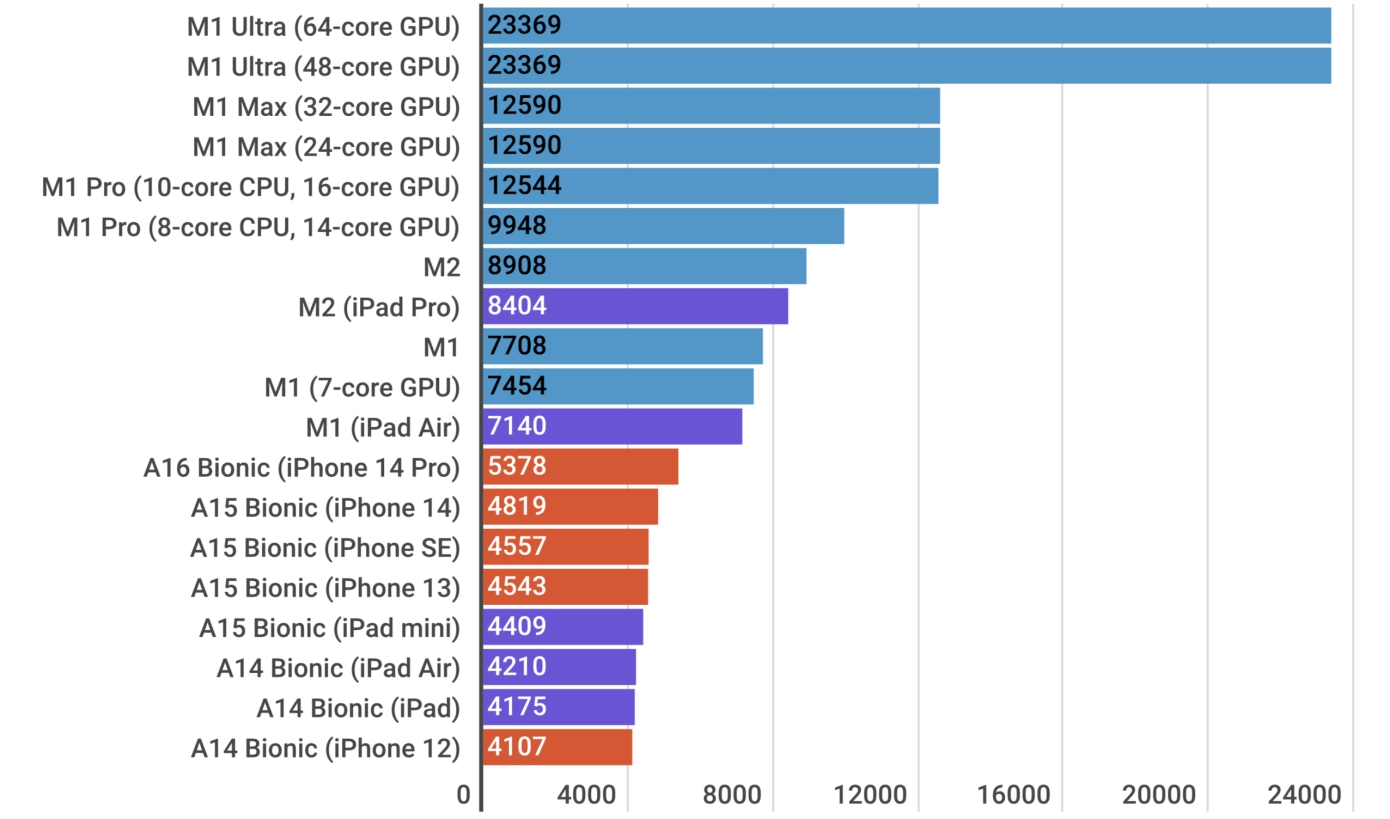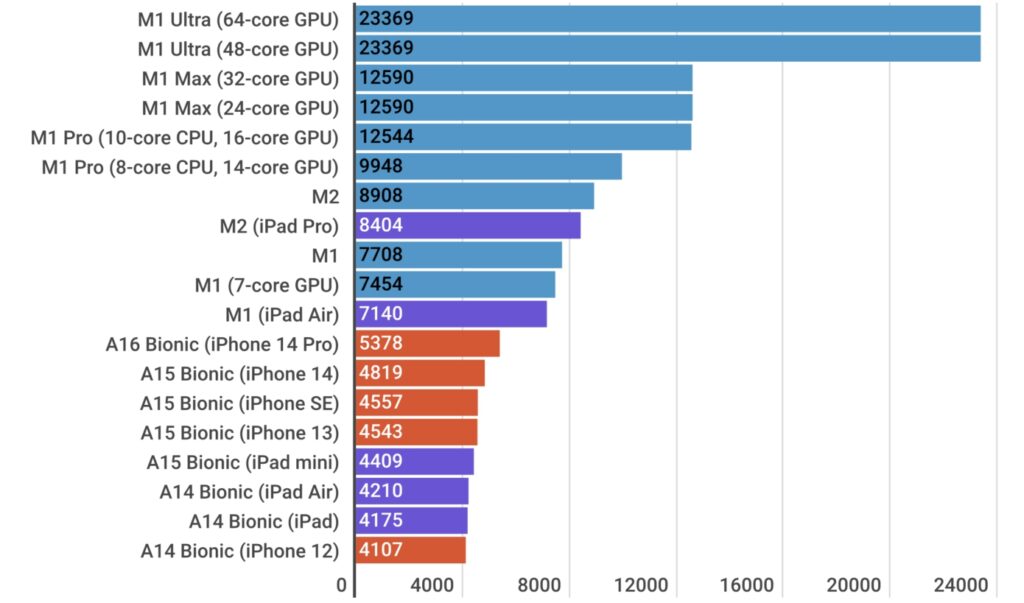 The iPad Pro may have different amounts of RAM depending on the amount of storage:
models up to 1TB have 8GB of RAM built-in;
models with 1 TB SSD or more have 16 GB RAM.
8 GB RAM allows you to create up to 41 layers in Procreate, and with 16 GB, you can create up to 77 layers! Previous models (2020 and 2018) allowed for 25 layers. This may be important for professional illustrators, although 25 layers are enough.
If you buy an Apple iPad Pro now, it will serve you for at least 5 years without complaint.
Screen quality and size
Apple offers iPad Pro in two sizes: 12.9 inches and 11 inches. Which one should you choose? That depends on your preference.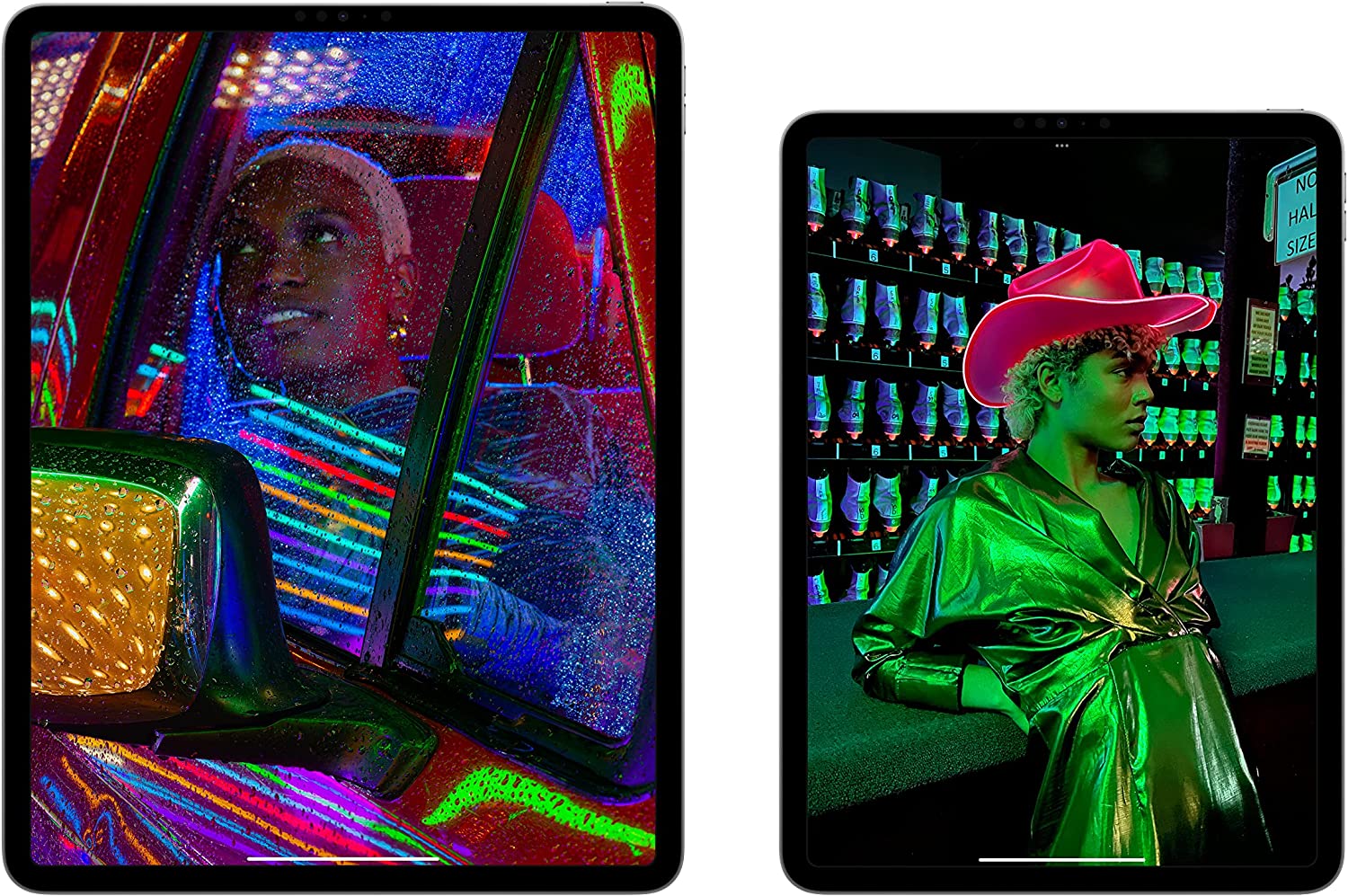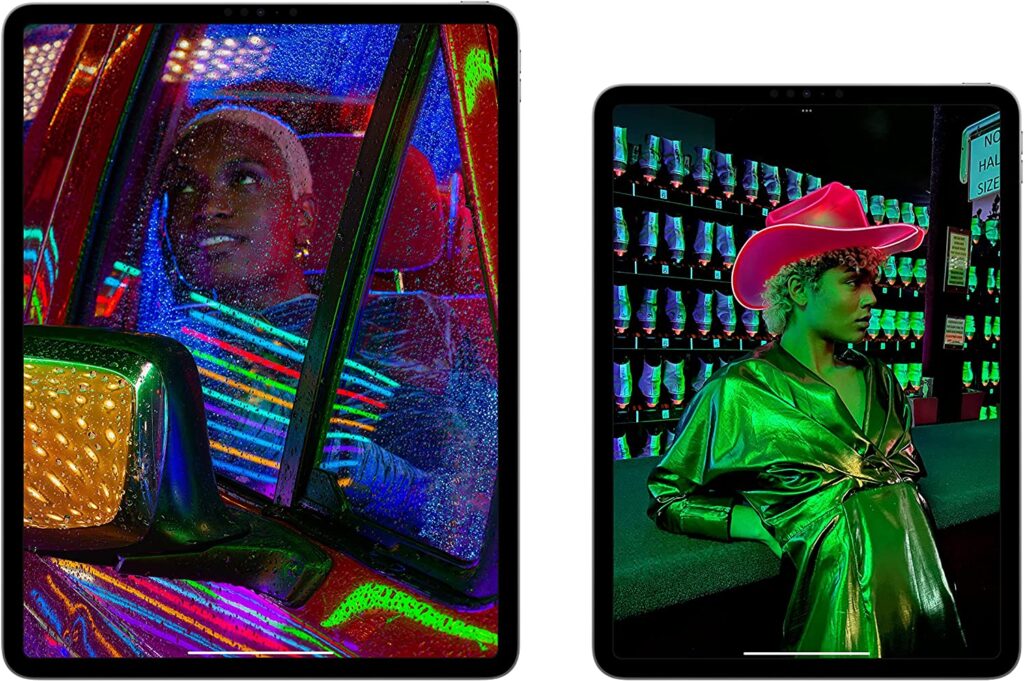 Some people think the bigger, the better, while others find the 12.9-inch screen too big and clunky. And indeed, it will hardly fit into a normal bag. The 11-inch screen size, on the other hand, is big enough but, at the same time, more portable iPad model. Besides, it costs $300 less.
However, you should know that the display of the iPad Pro 12.9 inch has higher brightness (1,000 nits compared to 600) as well as 1,000,000:1 contrast ratio. Because of this, you can use it comfortably even outside in sunny weather. It certainly affects the quality of your work.
Keep in mind that such a bright iPad display and its powerful processor can reduce battery life.
Apple Pencil Accuracy
Apple offers two models of the Apple Pencil. The iPad Pro supports the second generation Apple Pencil, which has several features such as wireless charging and magnetic attachment. But its pressure and tilt sensitivity are the same as the Apple Pencil 1.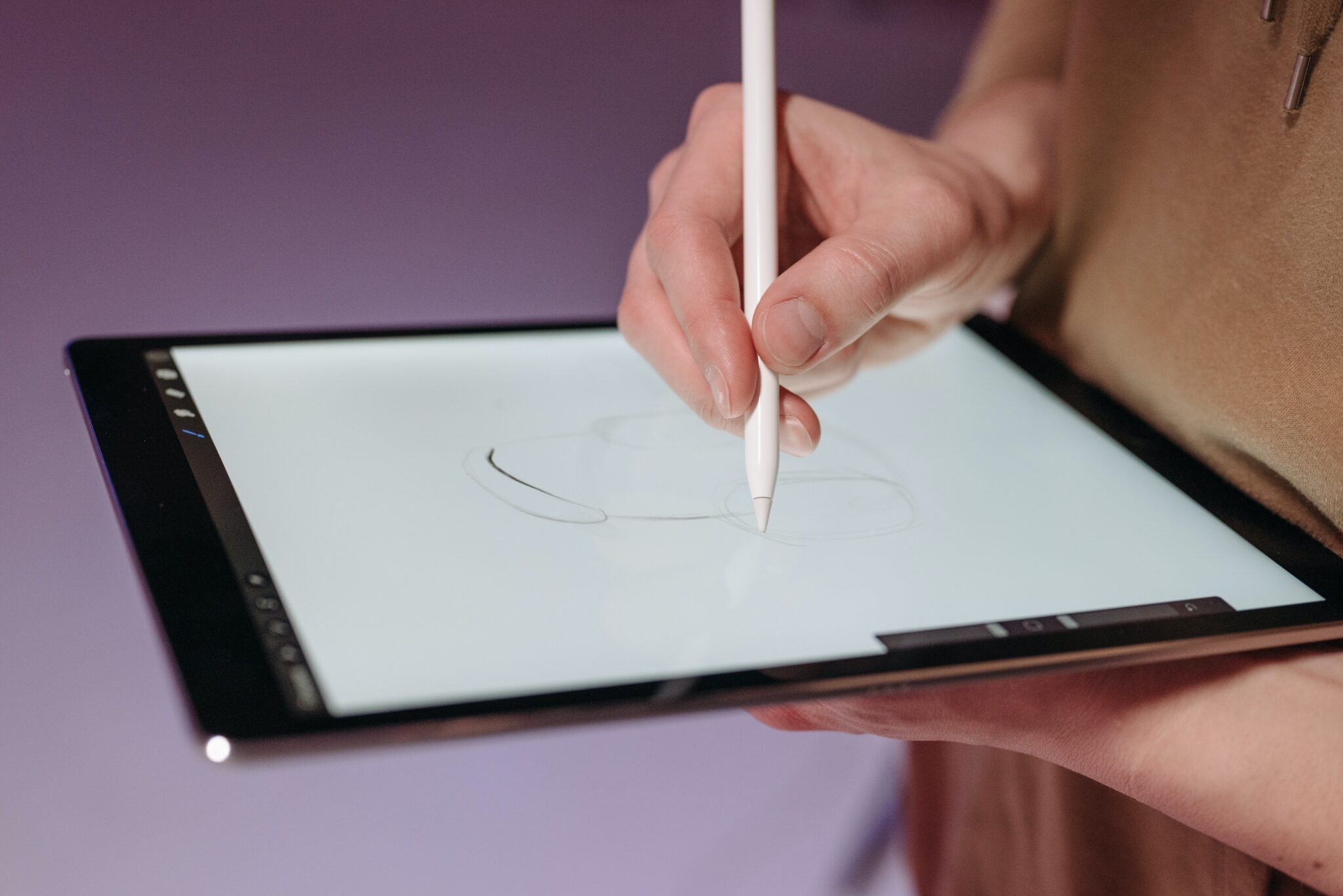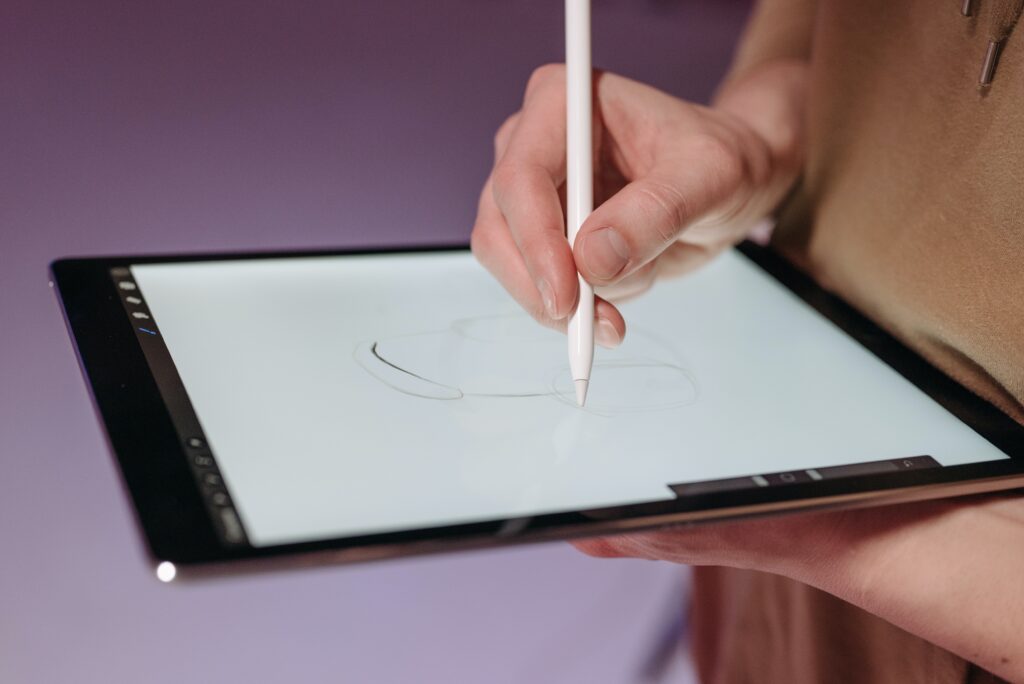 In that case, you might think that both Apple Pencils should provide the same experience, but this is not the case. Thanks to the super-fast M2 processor, the iPad Pro allows you to create detailed graphics, with no shaking or freezing. Also, the hand deflection feature works best on the iPad Pro. All this allows it to compete with professional drawing tablets such as Wacom.
More iPad pros
Both iPad Pro variants have many other enhancements that other models don't have:
512GB, 1GB and 2GB models are available. The iPad Pro may be worth the favor if you know you're usually short of the 256GB;
Improved camera (dual main 12MP + 10MP Ultra Wide cameras with TrueDepth camera system);
Face ID;
ProMotion technology;
USB-C connector with support for Thunderbolt / USB 4;
Four speaker audio and Five studio-quality microphones.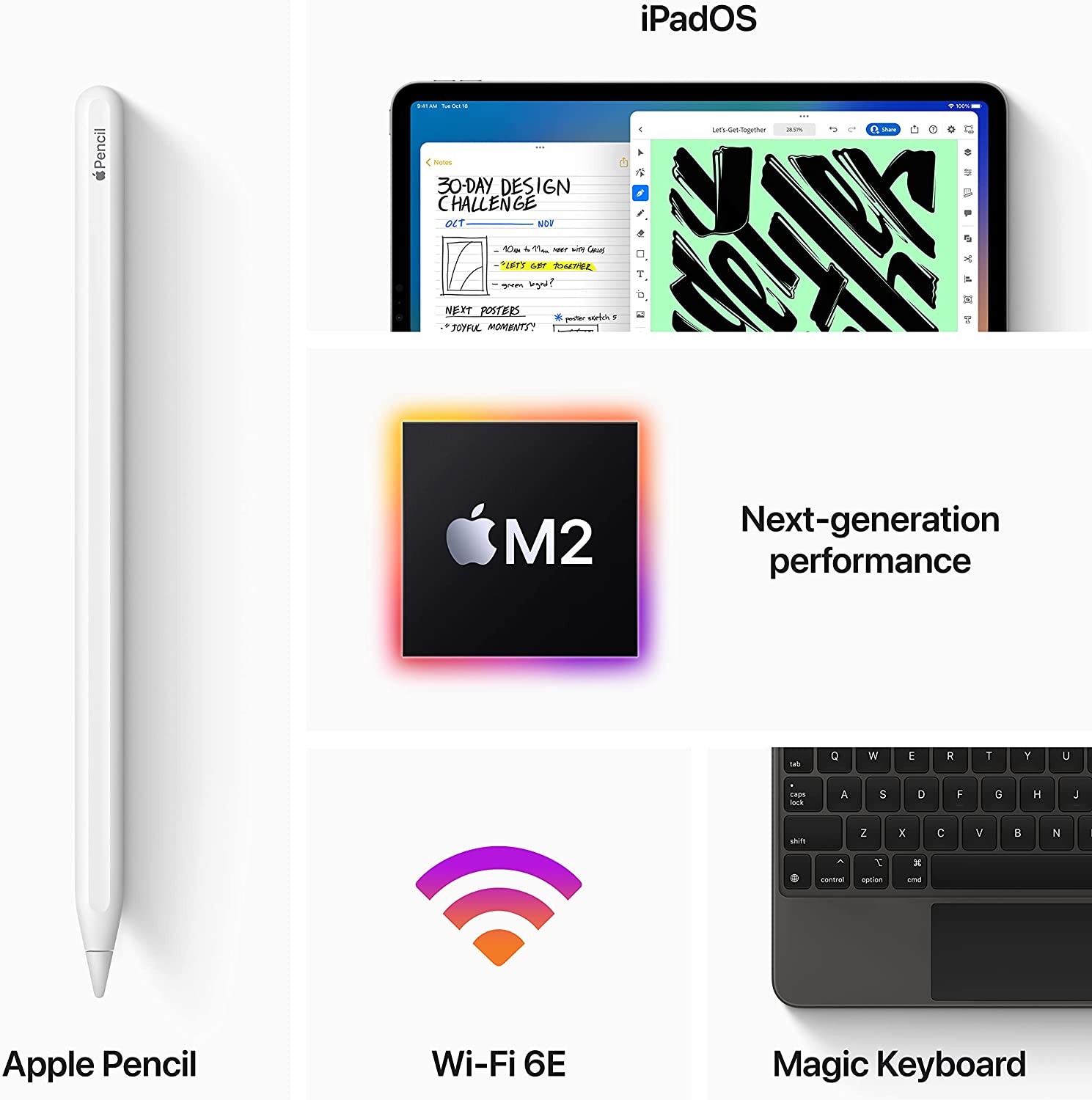 Of course, all these things are not necessary for digital artists, but they are certainly pluses because you will most likely not only draw on your tablet but also use other functions.
Conclusions: The iPad Pro is definitely Apple's most powerful tablet, with the nicest and largest display, so it's perfect for creating graphic content. It can be included in the list of the best drawing tablets. But do you really need that kind of power? Still, it's the most expensive model, so it's worth considering. You can buy an iPad Air for $150 to $500 cheaper and work just as well with it.
Best value – Apple iPad Air
Apple iPad Air (5th Generation): with M1 chip, 10.9-inch...
WHY IPAD AIR — Serious performance in a thin and light design. With an immersive...
IPADOS + APPS — iPadOS makes iPad more productive, intuitive, and versatile. With...
FAST WI-FI CONNECTIVITY — Wi-Fi 6 gives you fast access to your files, uploads, and...
PERFORMANCE AND STORAGE — The M1 chip lets you multitask smoothly between powerful apps...
APPLE PENCIL AND MAGIC KEYBOARD — With Apple Pencil (2nd generation), iPad Air...
In fact, you don't necessarily need as much power as the iPad Pro has. With the cheaper iPad Air, you can also create digital art. It has the M1 chip, which is only 10-15% weaker than the M2 chip. You won't notice this difference in performance: it's more necessary for photo and video editing than for drawing.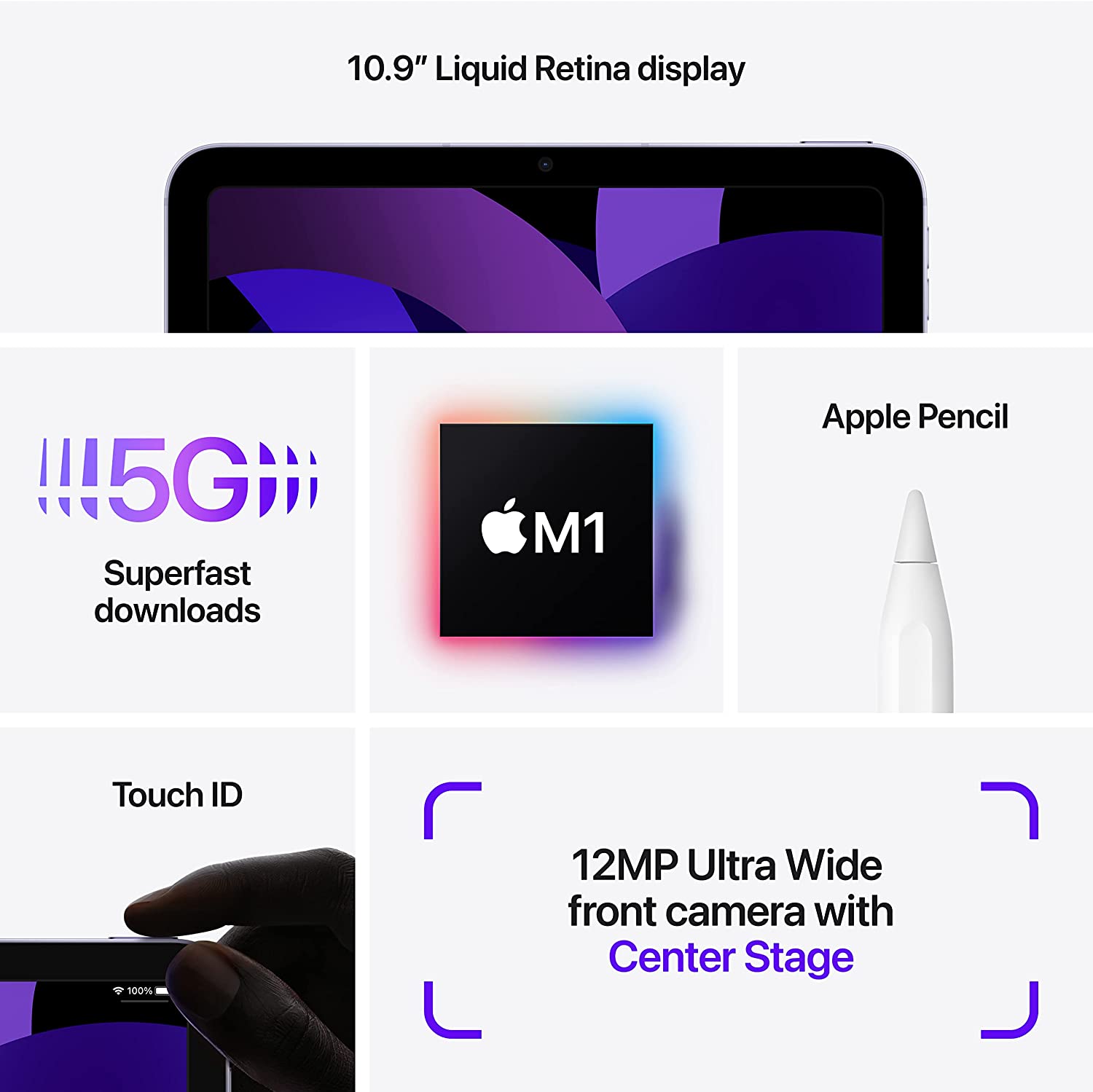 The new iPad Air has a liquid retina display 10.9 inches, almost indistinguishable from the 11-inch iPad Pro. It also has a laminated IPS display with Anti Reflective coating and True Tone technology, but the brightness of the iPad Air's display is slightly lower at 500 nits max compared to 600 for the 11-inch iPad Pro.
That difference isn't very noticeable. But comparing it to the 12-inch iPad Pro is no longer appropriate. It is clearly better, but the price is $ 500 higher! So in my opinion this is the best budget iPad for drawing.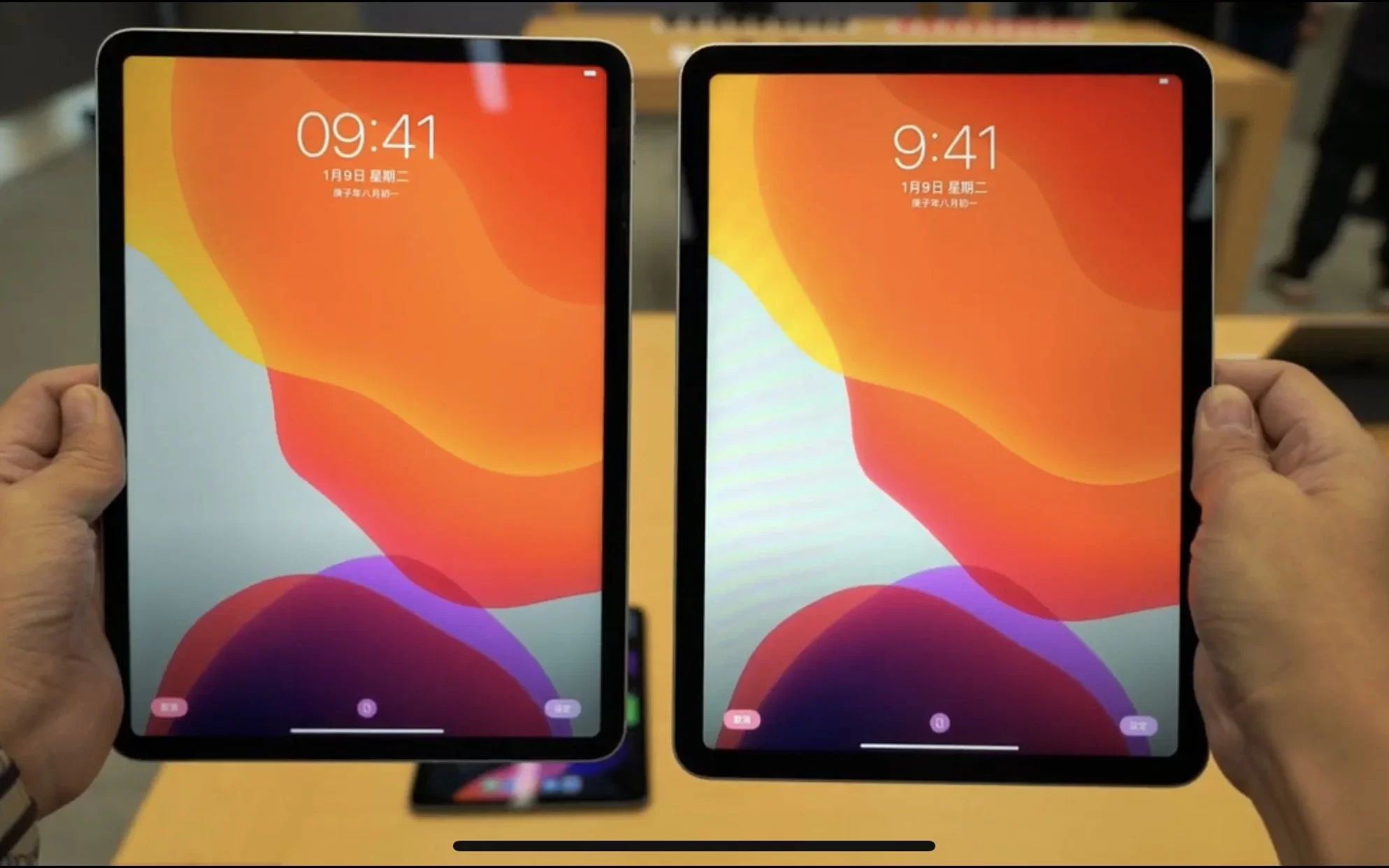 The iPad Air has a few downsides: no Face ID support, only one main camera, two speakers and two microphones and it has a maximum storage capacity of 256GB, but I'm sure that will be enough for most users.
If you really care about those features, you'll have to pay at least $150 more to buy an iPad Pro with an 11-inch screen.
You can find other suitable drawing tablets in my reviews "Best Tablets for Adobe Illustrator" and "Best portable drawing tablet". Although iPad drawing apps are good enough, they lack some of the features that full-fledged Windows apps have. That's why many professional artists use a dedicated graphics tablet, and buy a compact iPad for use outside the home.
Will a regular iPad work for drawing?
Right now, the cheapest one is the Apple iPad 9th generation. The WiFi-only model with 256GB of storage costs $479. In second place is the iPad 10th generation at $599.
Apple iPad (10th Generation): with A14 Bionic chip,...
WHY IPAD — Colorfully reimagined and more versatile than ever, iPad is great for the...
IPADOS + APPS — iPadOS makes iPad more productive, intuitive, and versatile. With...
FAST WI-FI CONNECTIVITY — Wi-Fi 6 gives you fast access to your files, uploads, and...
PERFORMANCE AND STORAGE — The A14 Bionic chip delivers power and performance for any...
APPLE PENCIL AND MAGIC KEYBOARD FOLIO — With Apple Pencil (1st generation), iPad...
The 9th generation iPad is already pretty outdated, but the new iPad 10th generation is a worthy competitor for its price. Basically, it can be used for drawing, but be aware of a few drawbacks that can get in the way:
It doesn't support the Apple Pencil 2. The first generation Apple Pencil loses slightly to the second-generation Pencil. It doesn't have a handy magnetic mount and doesn't support wireless charging. It also use an outdated lightning port for charging with an uncomfortable, small cover.
It have the weakest chip. Although the performance of the A14 Bionic chip is enough to perform everyday tasks, when using drawing apps, you may notice a few hiccups. Still, the performance of the M1 chip (iPad Air) is almost two times faster than the A14 Bionic chip.
Non-laminated true tone display. The lamination affects the drawing experience. Because there is no gap between the display and the protective glass, it gives the impression that lines appear right under the pencil tip when you draw. This makes it more comfortable and pleasant to draw. If the display is NOT laminated, you notice a small gap, which can interfere with and affect the quality of your digital drawings.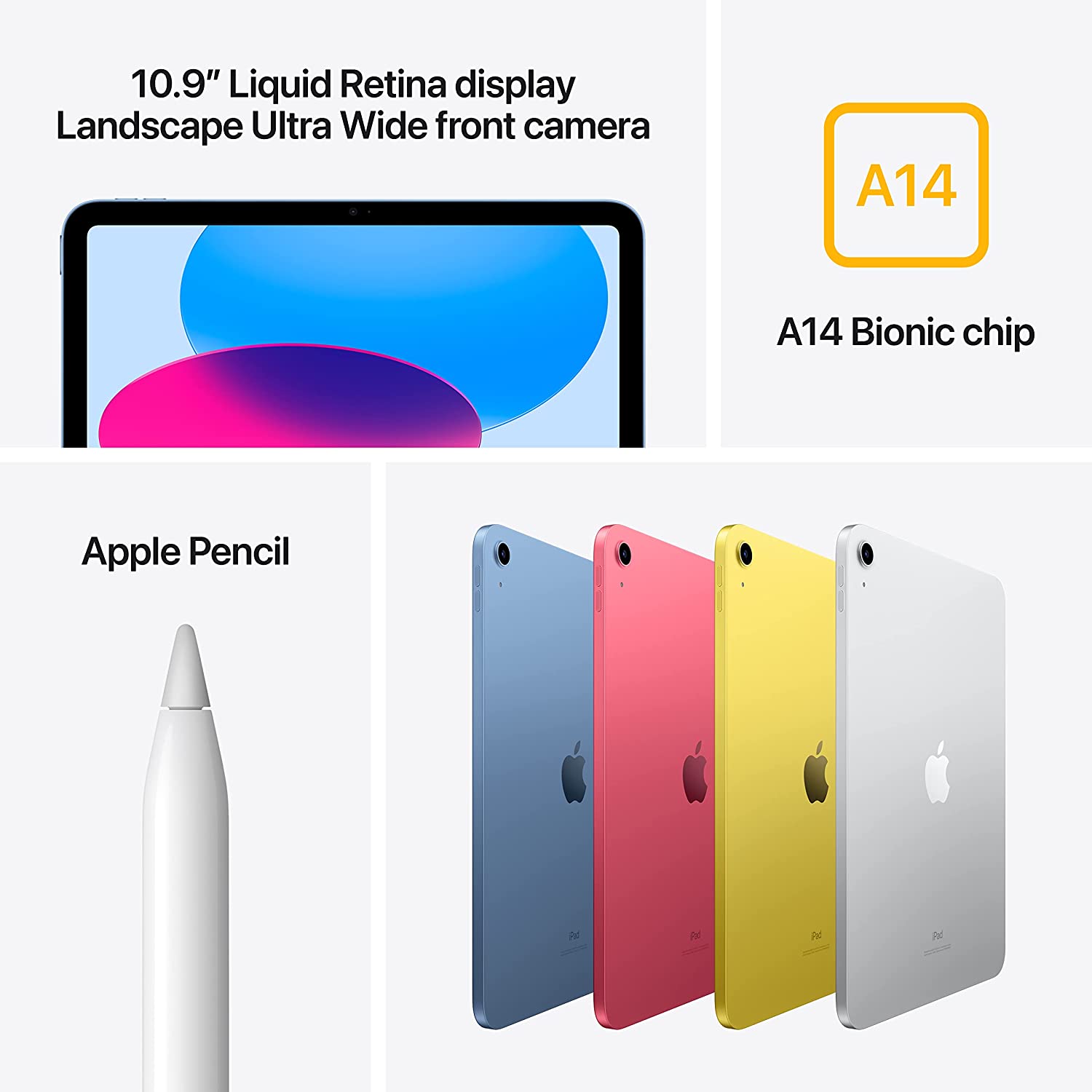 Now all models except the standard iPad support a second Apple Pencil. They also have a laminated display. iPads are made with NOT a laminated display to keep the cost down. Considering that the iPad Air is only $50-100 more expensive, it's better to buy this one.
Older iPad models for drawing
If you want to save money, consider buying older iPad models that are no longer available in Apple stores. The 2019-2021 iPads are also very good, and many artists enjoy using them.
Here are a few of the most suitable "old" iPads for drawing:
basic iPad 2021 (10.2″ + A13 Bionic chip with 6-core CPU, 4-core GPU and 8-core Neural Engine);
iPad regular 2020 (10.2″ + A12 Bionic chip with 6-core CPU, 4-core GPU and 8-core Neural Engine);
iPad Air 2019 (10.9″ + A14 Bionic chip with 6-core CPU, 4-core GPU and 16-core Neural Engine).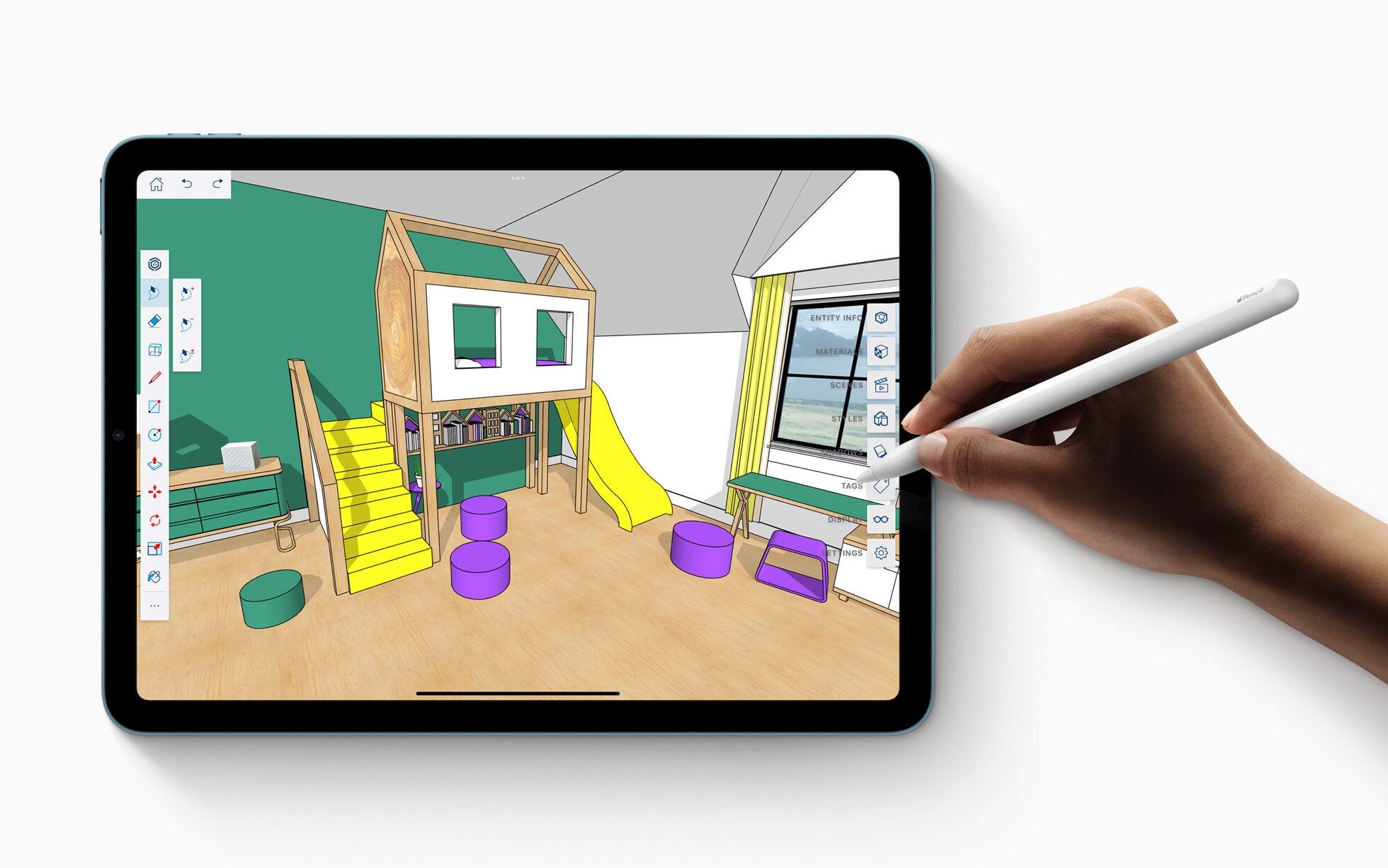 Unfortunately, they all only support the old Apple Pencil, which is a slight disadvantage. They also have a slightly worse screen with lower brightness.
You can buy an renewed iPad, which will be in perfect condition, but cheaper. But I recommend buying such a product if you can save at least $150-200. Otherwise, getting a new model is better.
FAQ
Which iPad is better for drawing: 64 GB or more?
It is better to avoid models with a small SSD. Give preference to models with 128 GB of memory, or more, so you have enough space for programs and drawings. More than 256 GB will be too much if you need a tablet for drawing.
What tablet size is best for artists?
One statement is true – displays smaller than 10 inches won't be very handy because a larger screen is more comfortable to work on. Some people wouldn't trade in their huge 12.9-inch iPad for anything, while others find it too big. You should try different-sized tablets to see which one works for you.
Which Apple Pencil is better for drawing?
In general, both models of Apple Pencils are good and have the same pressure and tilt sensitivity. But the second-generation Pencil has a sensor for switching tools and wireless charging. In addition, the combination of the new, powerful iPad Pro with the Apple Pencil 2 provides the highest precision drawing.
Conclusions: best iPad for drawing
So, if you need the most powerful device and are willing to pay more than $1,000, choose the iPad Pro 12.9. If it seems too much, you can choose the new iPad Air, which also perfectly copes with all tasks, including drawing.
The basic budget iPad is not very suitable for drawing, as it is weaker and has a non-laminated display.
If you want the most portable iPad, you might want to consider buying a new iPad Mini, but in my experience, it's a very small size for a digital art. That's why I didn't write about it in this review.
In conclusion, here's my assessment of the different models of iPad according to different criteria:
| | | | |
| --- | --- | --- | --- |
| | iPad Pro | iPad Air 5th generation | Regular iPad 10th generation |
| Performance | 5/5 | 4/5 | 3/5 |
| Display quality | 5/5 | 4/5 | 3/5 |
| Apple Pencil Accuracy | 5/5 | 5/5 | 3/5 |
| Price | 2/5 (most expensive) | 4/5 | 5/5 (most advantageous) |