I compared iPad VS iPad Pro in all parameters to determine which will be better for you. You'll find out if you should overpay $400 for more advanced features or if a simpler and cheaper option will do.
Briefly about the 2022 models update
For this article, I picked up the latest models, the Apple iPad Pro 6th generation and iPad (10th generation) 2022. They have a lot of improvements over the previous versions, so the conclusions from their comparison may differ.
Especially pleased with the new iPad. The previous version of the 9th generation is very outdated. It had a rather weak chipset, an old-type lightning port, archaic design and display; it did not support Magic Keyboard, 5G network, and video in 4k. Comparing it to the iPad Pro would be inappropriate. But the new generation iPad is another matter. It meets modern standards and can be a worthy competitor.
The new Pro model, on the other hand, doesn't have many changes. They've added a more powerful chipset (although the previous M1 is good as it is), an improved camera with ProRes video recording capabilities, and faster WiFi 6E. For most users, these changes are unimportant, so iPad Pro 5th-generation owners are in no hurry to change their devices to the new sixth-generation model.
Comparing the Differences between iPad VS iPad Pro
Feature
iPad Pro 6th generation
iPad 10th generation
Chip
M2 chip8-core CPU with 4 performance cores and 4 efficiency cores10-core GPU16-core Neural Engine100GB/s memory bandwidth8GB or 16GB RAM
A14 Bionic chip6-core CPU with 2 performance cores and 4 efficiency cores4-core GPU16-core Neural Engine
Media engine
Hardware-accelerated H.264, HEVC, ProRes, and ProRes RAWVideo decode engineVideo encode engineProRes encode and decode engine
–
Display
12.9″ or 11″Liquid Retina XDR displayProMotion technology and True ToneFully laminated displayAntireflective coatingSDR brightness: 600 nits (11 inch) and 1000 nits (12,9 inch)
10.9″Liquid Retina displayTrue ToneSDR brightness: 500 nits max
Resolution
2732-by-2048 resolution at 264 ppi
2732-by-2048 resolution at 264 ppi
RAM
8GB or 16GB
4BG
SSD
128 GB, Up to 2 TB
64 GB or 256GB
Front camera features
12MP Wide and 10MP Ultra Wide camerasWide: ƒ/1.8 apertureUltra Wide: ƒ/2.4 aperture2x optical zoom outDigital zoom up to 5x+Brighter True Tone flash
12MP Wide cameraƒ/1.8 apertureDigital zoom up to 5x
Audio
Four speaker audio
Landscape two speaker audio
Connection
USB‑C connector with support for Thunderbolt / USB 4
USB-C connector
Secure Authentication
Face ID
Touch ID
Weight
1.5 pounds (682 grams)
1.05 pounds (477 grams)
Accessories Compatibility
Works withApple Pencil (2nd generation), Magic Keyboard and Smart Keyboard Folio
Works withApple Pencil (1st generation) and Magic Keyboard Folio
Price
WiFi only 11 inch, 256 GB – $999
WiFi only 12.9″, 256 GB – $1199

WiFi only – $599 (256 GB)
Now let's look at each feature in more detail to find all the differences.
Processor
Probably the most significant difference between the Pro version of the iPad is its latest M2 chip with 8-core CPUs with 4 performance cores and 10-core GPUs. This chip brings it close to the level of the MacBook. According to Apple, the M2 provides 15% more performance and 35% more graphics performance (compared to the M1 chip).
If you compare the iPad Pro VS iPad CPU score, you can see that it is 50% more powerful:
That means you can play demanding games or work with professional software. If you do video editing on your tablet, it'll take less time with the iPad Pro models. You won't see the system freeze even when you're doing work in multiple apps at once.
But not many programs require such high performance. So most users don't need more than the regular iPad with A14 Bionic chip. It has a powerful enough 6-core CPU and 4-core GPU to handle most tasks such as playing games or watching video.
Display
The Apple iPad only has a 10.9″ display, which is quite large yet compact. The iPad Pro comes in two sizes, 11″ and 12.9″, which is currently the largest. And it's really huge, almost reaching the size of a laptop.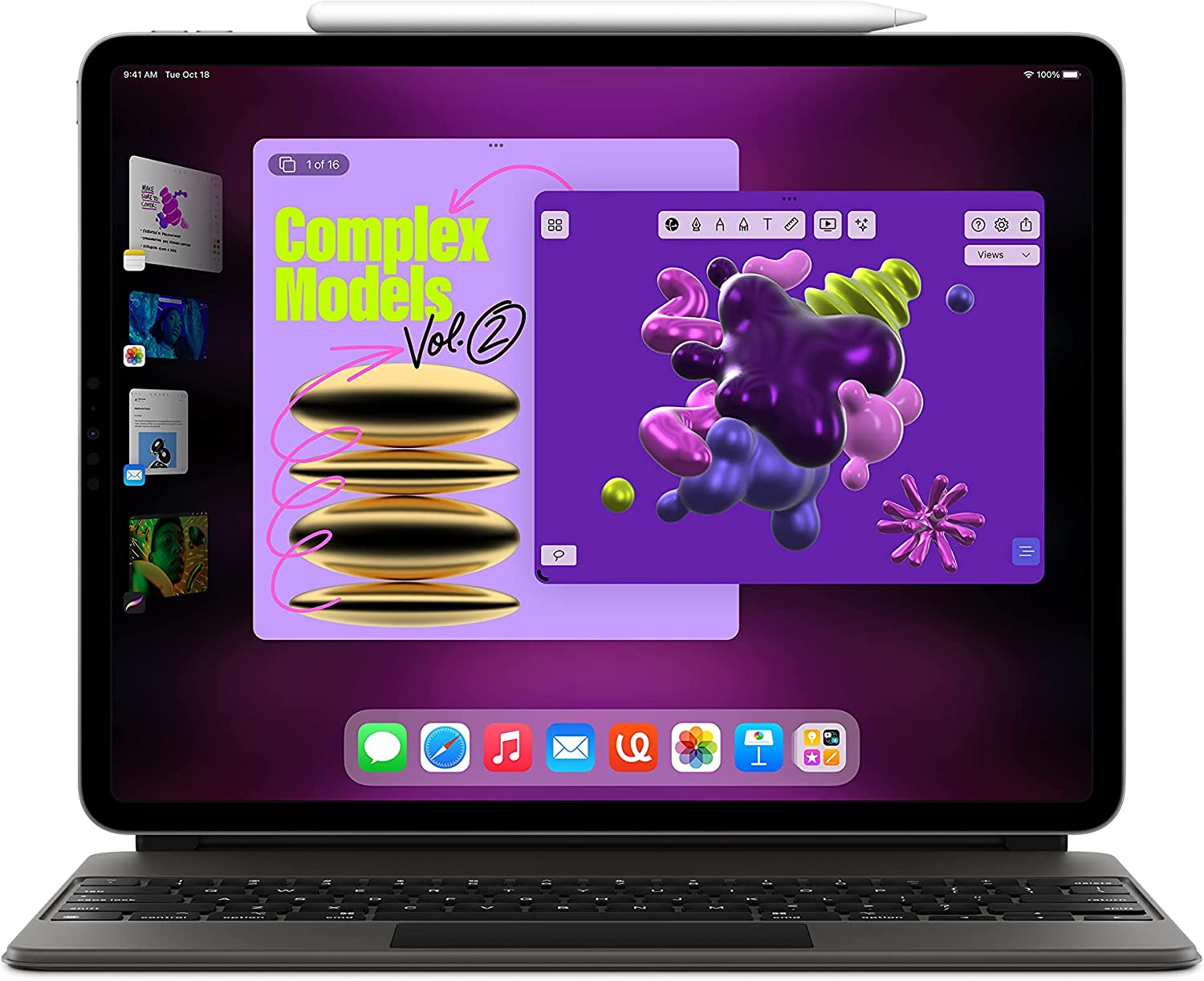 A bigger screen is better for work, so the size of the screen may be decisive for you in choosing the right model.
Both the iPad Pro and iPad have a Liquid Retina display with True Tone technology and the same resolution. However, the iPad Pro has a few improvements:
Pro Motion technology gives you smoother movements like scrolling through pages;
fully laminated display (provides a clearer and sharper picture);
antireflective coating (reduces the amount of reflection and glare from the sun on the screen, which improves visibility in sunny weather).
These are small improvements but are needed.
The 11-inch iPad Pro's brightness is slightly higher, but the 12.9″ takes it further. Its full-screen brightness is 1000 nits, and its peak brightness is 1600! That's three times higher than the iPad, and the difference is noticeable to the naked eye, especially in sunlight.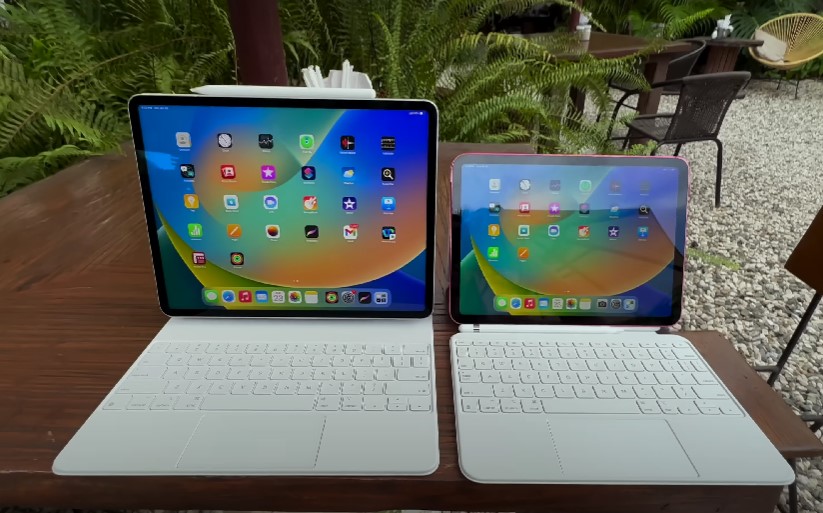 To achieve these numbers, Apple created new LEDs that are 120 times smaller than the previous models. So they were able to use much more LEDs.
Well, and also worth mentioning is the contrast ratio of the 12.9 inch iPad pro display, which is 1 000 000:1. Such a display will be especially useful for digital artists. You'll see the smallest details and tones on the iPad Pro screen.
Storage space
In my opinion, the 256GB of memory provided by the Apple iPad is quite enough for the average user. You'll be able to store a large number of photos and videos, as well as install dozens of apps and games.
More memory is only needed for those who shoot and edit videos or do other work that requires storing large documents. Gamers may also need a 1TB or 2TB tablet because some games can take up a lot of space.
Camera
The new iPad has a very good camera. It allows you to record video in 4K resolution, as well as video in slow motion with stabilization.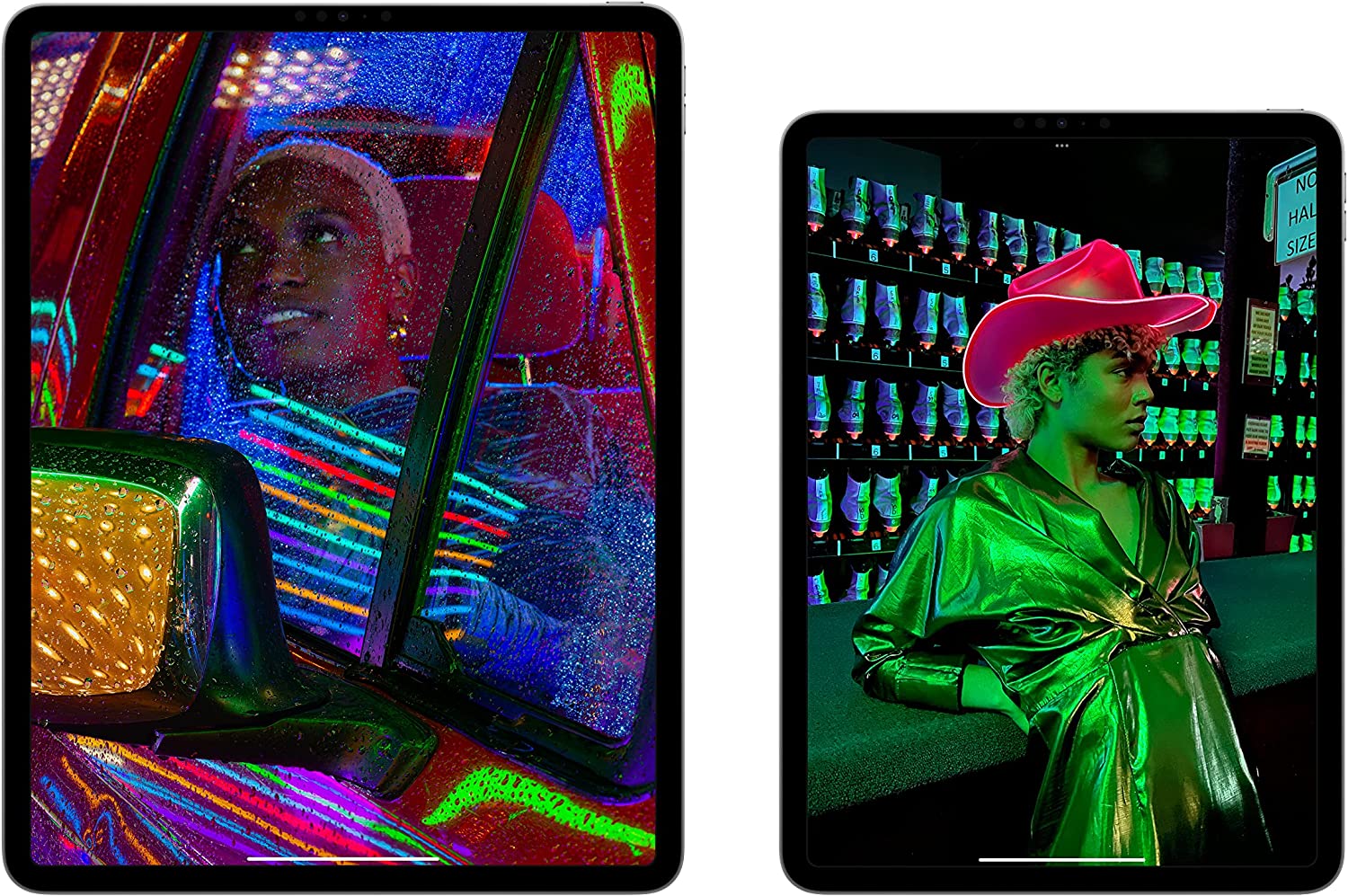 But during the iPad Pro comparison, I found a few beneficial differences in the rear camera:
it has a dual camera system with a second wide-angle camera ƒ/2.4 aperture;
support for ProRes video recording up to 4K at 30 fps;
audio zoom;
LiDAR Scanner (scans depth for better photos and AR);
Smart HDR 4 (the basic iPad has Smart HDR technology 3).
Did you know? "Apple ProRes is a high quality, "visually lossless" lossy video compression format developed by Apple Inc. for use in post-production that supports video resolution up to 8K."
The iPad Pro's front-facing camera also has some advantages over the iPad. It supports Portrait mode with advanced bokeh and Depth Control and Portrait Lighting with six effects.
It is great news if you like to record videos on your tablet. If you want to buy an Apple tablet for these purposes, you should choose the Pro model.
Apple Pencil support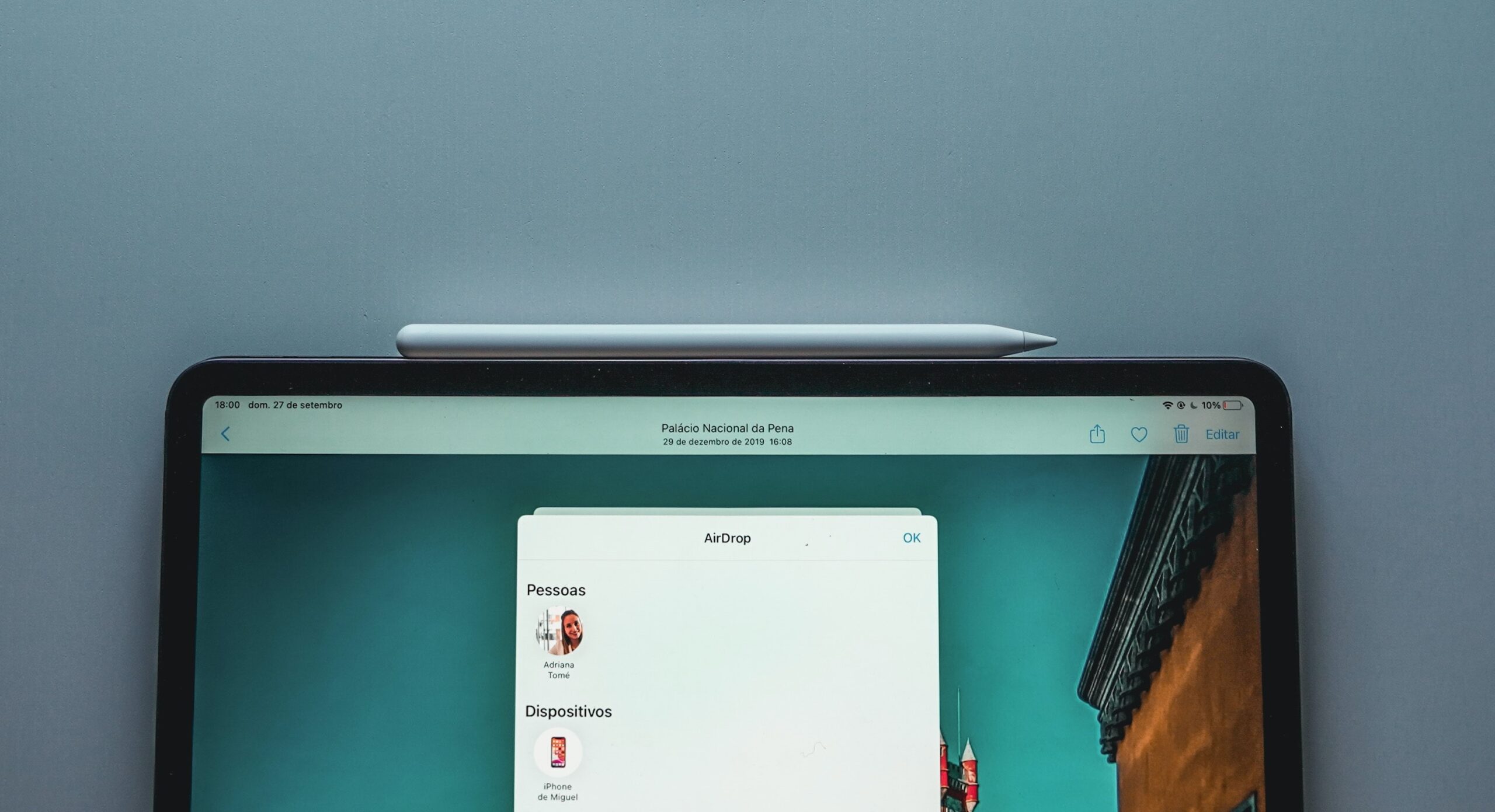 The basic iPad only supports the first-generation Apple Pencil, while the iPad Pro also supports the second-generation Pencil. It is a pretty big plus because the second generation has important upgrades:
magnetic attachment;
wireless charging (which means no lightning connector and the awkward cap);
double-tap to change the tool;
it has one flat side so that the Pencil won't roll around on the table.
The iPad Pro with Apple Pencil 2 will be your preferred option if you work in graphic design or photo processing. I have an article comparing the Apple Pencil 1 VS 2 for those who want to know more.
Design
The 9th generation iPad, of course, has an outdated design. But the new model already has narrower frames and no physical home button, which makes the iPad more attractive and modern. It also comes in 4 attractive colors: pink, blue, yellow, and silver. The iPad Pro only comes in two colors: space gray and silver. That's a little disappointing.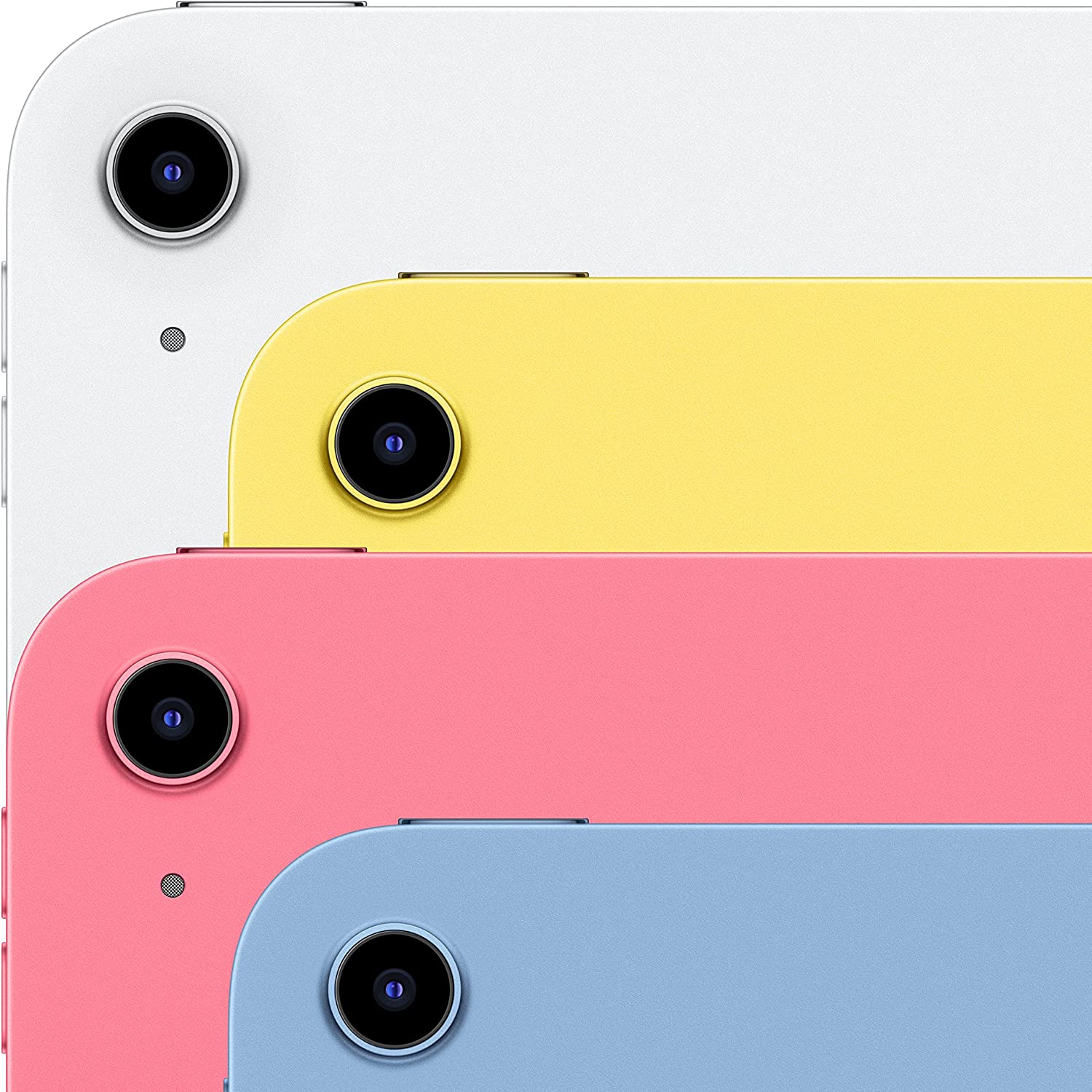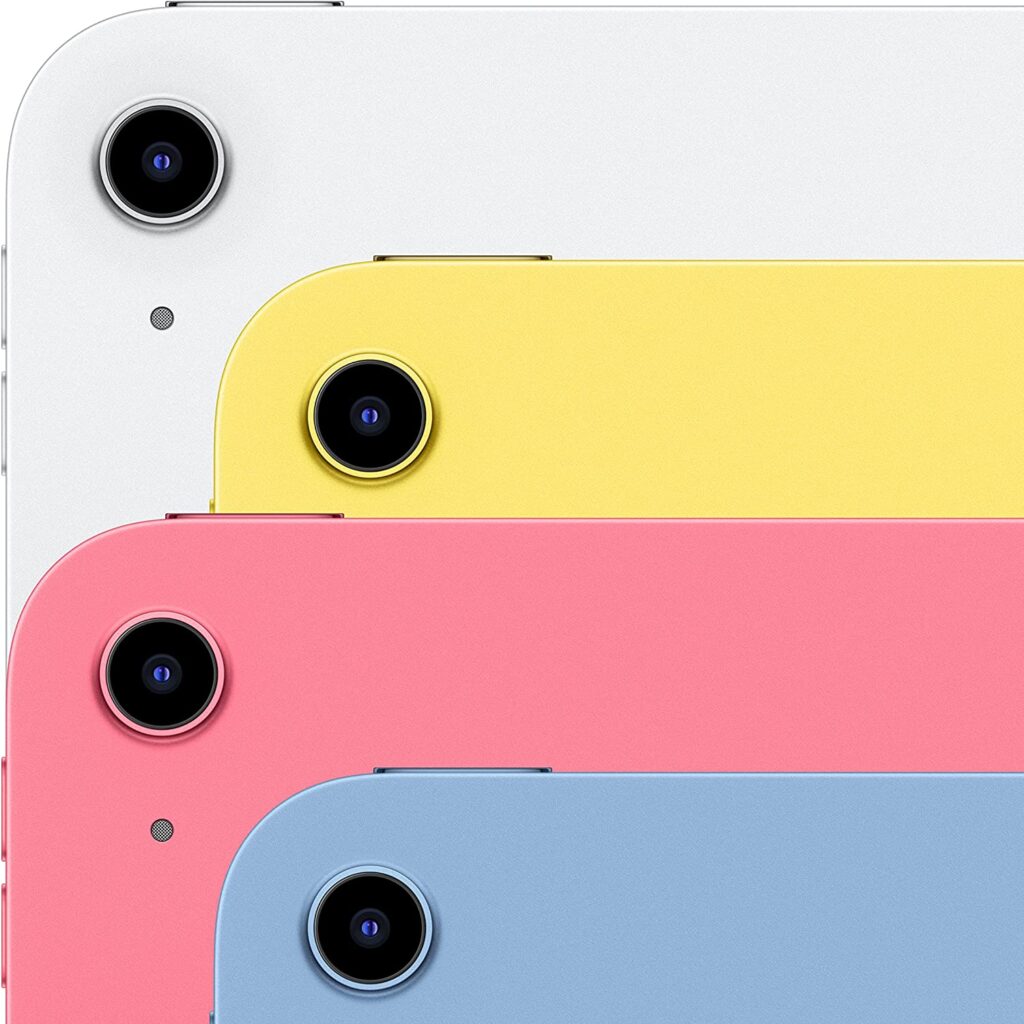 But overall, both new models are very similar in appearance, although the iPad Pro is a bit thinner (6.4 mm vs. 7.5 mm).
Other Features
The iPad Pro has some other features that the iPad doesn't have. Here they are:
Face ID;
Thunderbolt 4 (for instant data transfer via USB);
four speakers audio (the 10th generation iPad uses two speaker audio, which of course, slightly affects the sound quality);
WiFi 6E (2 times faster than the previous generation).
These are not significant advantages, and we can live without them. But still, they are nice.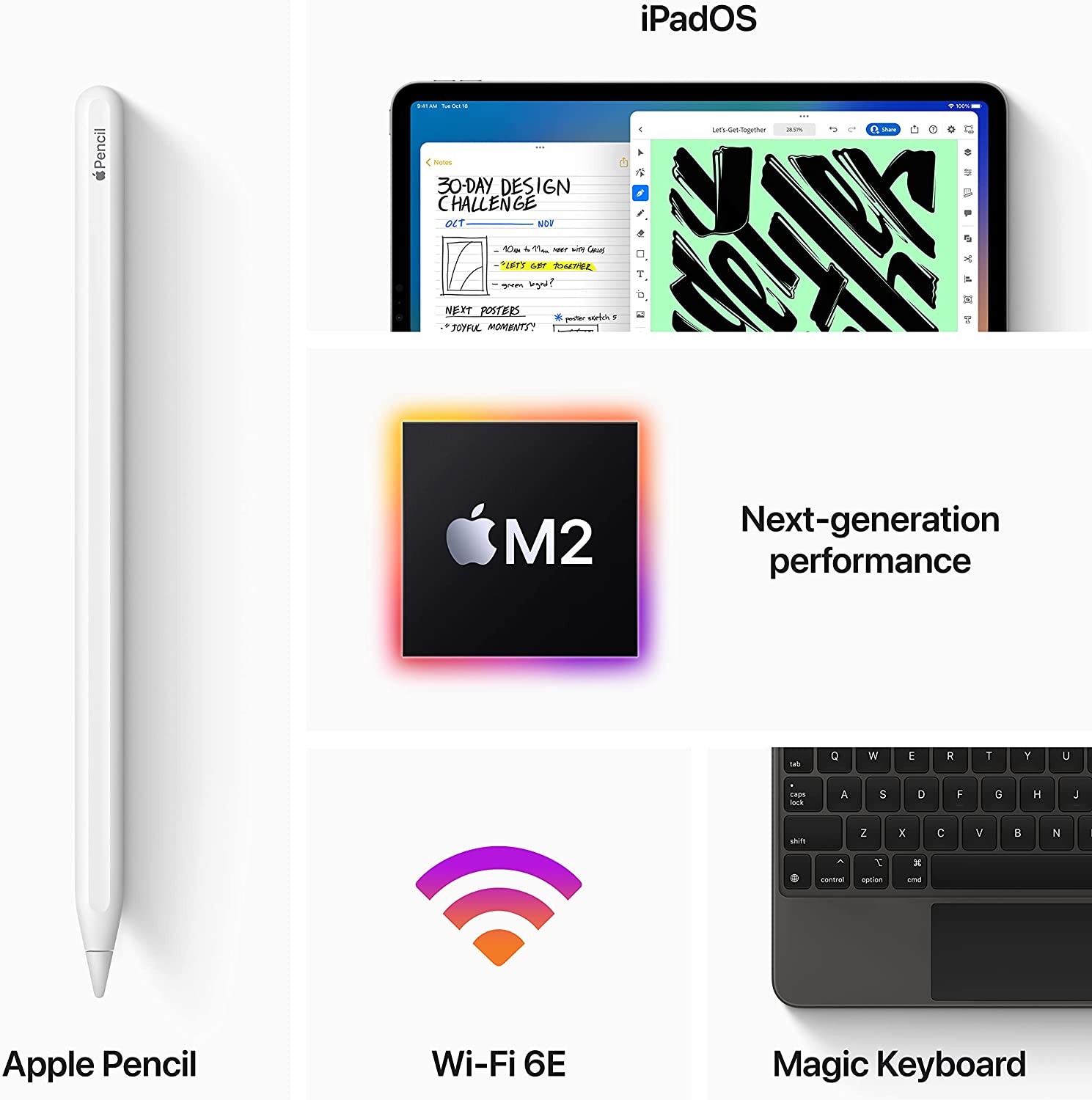 In other areas, the standard iPad and iPad Pro are not different. Both models have a USB-C connector and support 5G; they have the same battery capacities and OS, Siri and Apple Pay support, and Nano-SIM (for cellular models).
Conclusions: what's the better choice
For casual users, the budget iPad will be the best option. It's not worth overpaying $400 if you need a tablet for Internet surfing and watching videos.
Although it is inferior to the iPad Pro, it is still powerful enough to handle all daily tasks with flying colors. The latest generation iPad really has a lot of improvements, which makes it a better choice. It really is the best iPad in this price range. Of course, the iPad Air and iPad mini still have better features, but they are more expensive.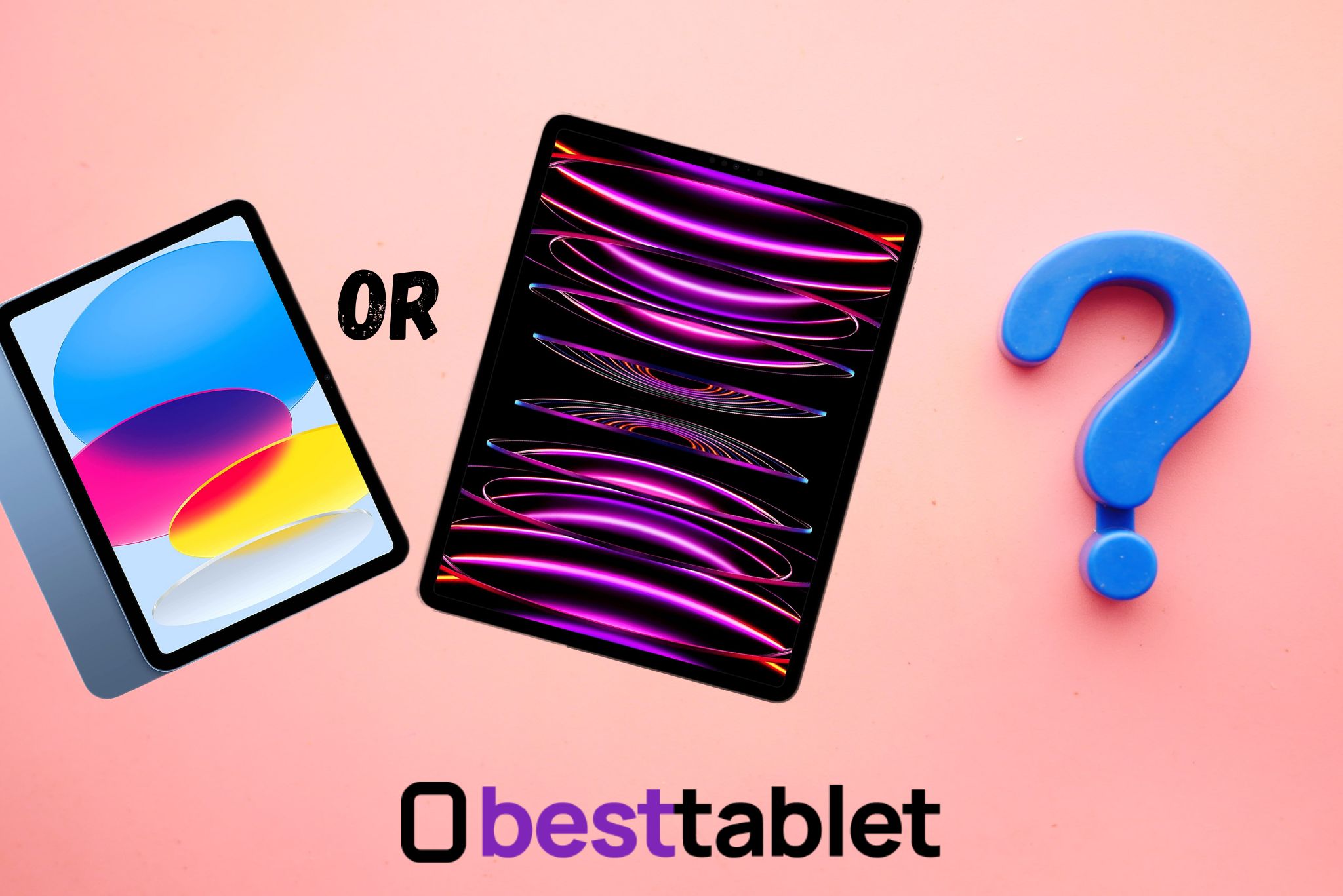 iPad Pro is designed for people who work in some demanding apps or play tricky games. The prefix "Pro" speaks for itself. This tablet is especially good if you take videos and photos and engage in editing or photo processing. The powerful M2 chip will help you do this very quickly, and the large and very bright screen makes it easier to work. You'll also have plenty of memory to store all your materials.
Of course, if you have an extra $400, why not spend it on such a powerful gadget? It will stay on top for years to come. Let's remind you what its main advantages over the iPad 2022 are:
2x more powerful processor;
3 times brighter and larger screen;
support for Apple Pencil 2nd generation;
up to 2TB of memory;
a second wide-angle camera and support for ProRes video recording;
faster WiFi speeds, as well as Thunderbolt 4;
various little perks like Face ID.
It's up to you to decide if it's worth the extra $400 or better to buy a cheaper iPad.
FAQ
What can iPad Pro do that standard iPad can't?
Anything you can do can be done faster with iPad Pro. It can handle the most demanding games and programs. It also has a few features that the 10th-generation iPad doesn't have:
Face ID;
ProRes video recording support;
Apple Pencil 2nd generation support;
Portrait mode on the front camera.
Is the iPad Pro worth it?
The iPad Pro may be overpriced, but it's still impressive with its capabilities and features. It will definitely be the best choice for professionals or gamers.