Before we start our review of Windows tablets with USB ports, I want to clarify that there are several USB port types:
Micro USB port. It's an older type of port that all phones and tablets used to have.
USB-C. It came to replace the Micro-USB. All modern tablets have it.
USB-A. This is a must-have for computers and laptops, but a rarity for tablets. There are only a few worthy models on sale.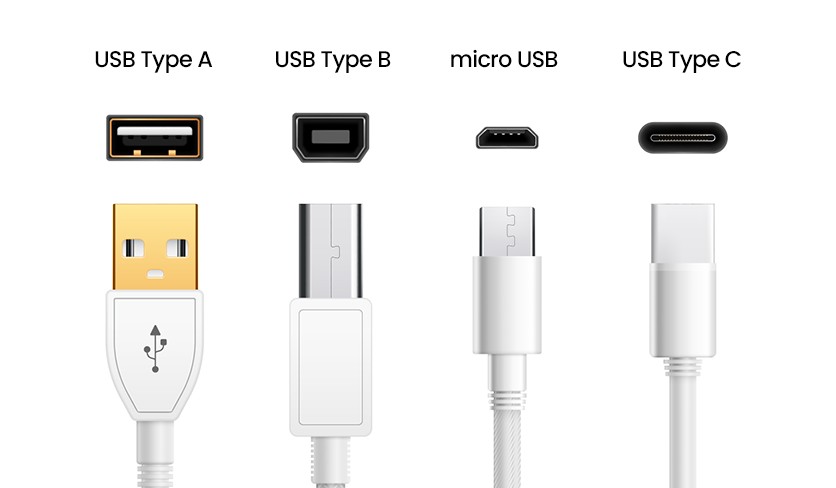 In this article, I have compiled some of the best tablets with USB ports types A and C. There are budget models as well as powerful tablets for any task.
Best Windows tablets with USB-A port
Perhaps you need a tablet with a full sized USB port (USB type A) to connect the external storage devices, headset, speakers, or even your phone to the tablet. This can be handy, and a wired connection is more reliable than a wireless one.
Unfortunately, there are not many tablets with USB-A ports on the market and even fewer tablets with Windows operating system, but I have found some good options for you.
Microsoft Surface Pro 7
Microsoft Surface Pro 7 – 12.3" Touch-Screen - 10th Gen...
Next-gen, best-in-class laptop with the versatility of a studio and tablet, so you can...
Faster than surface pro 6, with a 10th gen intel core processor – redefining what's...
More ways to connect, with both USB-c and USB-a ports for connecting to displays, docking...
Standout design that won't weigh you down — ultra-slim and light surface pro 7 starts...
All day battery life up to 10.5 hours, Plus the ability to go from empty to full faster...
This is the last Microsoft tablet with one full-size USB type A port and extra USB-C. For this price, the Surface Pro 7 has a mid-range configuration (Intel Core i5 and 8GB RAM), which will provide good, albeit not the highest, performance. Judging by the tests, it is comparable to the Samsung Galaxy Tab S8.
I have yet to find a more robust Windows tablet with USB port type A, but it won't do for gamers. So if you're a gamer, you're better off looking for a laptop or a more modern tablet, but with a USB port type C.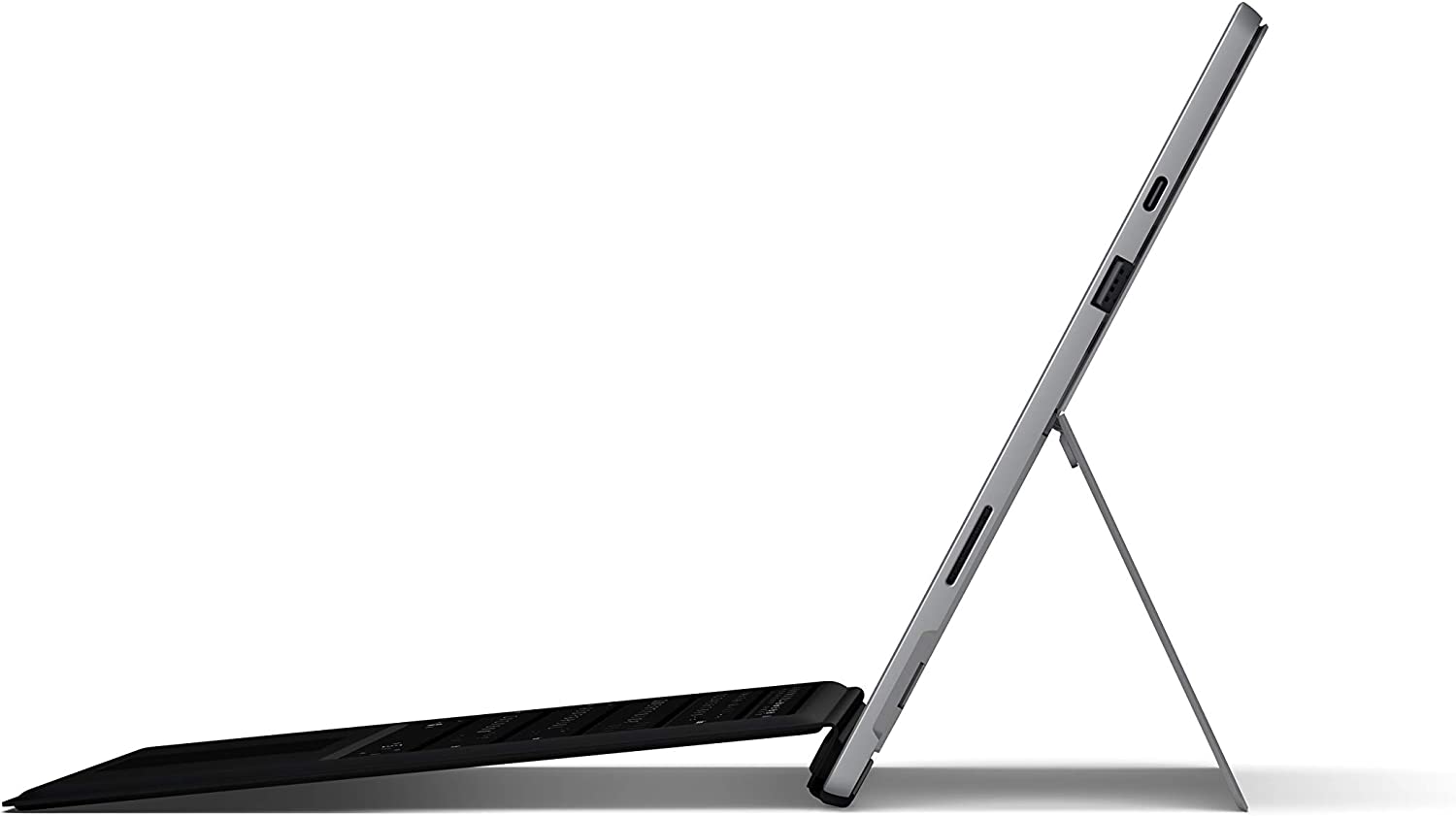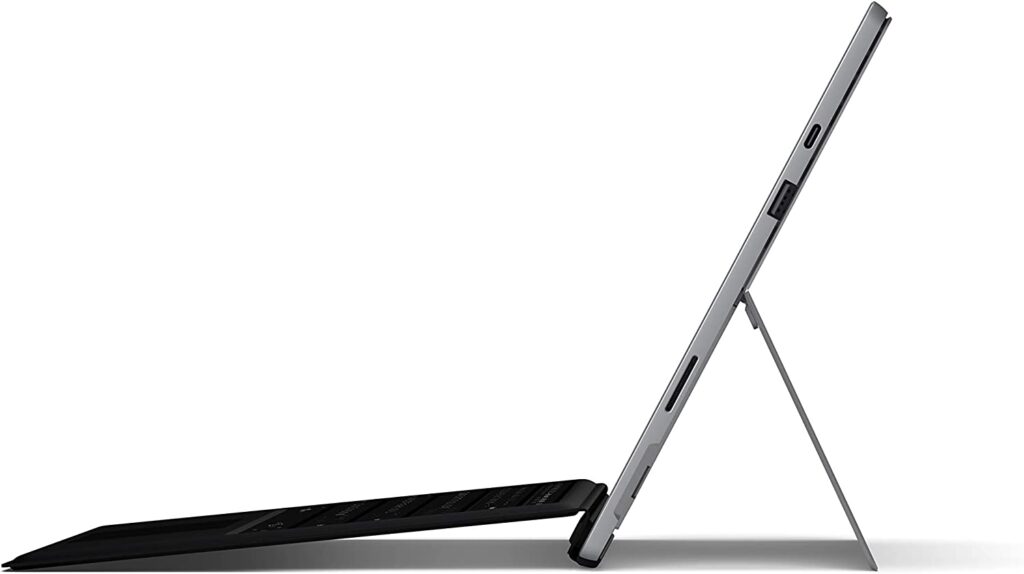 The Surface Pro 7 has a large and bright 12.3-inch screen with a 2736 x 1824 resolution, which provides a clear picture without pixelation.
I like that the Surface Pro 7 supports a pen, and it's pretty responsive and accurate. That's an added plus for those who want to use it for work. Here's what that pen looks like:

It has 4,096 pressure points, an eraser and top button, and a magnetic attachment.
The Surface Pro 7 comes with Windows 10 with the option to upgrade to Windows 11. This model has 128GB of storage. That might not be enough if you want to install some heavyweight programs or games like GTA. For an extra $200, you can get a model with 256GB of internal storage, or you can buy an SD card.
I guess the Surface Pro 7 won't be in stock for long, and then you can only buy a refurbished or repaired one. So hurry up.
Conclusions: if you're looking for the highest quality Windows tablet PC with a full-size USB port, the Surface Pro 7 is the only option today. It has everything for a comfortable experience: a large and high-quality display, a fairly powerful processor, pen support, comfortable keyboard, and stand.
Microsoft Surface Pro 4
Sale
Latest Microsoft Surface Pro 4 (2736 x 1824) Tablet 6th...
Intel Core i5-6300U 2. 4 GHz processor with Intel HD Graphics 520, 256GB SSD Drive
8GB RAM, Wireless: 802. 11a/b/g/n/ac Wi-Fi, Bluetooth 4. 0
Ports: Full-size USB 3. 0; microSD card reader; Headphone jack; Mini DisplayPort; Cover...
Display: 12. 3-inch PixelSense touchscreen display; 2736 x 1824 resolution, Stereo...
Operating System: Windows 10 Professional, This Certified Refurbished product is tested...
Unfortunately, Microsoft has no more tablets with full-size USB ports on sale. But you can buy an older, renewed model, like the Surface Pro 4, 5, or 6. Let's focus on the most budget-friendly one, the Surface Pro 4. Here's what USB ports it has:
one Full-size USB 3. 0;
mini DisplayPort;
cover port;
charging port;
headphone jack.
You can connect any USB accessories like a mouse and flash drive. This tablet runs on Windows 10 Professional.
Although this model is five years old, it is powerful, especially compared to modern Chinese tablets. But you should understand that Surface Pro 4 is more suitable for simple tasks like web surfing and note-taking. The 256GB SSD is enough to store many files and programs. So, you can safely buy this device for work.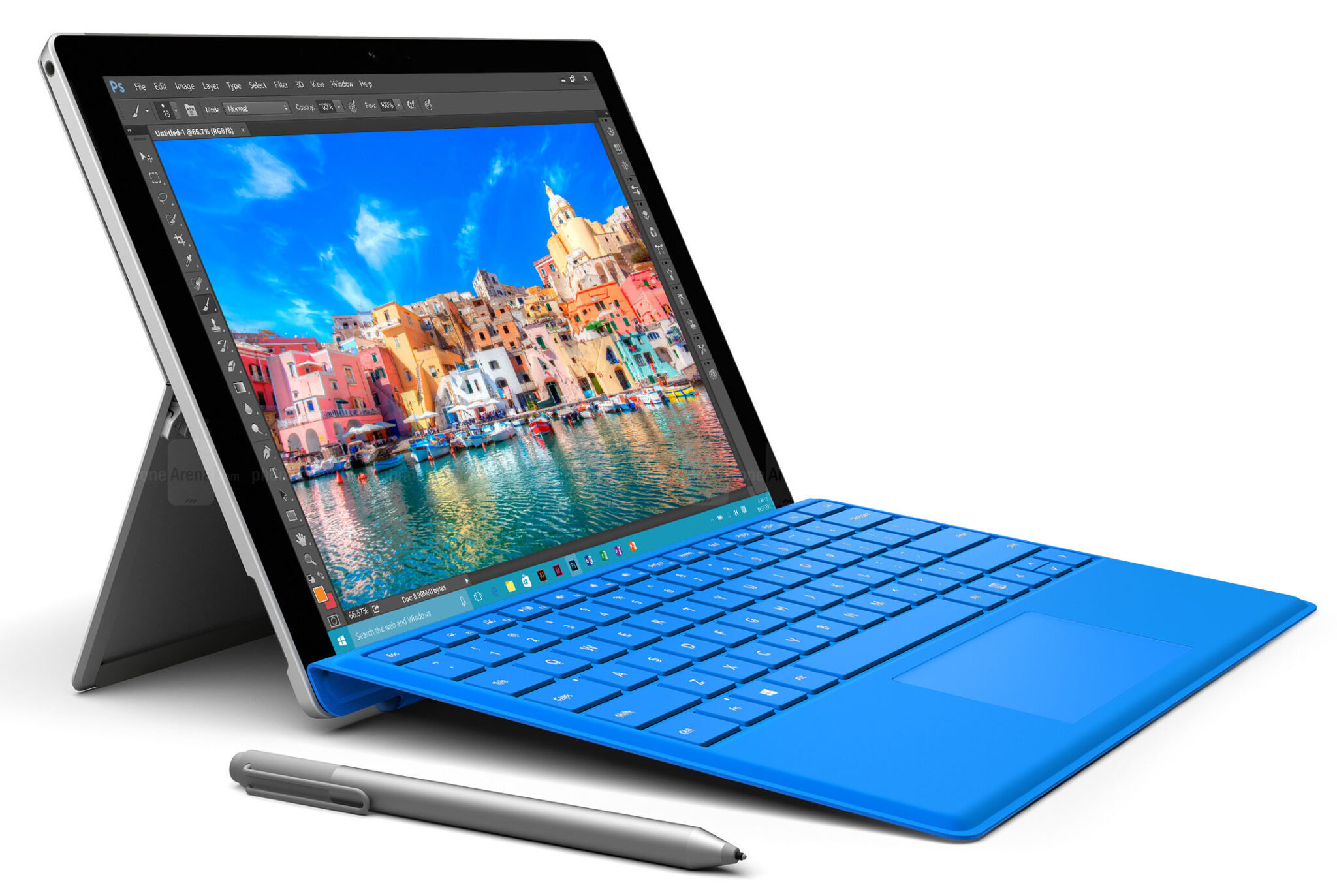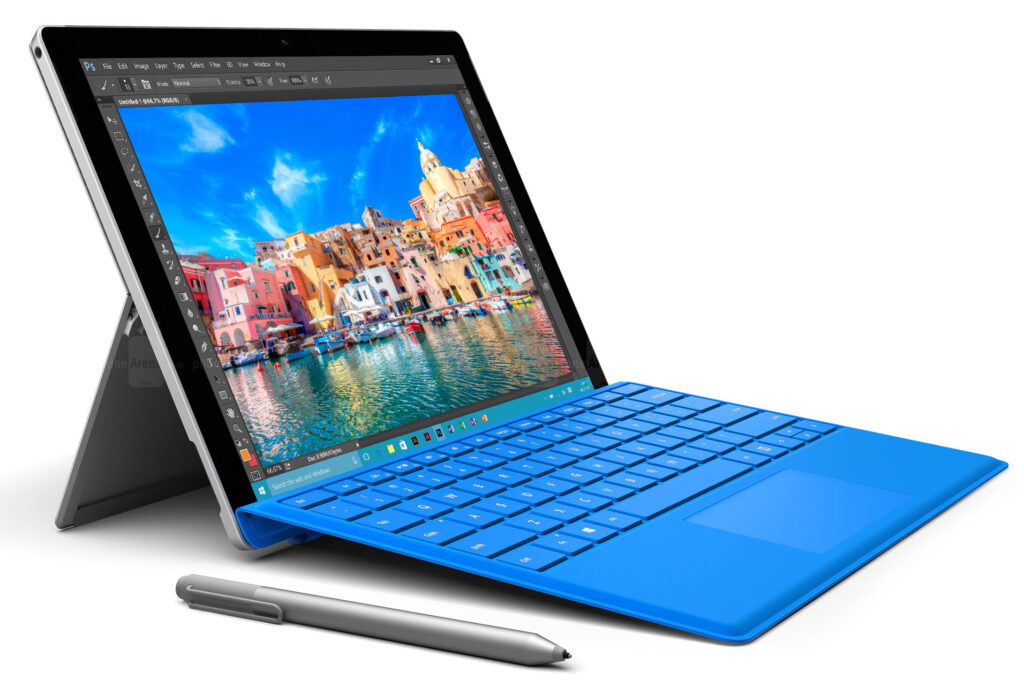 This Windows tablet once cost almost $1,000, but now you can buy it for $300. You can find different variants of renewed Surface tablets on Amazon, but the main thing is to read the description carefully to know the tablet's condition and equipment.
Learn more about what renewed and refurbished means.
This tablet has a stunning 12.3-inch display with a 2736 x 1824 resolution. Microsoft uses a PixelSens sensor that delivers a rich picture and a great viewing angle.
The Surface Pro 4 also supports the Microsoft Pen. It is an outdated model which has only 1024 pressure points. It is not suitable for artists, but it will do for taking notes.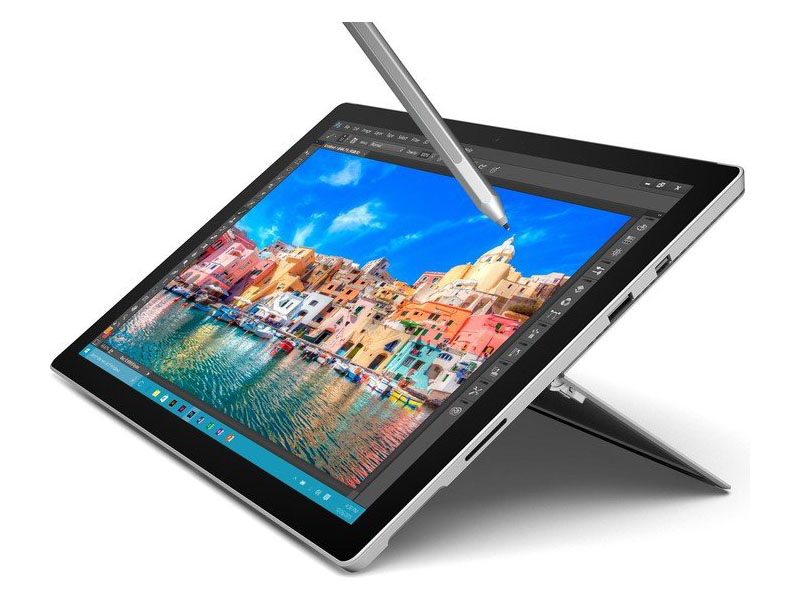 Other pros and cons of Surface Pro 4:
Conclusion: if you are okay with refurbished devices, you can look for older models of Microsoft Surface Pro. You can find devices suitable for work for a reasonable price among them.
Dell Latitude 5285 
Dell Latitude 5285 Tablet 2-in-1 PC, Intel Core i5-7200U...
PROCESSOR: Intel 7th Generation Core i5-7200U @ 2.40GHz, High Performance Processor (Dual...
SPECIFICATIONS: 8 GB DDR3 SDRAM (2 x 4GB sticks) / 256 GB M.2 Solid State Drive (SSD) For...
ABOUT THIS ITEM: 12.3 Inch FHD (1920 X 1280), Intel UHD 620 Graphics, HD Camera on the...
MICROSOFT WINDOWS 10 LATEST RELEASE - A brand new installation of the latest Microsoft...
CUSTOM TAILORED FOR A SECURE START - Configured to tackle all the most commonly needed...
Dell used to make quality Windows tablets with USB ports, but they are unavailable now. You can only buy a refurbished device from the Amazon renewed store. Here you will find devices that have been returned to the seller for some reason.
For $300+ you can buy a device in excellent condition.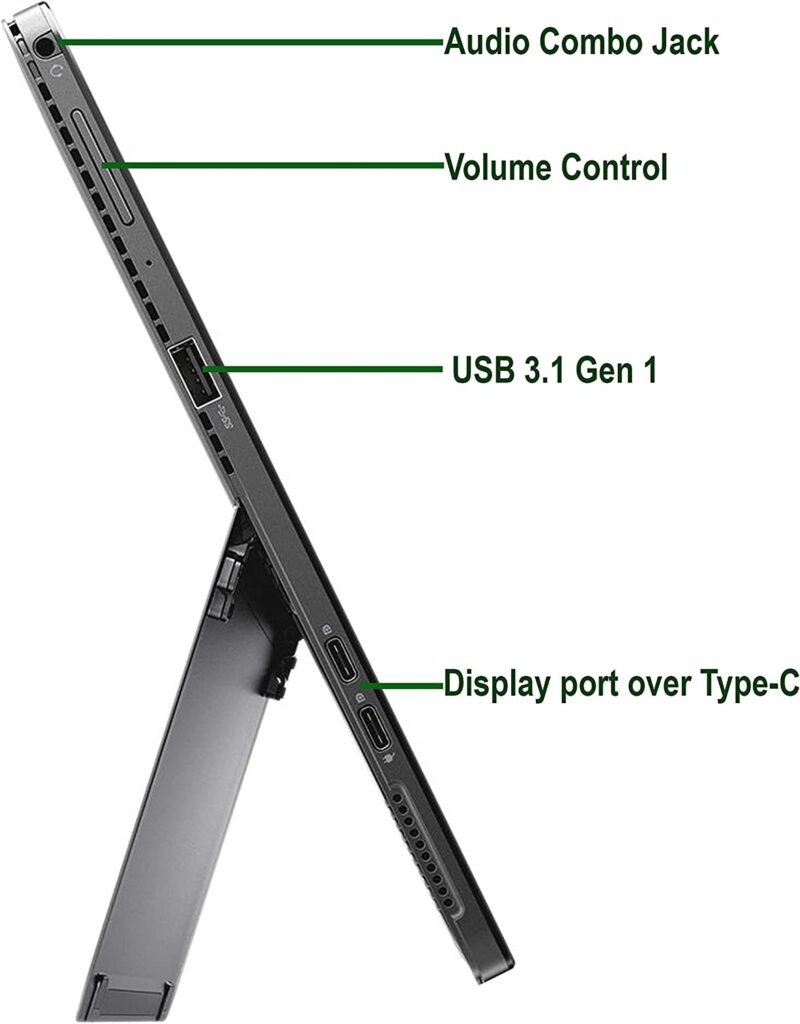 What did I like about the Dell Latitude?
It has 3 ports (2* USB-C and one full-size USB-A). It was a unique device when it was released five years ago. Only recently, Microsoft released its Surface Pro 8 with two USB-C ports.
It has a big screen with a 12.3 Inch diagonal. However, its maximum display resolution is 1920 X 1280, which is small for that size. But this is compensated by the high brightness of 500 nits and a good viewing angle. The screen is also covered with Gorilla glass 4, which reduces the amount of glare.
A large amount of memory (256 GB). That's enough to store a lot of files, programs, and games.
It's compatible with the Wacom pen, and it's definitely better than the Surface Pro 4 pen.
It has a face detection scanner as well as a fingerprint scanner.
Overall, it's very similar to the Surface Pro 5 and even has the same stand, weight, and thickness. Dell also supports a stylus and keyboard. It's a bargain for the price.
Fusion5 10″
Fusion5 10" Windows 11 FWIN232 PRO N4120 Intel Quad-Core...
Ultra Slim & Ultra Stylish: Windows 11 Home N4 Tablet PC - The ultimate user experience....
Feature-Rich: With 6GB DDR4 RAM, 128GB Storage and N4120 quad-core CPU, FWIN232 PRO N4 is...
10 inch 1920x1200 FHD Display for Optimal Viewing: FWIN232 PRO N4 Boasts an FHD IPS Screen...
Intel Quad-core CPU: Mutlicore experience. Enjoy full use of all four cores featured in...
FWIN232 PRO N4 ultra-slim and stylish Windows 11 Tablet not only ticks all the boxes in...
Although Fusion5 is not a well-known company, they have quite good tablets and many positive reviews. In addition, they are priced much lower than the devices from Microsoft.
The FWIN232 PRO N4 works with Windows 11 Pro and has several connectors:
USB-A;
mini-HDMI port;
USB-C charging port;
headphone jack.
You can also attach a keyboard dock (sold separately).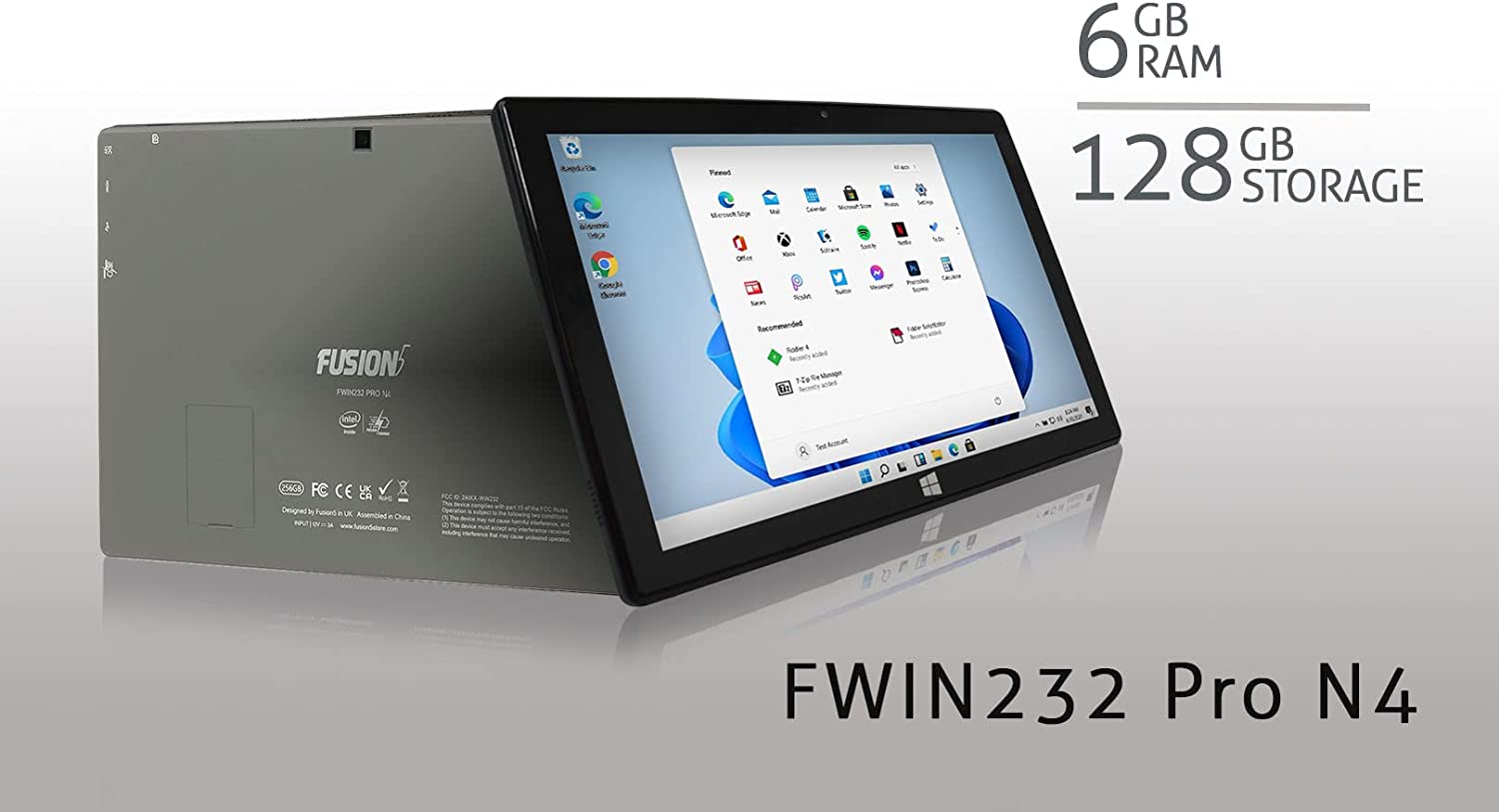 The Fusion5 tablet has pretty good specs for this price. Its Intel N4120 Intel Quad Core processor combined with 6 GB DDR4 RAM provides fast operation almost without lags. By the way, this tablet PC supports fast charging technology FusionCharge.
It has an average memory capacity of 128 GB. It doesn't support Micro sd cards, but it does have a slot for a solid-state drive. The manufacturers wanted to make it as computer-like as possible, and I have to admit, I haven't seen anything like this before.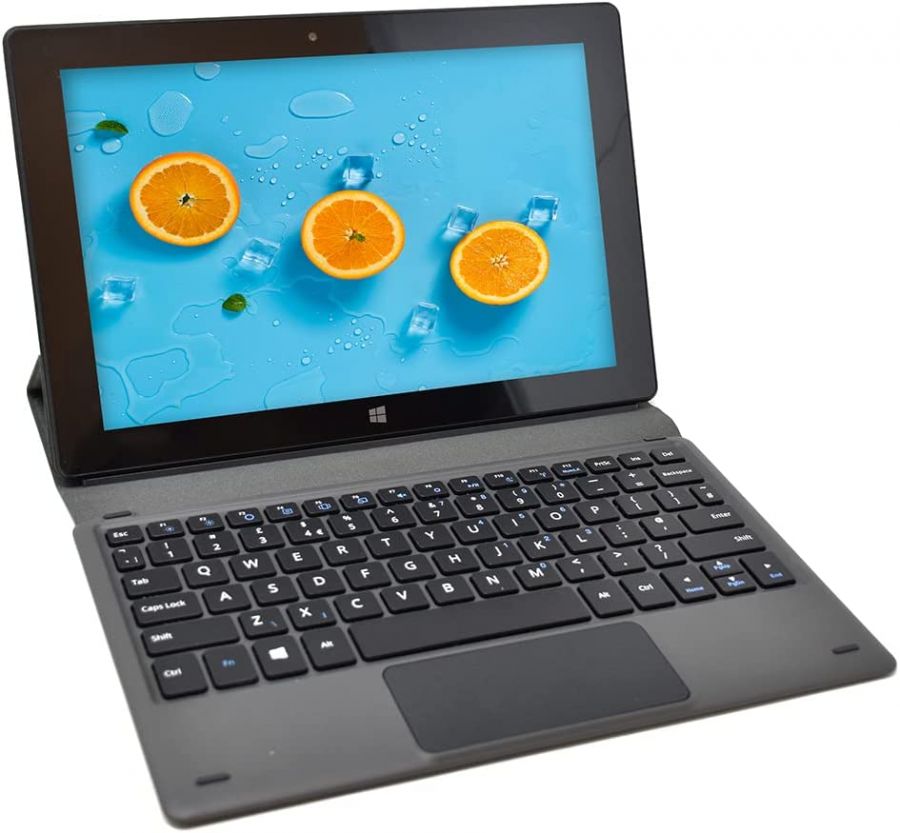 However, all these innovations make the Fusion5 look quite bulky. I also don't like the wide frames.
As for the display, the Fusion5 has a standard, featureless 10.1-inch IPS Full HD display but with a higher resolution of 1920 x 1200.
So to summarize, here are the pros and cons of the FWIN232 PRO N4:
Verdict: This is an affordable tablet for everyday tasks. It has one USB port, but unfortunately, they made it very thick. I think not everyone will like this model.
AWOW Windows Tablet
AWOW Windows 11 Tablet 10.1 Inch with Keyboard, 2 in 1...
【Powerful Performance】AiBook 10 tablet equipped with Intel N4120 CPU, with 4 cores and...
【Large Storage Capacity】This 2-in-1 tablet PC built-in LPDDR4 8GB RAM, you can...
【10.1 Inch IPS Display】The AWOW 10.1 inch Windows 11 tablet is a powerful and sleek...
【Detachable Touchscreen with Keyboard】Looking to switch seamlessly between a tablet...
【Premium design】Our cutting-edge laptop boasts an array of interfaces including 1x USB...
I won't describe this tablet PC much because I think it is the worst on this list, but maybe someone looking for the most budget-friendly device with a full-size USB will pay attention to it. One more thing: for this price, you're probably not going to find a better Windows tablet.
The AWOW tablet has 1x USB 3.0, 1x Micro TF, and one Micro HDMI port. It runs Windows 10 Home. I didn't find anything special about this tablet. It has a mediocre 10.1-inch screen, cameras, speakers, and a processor. I was pleasantly surprised by the 5G support and HDMI. It also has stylus support, but it could work better.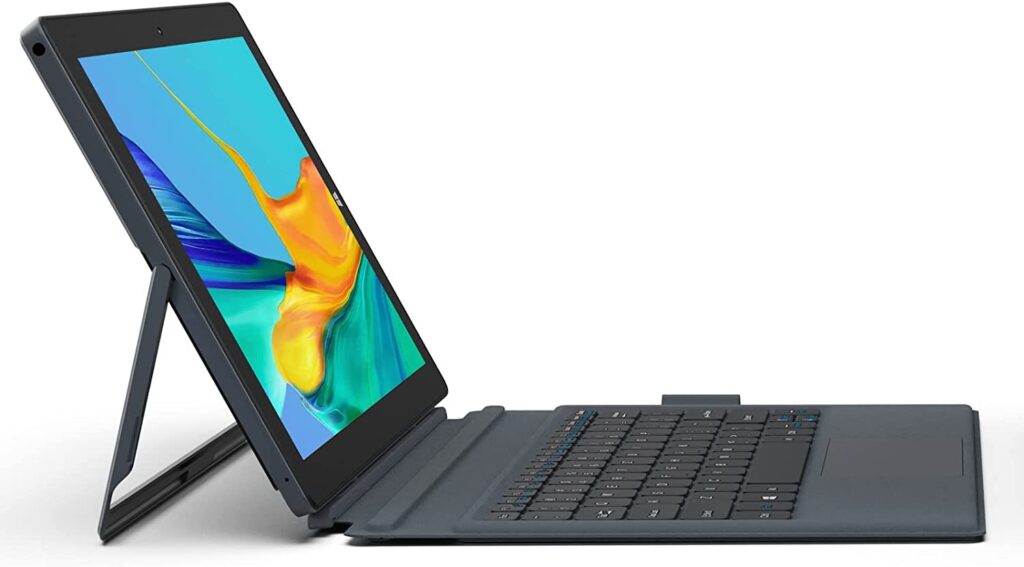 AWOW calls their product a detachable laptop touchscreen, but it doesn't reach the level of a laptop. It comes with a detachable keyboard, and the tablet has an adjustable stand leg.
Among the disadvantages of this device are its unattractive appearance and large size. Some users also report issues with performance after upgrading to Windows 11.
Conclusions: The AWOW is the cheapest Windows Tablet with USB port. It is a tablet for light tasks. You shouldn't expect high performance from such a device. If you want a device that will last for many years, you must look at the $400-500 models.
CHUWI Hi10 X
CHUWI Hi10 X, 10.1" Tablet with Keyboard and Pen, 6GB LPDDR4...
✔ QUAD CORES PROCESSOER: Hi10 X equipped with Intel Gemini-Lake N4120 CPU (4M Cache, up...
✔ LARGE STORAGE CAPACITY: This 2-in-1 tablet PC built-in LPDDR4 6G ram that you can...
✔ 10 INCH FHD IPS PANNEL: Full laminated process with 1920x1200 pixels resolution and...
✔ PRIME METAL TEXTURE: Compared to Hi10 X and other cheap plastic-body tablet, this...
✔ BUNDLED with KEYBOARD and PEN: The detacable keyboard connectable via the magnet a 5...
Last, I put the CHUWI Hi10 X s on the list because it only has a full-size USB-A port on the external keyboard. But the tablet itself has two USB-C ports, as well as Micro HD.
CHUWI is one of those good Chinese budget tablets, which is not a shame to add to the review. This Windows 10 Home tablet has a fairly powerful Intel Gemini-Lake N4120 CPU (4M Cache, up to 2.6 GHz, Quad-cores, 4 Threads) integrated with 9th Gen Intel Graphics 600. Of course, it is not very fast, but it can handle various everyday tasks.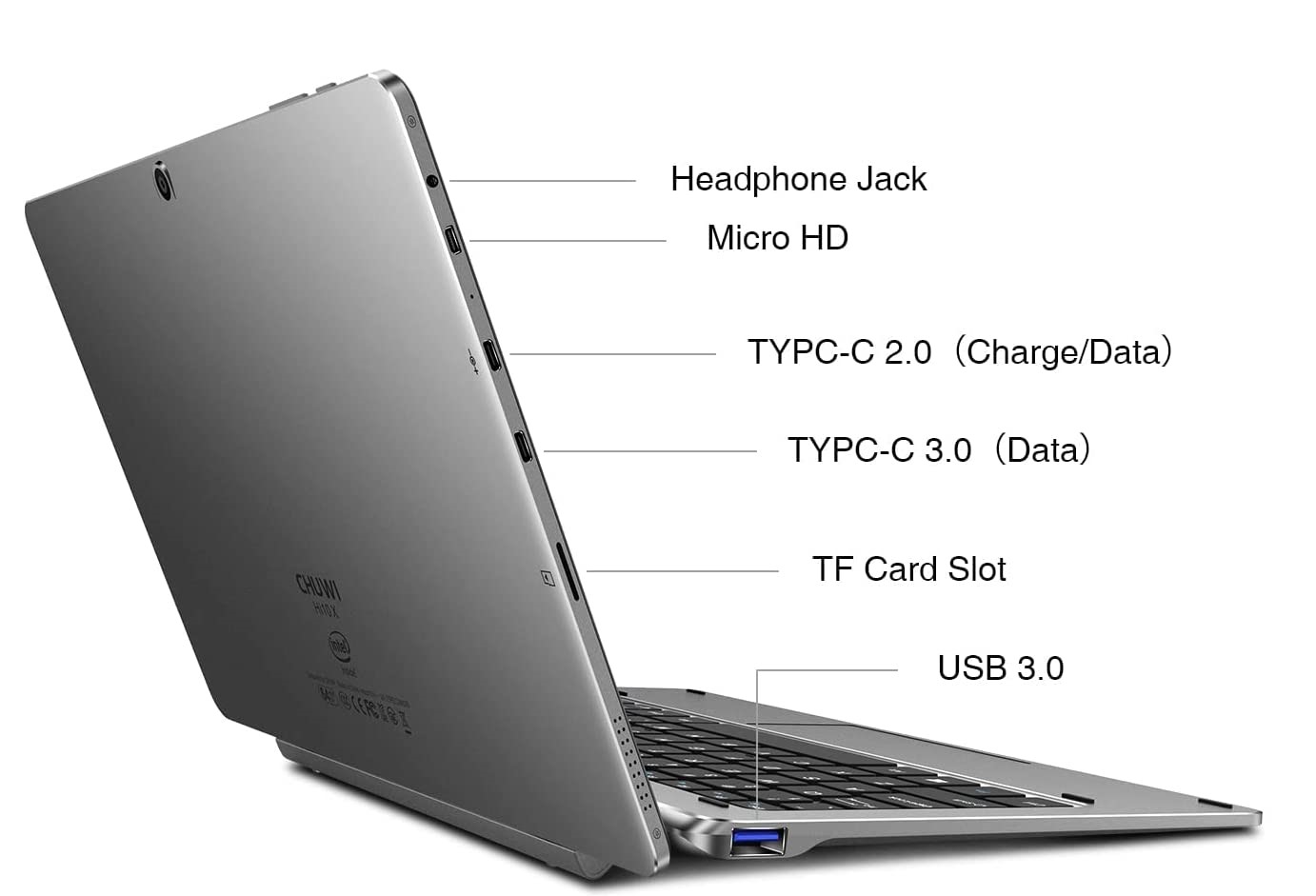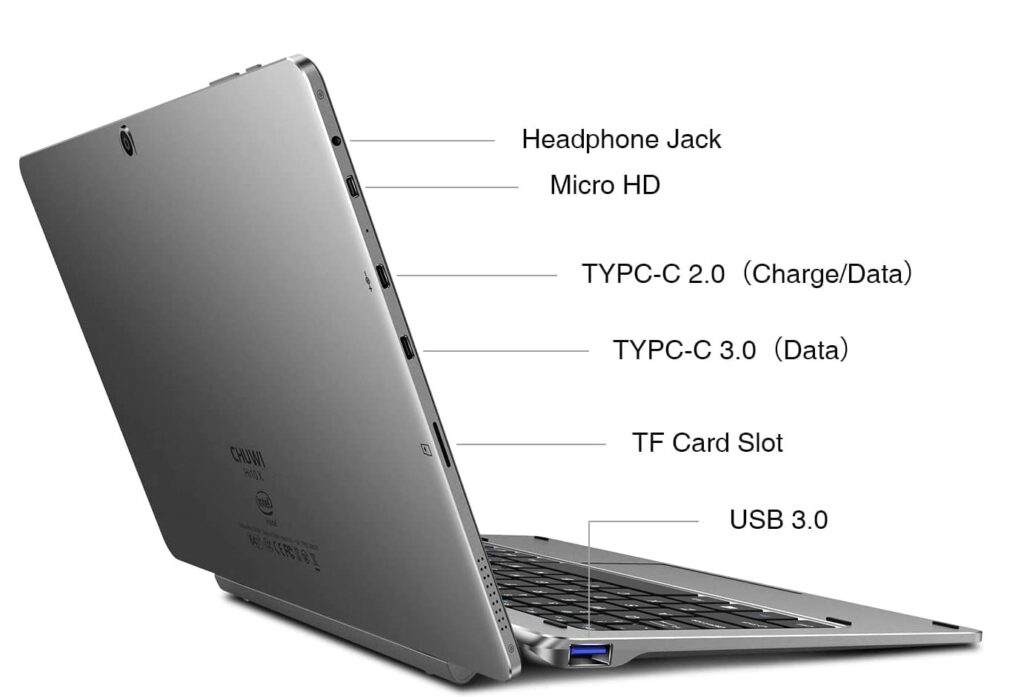 CHUWI Hi10 X has 6GB RAM and 128GB storage. This is enough for most users, but you can insert a memory card to increase the amount of memory.
There are no complaints about the display either. CHUWI Hi10 X has a 10" full laminated IPS display with a standard resolution of 1920×1200 pixels. But its aspect ratio is not 16:9, but 16:10, which makes the screen a little higher and more convenient to use various programs. The tablet has good color reproduction, high brightness, and contrast.
The undoubted advantage of CHUWI Hi10 is the stylus support, which works well enough. The pen has 4096 pressure sensitivity levels, right-click buttons, and an eraser.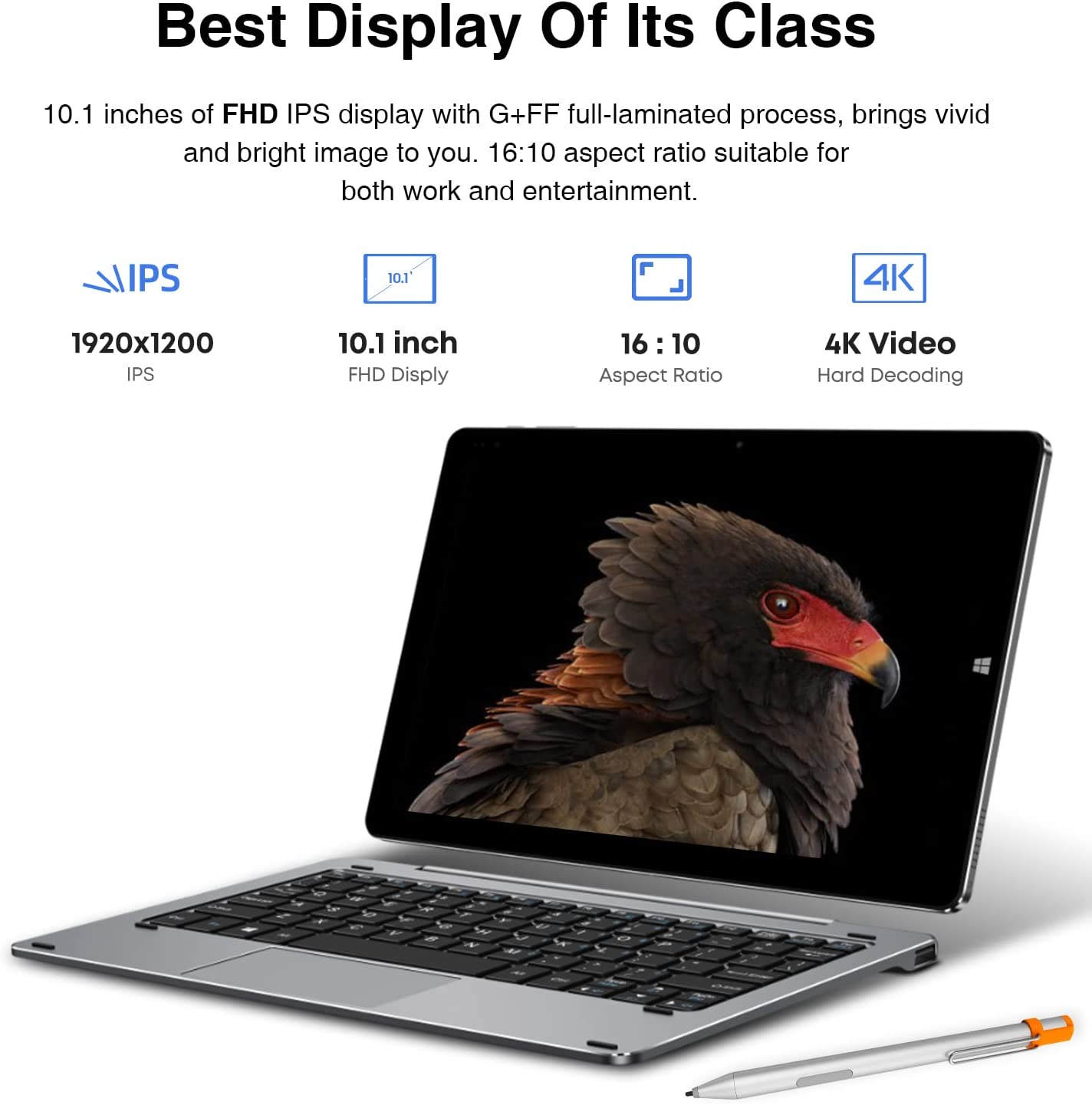 By the way, the stylus and keyboard come in a package, so $300 for this tablet seems like even more of a bargain. The keyboard has a magnetic mount.
Another pleasant surprise was that CHUWI Hi10 has fast WiFi with 5G support. And finally, I liked its design. Compared to the Fusion5, it has a thinner frame, with a thickness of 0.6 cm, and weighs only 0.5 kg.
Verdict: after the Surface Pro 4, this is the best Windows tablet option. It fully justifies its price, and even a little more because it comes with a pen and keyboard. But the full-size USB port is only available on the detachable keyboard.
Windows tablets with USB type C port
Popular Windows tablet manufacturers use the modern USB type C port. It's the optimal choice, and you don't need anything else in most cases. After all, you can use adapters to connect your flash drive to your tablet.
Of course, the best Windows tablets with USB ports belong to Microsoft.
Microsoft Surface Pro 9
Sale
Microsoft Surface Pro 9 (2022), 13" 2-in-1 Tablet & Laptop,...
Built on the Intel Evo platform with 12th Gen Intel Core processors.[2].Control...
Up to 15.5 hours of batterly life. [4]
Adjust the angle with built-in Kickstand.
Virtually edge-to-edge 13" PixelSense touchscreen designed for pen[1] and Windows 11.
Surface Slim Pen 2 [1] storage and charging built right into Surface Pro Signature...
To date, this is the best Microsoft tablet that can be compared to the iPad Pro. It has a gorgeous 13-inch display with stunning picture quality and a powerful Intel 12th Gen i7 processor with 16GB RAM. These provide high-speed performance even when performing multiple tasks.
The Surface Pro 9 will be suitable for creating digital art, photo processing, video editing, creating drawings in AUTOCAD, and other work. Gamers will also be happy with this device. An additional USB-C port allows you to connect more devices.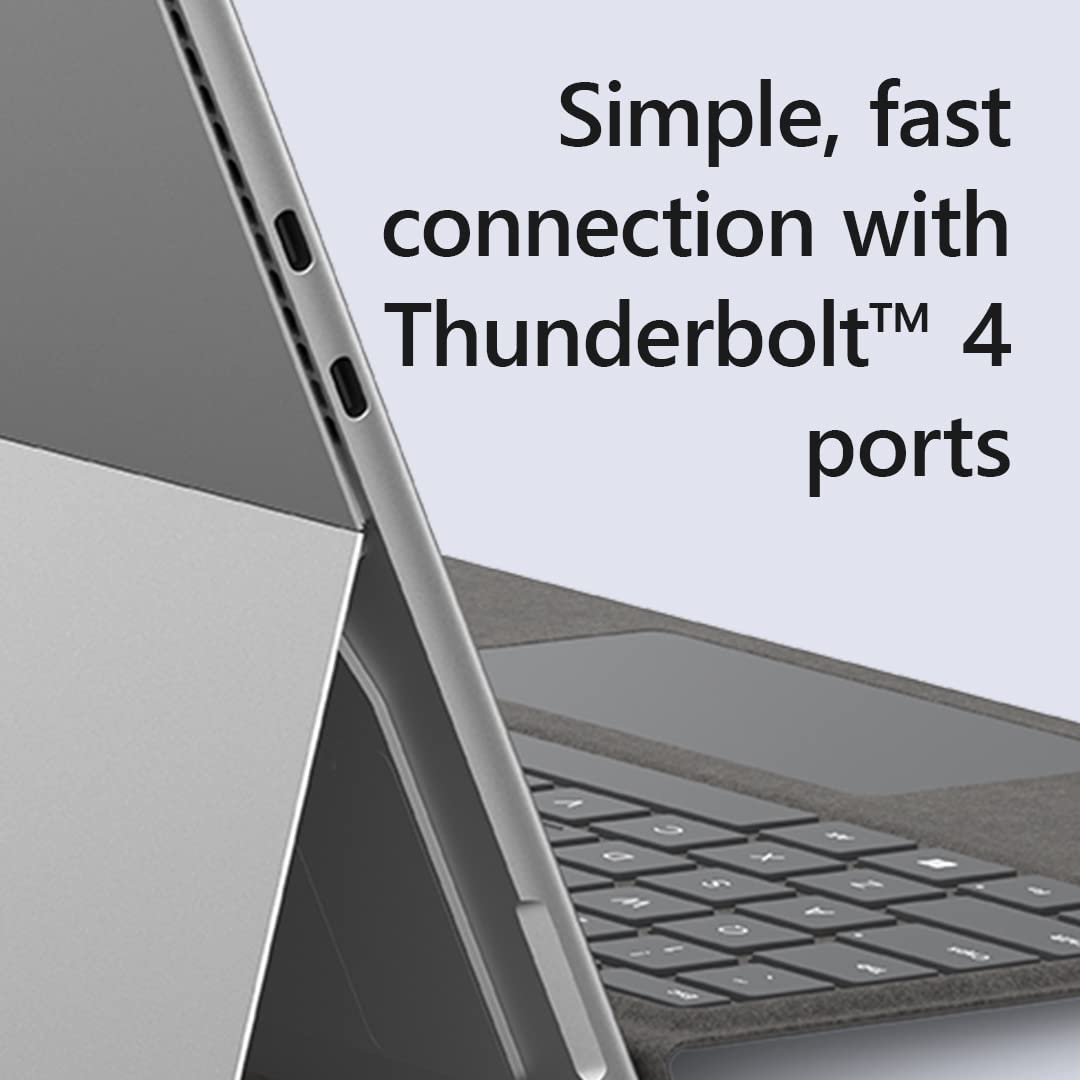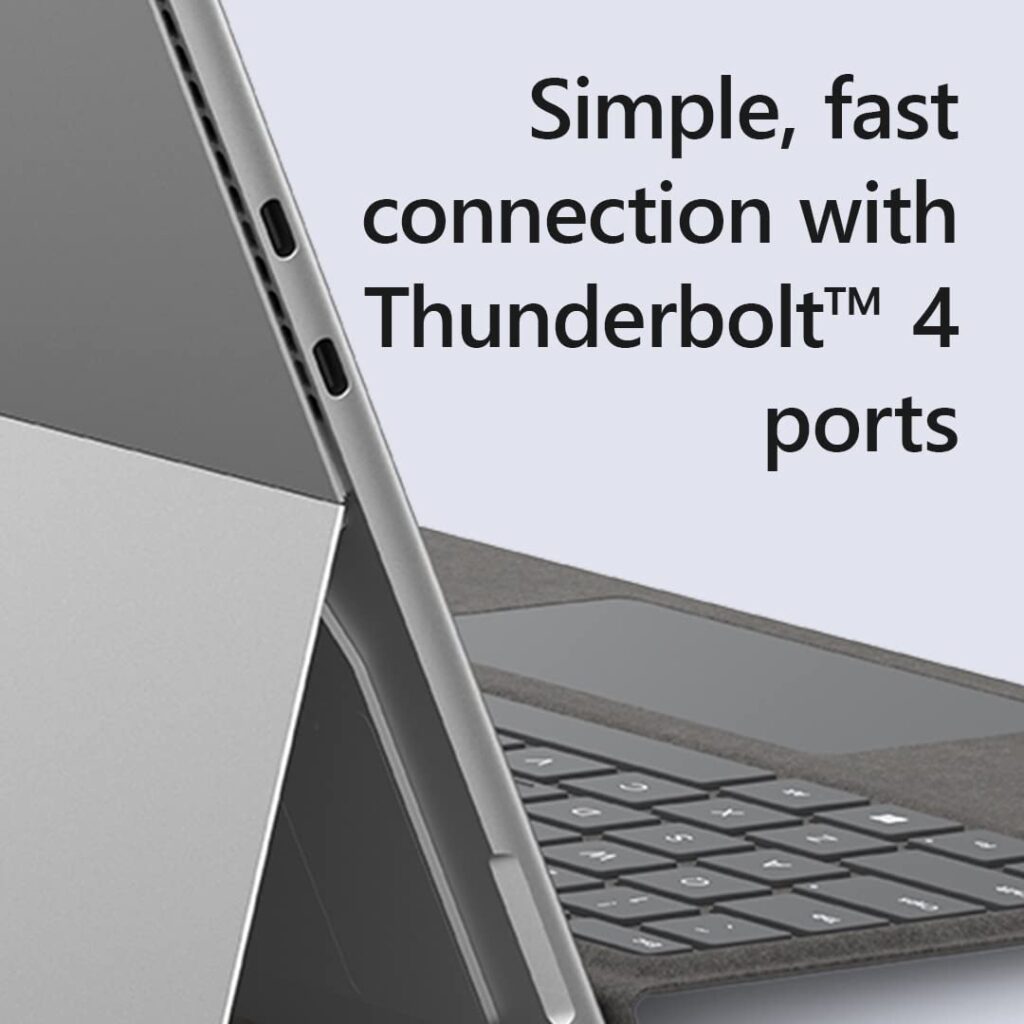 The new Surface Slim Pen 2 will also help you in your work. It operates as accurately and quickly as possible. Users are also pleased with the keyboard and Arc Mouse.
The tablet runs on Windows 11 Home. Some may be disappointed that it is not the professional version, but it is generally challenging to find other disadvantages. There are a lot more pros, but the price is also appropriate.
Conclusions: If you need the most powerful Windows tablet for professional work or gaming, the best option is the Microsoft Surface Pro 9. It can handle any task. At the same time, it is not much different from Surface Pro 8, so bravely buy the previous model if you want to save some money.
Best value – Microsoft Surface Go 3
Sale
Microsoft Surface Go 3 - 10.5" Touchscreen - Intel®...
The most portable Surface touchscreen 2-in-1. Perfect for your everyday tasks, homework,...
Go-anywhere tablet with laptop productivity for the whole family. Starting at just 1.2...
All-day battery life. Get up to 11 hours (1) of on-the-go power, plus Fast Charging to...
The new, more intuitive Windows. Work, play, and create in the way most natural to you...
Plug in the accessories you use today with included USB-C port, headphone jack, Bluetooth...
This is a great option if you want a more budget-friendly tablet that will work for most users. Microsoft Surface Go 3 doesn't reach the level of "Pro" because of the mediocre processor and small amount of memory. It is not suitable for working with demanding programs such as Photoshop.
But it is a good thing for its money. It can easily handle tasks such as taking notes, web surfing, watching videos, social networking, simple games, and video calls.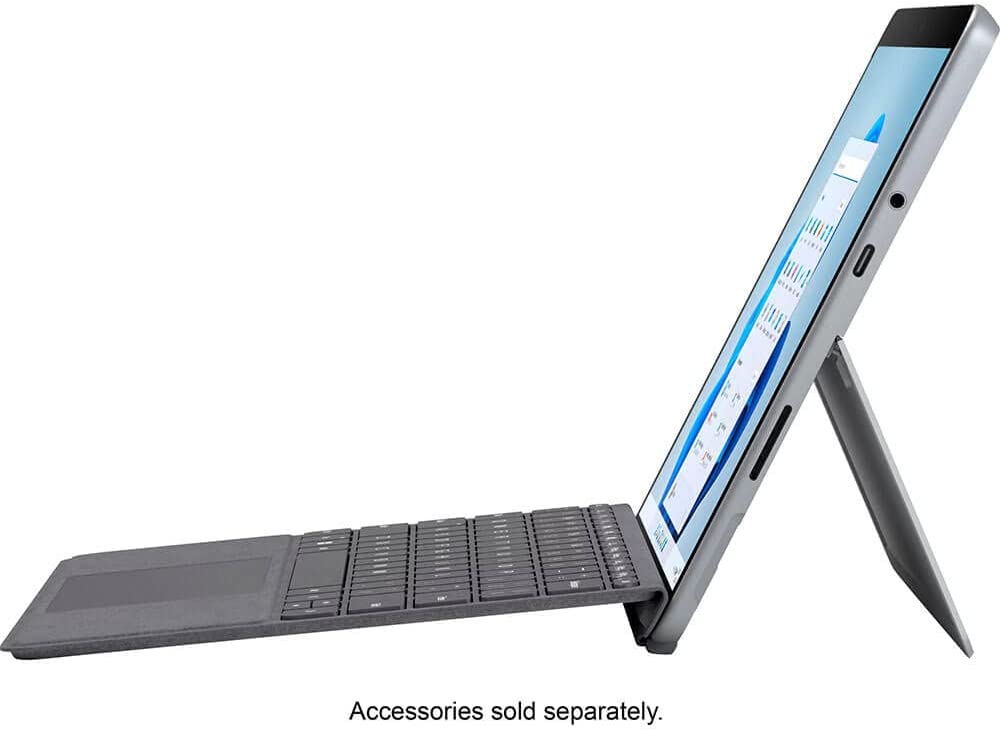 Sure, compared to the Surface Pro 9, the Microsoft Surface Go 3 has a "small" display, but that might even be a plus for some because it provides portability; it's hard to carry around a 13-inch tablet.
Unfortunately, the Microsoft Surface Go 3 has only one USB-C port.
By the way, it runs on Windows 11 Home in S mode for better security and performance.
The Surface Go 3 interacts well with the Surface pen, which has 4,096 pressure points and a magnetic mount.
Verdict: the Microsoft Surface Go 3 is a good device for its money. It can handle almost any user task, although it is not very suitable for professional work.
Why are there no new tablets with full-size USB ports?
Modern Devices have a standard USB type C port through which you can charge your tablet or connect it to your computer. But you will not find the popular tablets with full-size USB ports.
Apparently, manufacturers don't benefit from adding such ports to their tablets for several reasons:
First, it would affect the thickness and appearance of the tablet;
Secondly, the USB port would consume more power even in standby mode;
Thirdly, it's not really necessary, as there are many other ways to solve the problem, such as using cloud storage, a flash drive adapter, or a wireless headset. You can also use a docking station with all sorts of ports, including USB type A, HDMI, etc.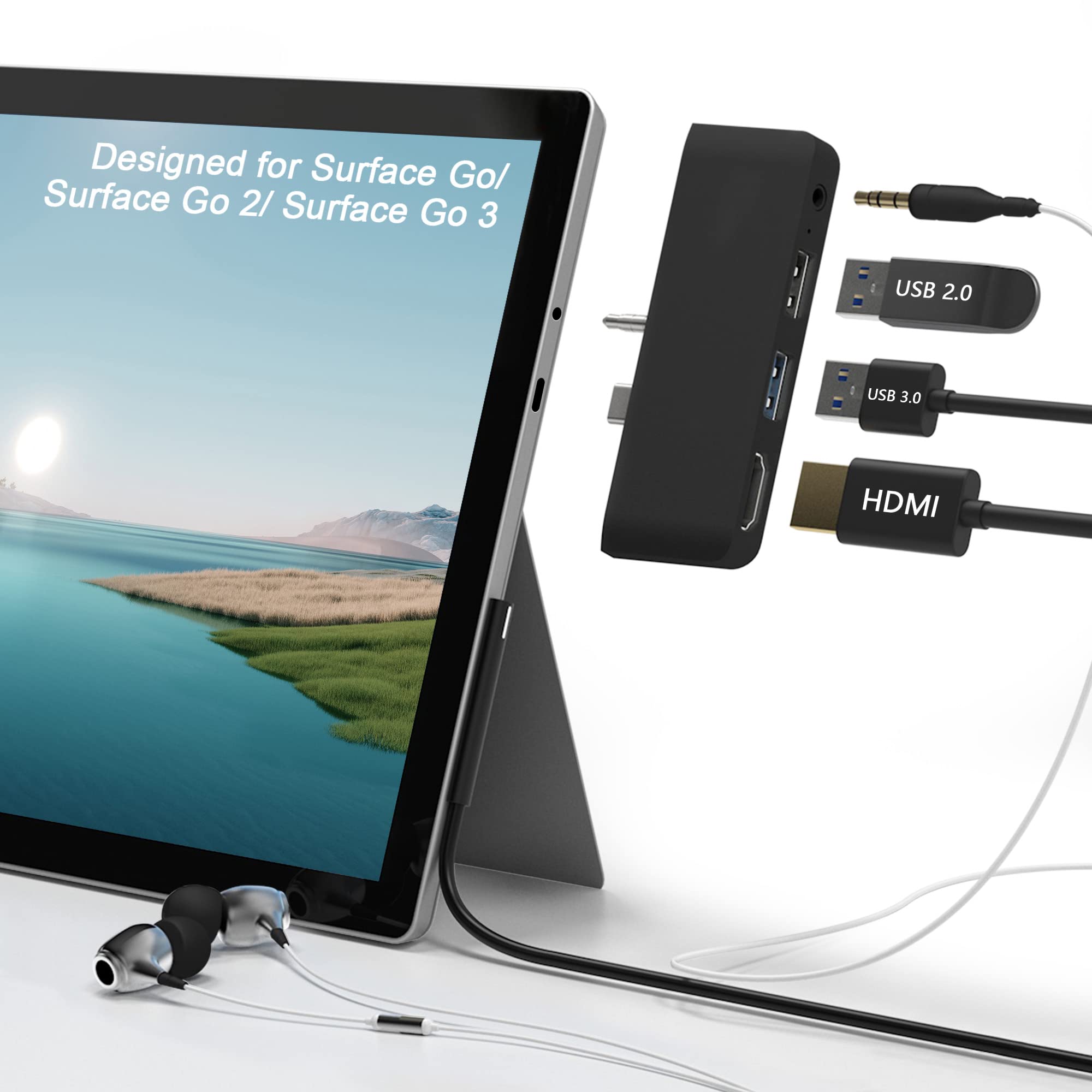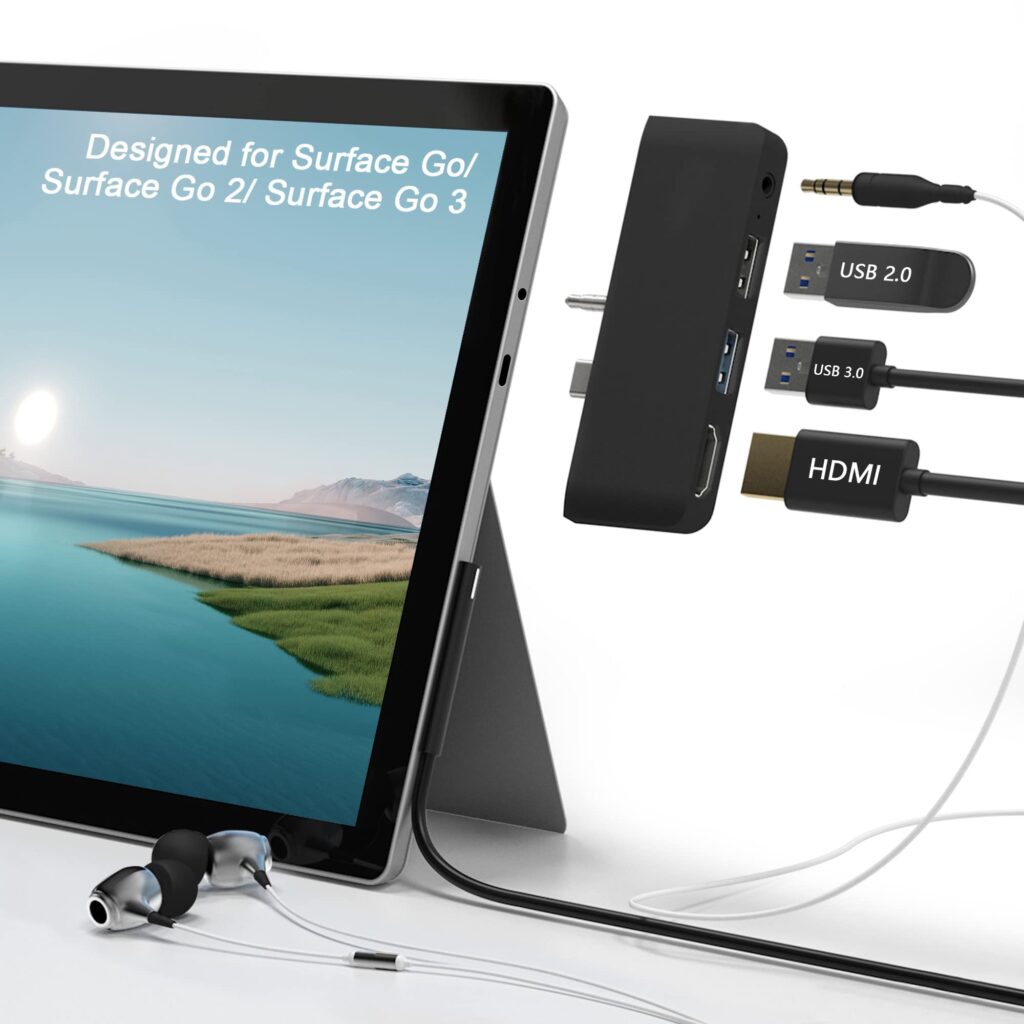 If you want all the features of a laptop, then why buy a tablet? These are two different products with their advantages.
Conclusion
If you are looking for a Windows tablet with full USB, the best option is to buy the Microsoft Surface 7 or the budget but weaker Fusion5.
But I don't think a full-size USB port is such an urgent need. Please write in the comments why you're looking for such a device; I'd be interested to know.
Perhaps a tablet with a modern USB-C port, like the powerful Surface Pro 9 or the more budget-friendly Surface Go 3, would suit you.
FAQ
What are the benefits of the USB type C port?
This technology allows to transfer data twice as fast and provides fast charging. In addition, the USB-C connector can be plugged either side, which is more convenient for users.
How many USB ports do Microsoft Windows tablets have?
The newer models (Surface Pro 8 and 9) have 2 USB-C ports. Older models have only one port.